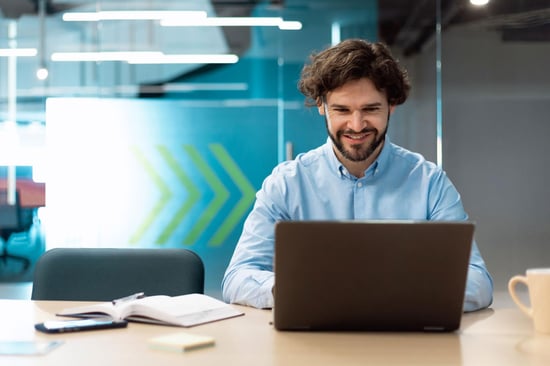 As the business-to-business (B2B) buyer's journey evolves, marketers find themselves challenged to find new ways of making connections. Marketing B2B products is more complex, especially when product features aren't immediately visible to potential customers. Microsoft Dynamics 365 employs B2B marketing automation to help marketers establish personalized experiences to show potential leads how they could benefit from a new product or service.
Account-Based Marketing
In an ideal world, marketers would have the ability to target a business' highest-value account. Treating high-value clients like a specific market opens the door to higher ROI and increased customer loyalty. Dynamics 365 Marketing gives marketers what they need to improve B2B sales while supporting the strategies and processes of sales teams.
Below are some of the features provided to support account-based marketing:
Account-based journeys — Design specific journeys to increase lead generation. Account-based journeys also provide insights into an account and help trigger decision-making.
Account-based email personalization — Marketers can design email content that includes information from an account record.
Account insights — Generates KPIs and other results showcasing interactions with contacts associated with an account.
Account leads and scoring — Helps marketers generate account-based leads and score them based on the activities with contacts.
Marketers can use Dynamics 365's B2B marketing automation platform to target business accounts with the most potential for generating revenue and closing deals. Users can locate key stakeholders and segment high-value accounts. In addition, marketers can use account-based journeys to engage with contacts for specific accounts.
Support for Real-Time Marketing
For companies that may not have a department dedicated to marketing, Dynamics 365 is an ideal platform for business users who may not have a traditional marketing background. Business users can rely on Dynamics 365 Marketing's AI and natural language input assistance to set up trigger-based journeys to reach audiences. The technology also makes grooming prospects and nurturing relationships with B2B customers easier.
Real-time customer engagement — Send emails, text messages, and push notifications through the right channel based on customers' actions.
Personalized experiences — Use AI recommendations to translate the insights the Dynamics B2B marketing automation platform provides into actions.
Adaptable platform — Customize the platform with tools already used within your organization.
Dynamics 365 segmentation creates subsets of contacts associated with business accounts. For example, you can create a segment for contacts at a technology company. From there, you can determine how to send communications to those B2B contacts, like an email.
After defining a B2B customer and determining how to make contact, a business user can use AI suggestions based on account information to create an appealing message. These communications can generate automatically based on specific events and actions noted on the B2B customers' accounts.
Targeted Emails
Dynamics 365 Marketing includes a real-time marketing editor that lets you bind personalized information from B2B accounts. In addition, users can dynamically insert data to make every email unique to a recipient.
In addition, you can link to documents and videos held in an asset library. You can also upload the files directly. The email editor also lets you add buttons, text, and images that link to other marketing pages, surveys, or upcoming events. Users can also include links with an invitation to a Microsoft Teams event.
After crafting an email, business users can preview the communication by sending a sample to test audiences. That way, they can judge whether they are happy with the email's current layout, content, and design. If not, users can make updates in the Preview and Test tab before sending out the final version.
Marketing Forms
Use marketing forms to set up inbound communications channels with B2B customers. That way, they have a direct way to make requests for newsletters, quotes, and other information. Users have control over the look and functionality of marketing forms.
The marketing editor simplifies the process of developing and publishing forms. You can start with a template or build a form from scratch. The design form lets you drag and drop elements from the design panel and get a preview of how they look. After completing the design, users can publish the form in one step.
Below are the options available for publishing forms:
Embed the form as an external page using JavaScript

Set up a standalone page that generates a public URL to share with visitors
These options are available to users even after publishing the form. Users can also make updates to forms after they are posted.
AI Channel Optimization
Channel optimization reduces the amount of legwork marketers must put in trying to figure out the proper channels for B2B customer outreach. Channel optimization looks at how customers respond in different media and uses that historical information to make a selection.
The AI runs without the need for human interference. It works in real-time, meaning it's always learning from the changing behaviors of B2B customers. For example, if they start shifting their communication preference to a different channel, the AI will pick that up and update its recommendations.
Seamless Event Management
Many marketers use live events and webinars to generate interest. However, setting them up can be a complicated and time-consuming process. There are a lot of arrangements to set up and follow up on to ensure that everything goes smoothly. Dynamics 365's marketing automation platform streamlines the process by helping with everything from budgeting and promotion to event broadcasting and lead generation.
Other event management features included in Dynamics 365 marketing includes the following:
Business processes that guide users through steps associated with event planning

Guest logistics to assist with hotel registration and reservations

Tracking of sponsorships associated with different events

Review of attendee history of B2B contacts

Management of attendee passes for event access
Optimize Marketing Performance With IES
The key to successful marketing involves leveraging your technology to improve client experiences and build upon established relationships. Internet eBusiness Solutions (IES) can help you optimize your current toolset while helping you expand your existing marketing technology infrastructure. Contact us today to learn more about how we can be of service.