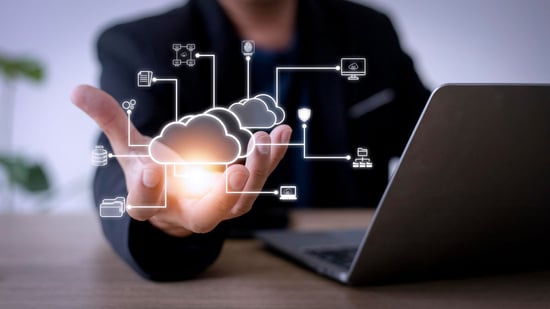 While the cloud seems to be a phenomenon of the 2000s, it actually dates to the 1940s. We've come a long way from the massive mainframes that fueled early versions of cloud computing. Today, many companies fully embrace the promise of the cloud, with many turning to Microsoft Dynamics cloud computing solutions to run their businesses. Those who haven't made the transition see it as a top investment priority.
What Makes Microsoft Dynamics Stand Out?
Microsoft Dynamics 365 represents an evolution of earlier Dynamics instances like NAV, AX, and Great Plains (GP). Users can access Microsoft Dynamics applications from any Windows device using a web browser. Organizations can purchase modules designed to handle specific business functions like Business Central, Finance, and Sales.
The flexibility of Dynamics 365 gives organizations what they need to grow and adapt to evolving business needs. One great thing about the Microsoft Dynamics cloud platform is that you can use the applications on a Mac with an OS running Windows or Windows Server. You can work with third-party tools and software using out-of-the-box integrations that come with the Dynamics 365 platform.
Is Microsoft Dynamics an ERP?
You can use Microsoft Dynamics Cloud 365 as an enterprise resource planning (ERP) and customer relationship management (CRM). The solution gives small and medium-sized businesses (SMBS) everything necessary to keep operations running smoothly. Smaller companies also gain access to insights that help them remain competitive with larger organizations.
Microsoft Dynamic's ERP capabilities include the ability to design automated workflows to handle everyday business tasks. For example, an online supplier can use the solution to automate shipping preferences for customers or send notifications when inventory stock is in danger of running low.
The CRM functions in Microsoft Dynamics cloud computing give organizations a 360-degree of interactions with customers. Companies can track activities and cut down on manual transactions required from employees. Businesses can use Microsoft Dynamics CRM to store customer information and use the data to set up more targeted marketing campaigns.
What Functionality Comes With Microsoft Dynamics?
Dynamics 365 lets companies gain valuable business insights from data collected about the business. Analysts can review various organizational metrics and get a more accurate picture of the performance of different business areas. The real-time insights let organizations develop optimized workflows and identify opportunities to generate more business revenue.
Organizations can create a platform designed to meet their unique business needs. Below is an overview of the modules available from Dynamics 365.
Finance
Dynamics 365 Finance is an ERP designed to help SMBS deal with financials, project management, and manufacturing services. All functions are accessible from a single interface. Core features of Business Central include:
General ledger — Set up individual companies and make general ledger entries from a centralized location. Other items you can manage from General Ledger include journals, sales tax, and VAT.
Cost accounting — Keep up with expenses related to projects and operations. Use the data collected to always have a clear sense of your company's financial health.
Budgeting — Track the progression of budgets using the general ledger. Connect Power BI to share data with others.
Supply Chain Management
Use the supply chain module to manage purchase orders and purchase credit memos. You can keep up with all generated quotes, purchase order processes, and blanket order transactions without bouncing from one application to another.
Use the forecasting capabilities to track current demand and map out your plan material requirements. Use the automation available from Microsoft Dynamics to automate your purchase orders, transfers, production, and assembly.
Marketing
Use Dynamics 365 for Marketing to turn prospects into lasting business relationships. Salespeople can target the most promising leads and nurture them to fruition. You can connect the Dynamics Sales module to streamline the automation of common sales and marketing tasks and facilitate communications between the two departments.
Improve your ROI by using Microsoft Dynamics cloud computing analytics and intelligence to track the performance of campaigns. Leverage social media channels like LinkedIn to find new leads for your sales team. You can also personalize the shopping experience of online shoppers by making recommendations or upselling them on other products and services.
Why Should Companies Migrate to Microsoft Dynamics?
Moving to the cloud lets employees access critical business data from one location. Organizations can integrate CRM and ERP information and get a clearer perspective of the company's strengths. You can work with other Microsoft products like Office and Power BI to draw insights from data.
Microsoft Dynamics cloud solutions don't require the purchase of additional hardware. That means users can start working with applications without going through an extensive on-premises set-up. Making your IT systems less complex gives organizations more flexibility in expanding and helping workers become more productive.
There's no need for a lengthy migration process whenever Microsoft Dynamics releases a new version of products. Microsoft Dynamics cloud platforms receive automatic updates. Organizations also have access to new functionality and features as long as they maintain their subscription.
Frequently Asked Questions
Can I use Microsoft Dynamics as a CRM?
Yes, many Microsoft Dynamics 365 products function as a CRM. The solutions work with other Dynamics products, allowing organizations to create streamlined end-to-end business workflows.
Do I need to purchase additional equipment to house Microsoft Dynamics cloud computing solutions?
No, companies do not need to purchase anything extra to run Microsoft Dynamics cloud products. The software-as-a-service (SaaS) products are accessible from a web browser. Because of that, there is no need for businesses to purchase expensive servers or other equipment to run the software.
Get Professional Assistance with Your Microsoft Dynamics Cloud Instance
Internet eBusiness Solutions (IES) has years of experience working with Microsoft Dynamics products. We help organizations find the best solutions for their work environment and find ways to optimize Dynamics products for the workforce. Learn more about what we do by setting up a consultation with one of our experts.