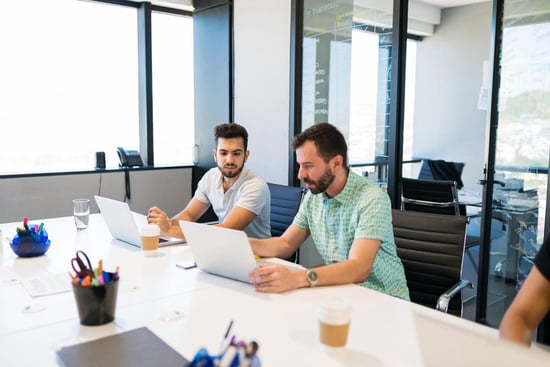 You can't underestimate the impact a robust enterprise resource planning (ERP) solution has on an organization. Small and medium-sized businesses (SMBs) benefit from the ability of ERPs to optimize business processes and challenge larger industry competitors. Microsoft owns two of the most popular ERP systems on the market. Let's look at how Microsoft Dynamics GP vs. Microsoft Dynamics SL stand up next to each other as far as features and the benefits they offer companies.
What is Microsoft Dynamics GP?
Microsoft Dynamics Great Plains (GP) software supports functions related to accounting and other business management processes. While it's older than other Dynamics products, many smaller companies still prefer using Dynamics GP. It's widely used in industries like manufacturing, ecommerce, and education.
One of the benefits of using Microsoft Dynamics GP is the ability to develop automated workflows that run from a centralized location. GP can handle essential back-end operations necessary to keep a company running smoothly. Organizations can tap into AI to optimize standard business functions.
Dynamics GP comes with integrated reporting features and a centralized database. Organizations can collect information from across the enterprise to gain essential business insights. Companies rely on Dynamics GP for:
Monitoring inventory levels

Keeping up with costs

Tracking raw material resources and other components

Tracking company benefits

Enabling compliance standards outlined by local, state, and federal authorities

Automating tasks related to payroll
The base Dynamics GP package includes core modules covering finance and distribution for three users. Organizations can purchase additional functionality if they need help managing other professional services.
The amount you pay for Dynamics varies depending on the number of users needing access in your company and what modules your organization purchases. Internet eBusiness Solutions (IES) is a proud Microsoft partner. We can help you configure your instance of Dynamics GP in ways that suit your business environment.
Retirement of Dynamics GP
There was a lot of concern about the potential of Microsoft retiring its Dynamics GP platform. Microsoft has switched to a new model of support. Based on the dates outlined in Microsoft's Fixed Lifecycle Policy, older versions of Dynamics GP will fall out of regular support.
Versions of GP from 2016 and older got placed under Microsoft's Modern Lifecycle Policy. Those products will continue to get regular updates and bug fixes under the schedule. It's a good idea to upgrade any current instance of Dynamics GP if it has fallen out of support.
What is Microsoft Dynamics SL?
Microsoft Dynamics SL is an ERP business management solution built for mid-sized companies. While Dynamics GP is more of a general ERP, Dynamics SL is more suited to project-based organizations. It offers various features and functionalities to help businesses improve their efficiency and boost customer satisfaction.
Like GP, SL comes with automation capabilities that streamline workflows for various business operations. Both managers and business leaders can rely on SL to manage employees and find new avenues for generating revenue.
The SL in Microsoft Dynamics originally stood for Solomon, which is how many businesses still refer to the software. Because it's been customized for project-based work, it's popular among organizations like government agencies, construction businesses, and business intelligence firms.
How Does Microsoft Dynamics SL Differ from Microsoft Dynamics GP?
The project management capabilities of Solomon are what stand out when making a comparison of Microsoft Dynamics GP vs. Microsoft Dynamics SL. Below is an overview of other ways the two products compare.
Cloud Integration
You can integrate Microsoft Dynamics SL with other cloud products like Office and Power. That means users can generate reports using Power BI. Remember that Dynamics SL is an on-premises solution, so organizations must invest in the infrastructure required to support the product.
Dynamics GP is also an on-premises solution. You would need to migrate the entire solution over to a Dynamics 365 cloud solution to access those kinds of functions. You would need the help of a Microsoft Solutions partner like IES to help with that transition.
Costs and Maintenance
You need to purchase a license for each user who wishes to access Dynamics GP. Organizations would also have to pay hardware costs to set up servers. Dynamics SL requires a license for every device on which a company wants to install the software. Both products require ongoing maintenance from an IT team, including security patches and software updates.
Customizations
It's possible to set up customizations for both Dynamics GP and SL. Organizations can partner with IES to figure out the process of creating new features, modifying existing ones, and integrating other Microsoft and third-party applications.
Keep in mind that both Dynamics SL and Dynamics GP require an SQL Server database for support. SL comes with a Customization manager that makes it easier for organizations to set up customizations through different screens, which makes things simpler. GP requires more specialized work to make the product work as an organization intends.
Which Solution Should I Choose?
Dynamics GP is more suited to service and retail businesses, while Dynamics SL is more suited to project work. You might want to consider Dynamics GP if you need a more traditional ERP to cover functions like:
Sales and service

Order processing

Supply chain management

Distribution

Financial Management
In contrast, SL suits industries like engineering, construction, and government contracting. It can handle multiple types of currencies and enterprises on a project basis. You can use SL to:
Establish projects with tasks and subtasks

Generate various invoice types using different billing rules

Manage sub-contractors

Track budget details
Frequently Asked Questions
What is Dynamics SL used for?
Dynamics SL is typically used by industries that do a lot of project-based work, like government contractors or engineering firms.
Is Dynamics GP a traditional ERP?
Dynamics GP provides many of the traditional ERP functions that most companies rely on. You can manage a variety of tasks related to areas like human resources, accounting, and operations.
Find the Right ERP Solution
Internet eBusiness Solutions offers guidance for organizations looking for optimal business solutions to transform their business environment. Learn more about how we can help by contacting one of our Microsoft solutions experts.