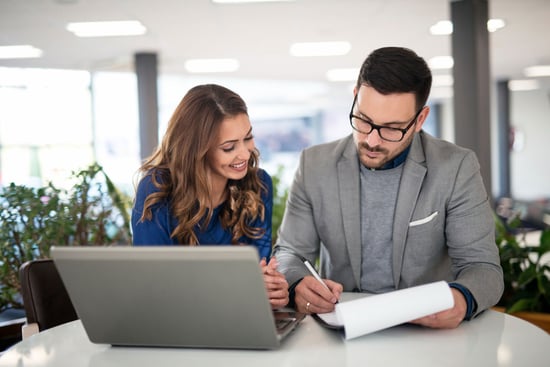 Many new companies start out using entry-level accounting software to manage their operations. As they grow and expand, enterprises need something more robust to meet the challenges and demands of today's business environment. Software platforms like Microsoft Dynamics GP, Oracle NetSuite, or Sage Intacct help promote efficiency and help companies streamline business operations. We'll look at each to help you compare the benefits of Microsoft Dynamics GP vs. NetSuite or Sage vs. Microsoft Dynamics.
What is Oracle NetSuite?
Oracle prides itself on being one of the first companies to realize the potential of delivering software over the internet. NetSuite is a cloud ERP made up of applications capable of helping businesses grow while enabling operational efficiency. Many industries use the application to support operations tied to the supply chain, finance, customer relationship, and human resource processes.
This ERP covers all core business functions, including accounting, inventory, and procurement. Customers can add components needed to fit their business needs. All modules within NetSuite use a single database, making it possible for authorized users within an organization to access real-time information related to various business functions.
Company leaders gain a complete view of everything happening within different areas of the business. They get the chance to see what's working well or where there may be areas for improvement.
How NetSuite Works
NetSuite provides a unified view of business operations through a centralized platform. Companies can bring together information from departments that handle operations like finance, manufacturing, and supply chain. There's no need to pay for additional software to handle those functions. Users sign in through a single portal and receive role-based access as determined by system administrators.
The software-as-a-service (SaaS) platform provides native integration models that eliminate the need for other third-party integrations. That makes the software more secure and reduces the time it takes to train new users on using the platform. Because NetSuite is based entirely in the cloud, it's faster than other solutions that get slowed down by problems that emerge from tying back to legacy on-premises systems.
What is Microsoft Dynamics GP?
Microsoft Great Plains (GP)'s financial accounting system targets small and medium-sized businesses (SMBs). It's relied upon by companies operating in fields like education, healthcare, eCommerce, wholesale, construction, and manufacturing. It integrates with other software in the Microsoft family, like Office 365, SharePoint, and Power BI.
Dynamics GP Functions
Below is an overview of the top features that come with Dynamics GP.
Project management — Dynamics GP comes with integrations that make it easy to integrate with third-party accounting software. A business might wish to go with Microsoft Dynamics GP vs. NetSuite if they are already happy with their accounting software and want to make it work within their ERP platform. Dynamics GP's project management functions let you handle project tasks like managing timesheets, performing analysis, and setting up approvals.
Accounting management — The accounting module provides a General Ledger, an analytical tool that helps with budget tracking and financial data analysis. Organizations can centralize all accounting management in one space, making it easier to optimize workflows.
Human resources management — The human resources module lets you view all employee metrics and track available benefits. It's designed to eliminate a lot of the manual paperwork around employee management. Users can create reports, schedule activities, and monitor employee hiring from start to finish.
Supply chain management — Keep up with stock levels, costs, and other supply chain management functions. You can generate reports using Microsoft Dynamics Accounting and view details about products and available inventory. Users can also set prices by customers to give them the best deals.
How Dynamics GP Works
Dynamics GP helps transform how companies do business. It works for businesses of all sizes and provides them with everything needed to remain competitive. The software offers end-to-end security to protect data from outside threats. Dynamics GP lets companies manage all financial processes in one location and use artificial intelligence (AI) and automation to streamline workflows. The cost of Dynamics GP depends on the number of users and the licenses purchased.
What is Sage Intacct?
Oracle's Sage Intacct cloud suite provides accounting software to help companies manage their business operations. It can integrate with other CRM and ERP systems to expand its capabilities and cover other business areas like payroll. Oracle provides quarterly updates to ensure customers always have the most up-to-date software.
Sage Intacct Capabilities
The platform consists of seven core modules designed to streamline how businesses handle financial processes:
General Ledger
Order Entry
Accounts Payable
Cash Management
Order Entry
Reporting and Dashboards
Purchasing
If needed, organizations can sign up for other modules to expand the capabilities of the software, including:
Check Delivery
Digital Book Board
Fixed Assets
Contract Revenue Management
Project Cost and Billing
Contract and Subscription Billing
Which Platform is Best for Businesses?
There's a lot to consider when deciding between investing in Sage vs. Microsoft Dynamics or Microsoft Dynamics GP vs. NetSuite. Both Dynamics GP and NetSuite provide both ERP and CRM functionality. Companies to improve the productivity of their accounting software prefer Sage Intacct. They can sign up for additional modules if they need other functionality. However, they won't benefit from a built-in CRM and full-scale ERP platform.
Businesses on the rise might be better off with NetSuite or Microsoft Dynamics GP. NetSuite is a SaaS platform, so organizations can sign up for a monthly subscription versus investing in an on-premises solution. Organizations can obtain something similar by upgrading to Microsoft Dynamics 365. Going that route also allows a company to integrate the platform with other popular Microsoft software.
Get Help with Your Business Software Setup
Trying to pick the right business software for your company can be challenging with so many options on the market. Internet eBusiness Solutions (iES) partners with organizations to find the best solutions for their business environment. Contact us today to set up a consultation with one of our technology specialists.