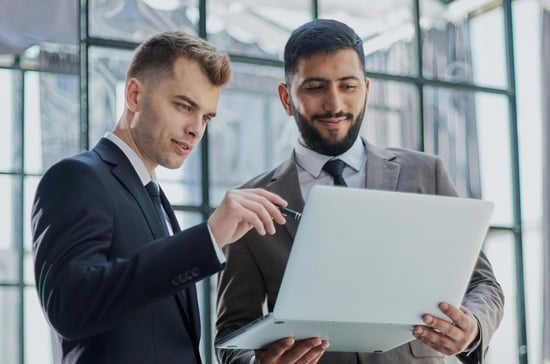 Enterprise Resource Planning (ERP) systems give organizations a way to centralize the information held by their company. That makes it easier for various business areas to set up reports, tap into essential data, improve productivity, and lower operational costs. Microsoft Dynamics GP and Microsoft Dynamics SL are popular ERP systems that many small and medium-sized (SMB) companies use.
If you're new to ERP systems or considering transitioning from another ERP, it helps to have a solid understanding of each platform's offerings. We'll look at the capabilities of both ERPs and what they can do to help your business.
What is Microsoft Dynamics GP?
Microsoft Dynamics Great Plains (GP) helps businesses perform essential business management and accounting processes. It's one of the oldest Dynamics products, often used in industries like healthcare and distribution.
Dynamics GP gives organizations a centralized location for developing automated workflows. They help companies refine their backend operations and use artificial intelligence (AI) to improve existing business functions.
Companies can pull information from different sources thanks to GP's centralized database and reporting features. The same AI that helps streamline business functions also creates business insights to help company leaders make more informed data-driven decisions. Other benefits of using Dynamics GP in business include the following:
Cost tracking

Maintaining inventory levels

Keeping up with company benefits

Ensuring compliance with local, state, and federal laws and regulations

Automation of payroll tasks
Cost of Dynamics GP and Retirement
The basic Dynamics GP setup comes with support for three users. Companies can buy additional functionality as needed to support business processes outside of finance and distribution. What companies pay for Dynamics GP depends on how many users they need access for and the modules purchased.
Keep in mind that Microsoft intends to retire Dynamics GP in favor of Dynamics 365, a suite of business tools and applications based entirely on the cloud. We'll touch on what you gain by moving over to Microsoft Dynamics 365 a little later.
Older versions of Dynamics GP fall under Microsoft's Fixed Lifecycle Policy. Any version of Microsoft GP from 2016 and older would fall under that schedule. Your business should consider upgrading to a newer version of GP or moving over to Dynamics 365 to continue receiving regular support from Microsoft.
What is Microsoft Dynamics SL?
Microsoft Dynamics Solomon (SL) is a legacy ERP product designed and built specifically for mid-sized organizations. The product benefits project-based companies that need a way to improve their efficiency and customer satisfaction.
One reason Microsoft SL is popular in organizations like government agencies and engineering firms is the ability to use automation to streamline workflows. It also helps managers find ways to use workers efficiently and look for new avenues of revenue generation.
Dynamics SL Retirement
Microsoft plans on retiring mainstream support for the most recent version of SL in 2024. That means companies will no longer receive new builds, fixes, patches, or other releases to help with functionality. Organizations must purchase a separate Dynamics SL maintenance and support package to continue receiving these upgrades.
Extended support for SL is currently scheduled to end in 2028. Customers will not have the option of purchasing additional maintenance support, meaning that companies won't be able to address any issues that might crop up with their Dynamics SL instance. Therefore, businesses should consider upgrading to Microsoft's latest ERP and CRM platform, Microsoft Dynamics 365, versus Dynamics GP.
Comparing Microsoft Dynamic GP vs. Microsoft Dynamics SL
Microsoft Dynamics SL integrates with cloud products, enabling users to set up reports using Power BI. Because Dynamics SL is an on-premises solution, companies would need to build supporting infrastructure, meaning additional costs. Dynamics GP does not easily integrate with other cloud products, so you would need to move over to Dynamics 365 to access the same functionality.
Dynamics GP and Dynamics SL both require the purchase of additional licenses. GP requires companies to buy a license for each user, while Dynamics SL requires one for every device upon which the software is installed. A business would also need an IT team capable of providing ongoing maintenance, patches, and updates.
Customizations for both products would require the help of a Microsoft partner like Integrated eBusiness Solutions (IES). They can help set up new features and integrate other applications with your SL or GP solution. Businesses would also have to invest in an instance of SQL Server to support either Dynamics GP or SL.
What is Microsoft Dynamics 365?
Microsoft Dynamics 365 combines the best features of past Dynamics products like GP, SL, and AX and moves them into the cloud. That eliminates the need for organizations to pay for expensive hardware and services to support their ERP.
Customers who sign up for Dynamics 365 can choose which modules to include with their subscription, including those offering functionality that covers:
Sales

Supply Chain

Accounting

Finance

Project Management

Reporting
Organizations also benefit from having a CRM and an ERP in one platform, which isn't available from either Dynamics GP or Dynamics SL. Companies can leverage the business intelligence within Dynamics 365 to collect metrics from across their enterprise and figure out how various business areas are performing. Businesses can also use real-time insights to optimize business workflows.
The Best ERP Solution for Business
Figuring out which ERP solutions work best for your company depends on the needs of your company. If you're having trouble deciding whether to use a legacy Dynamics product or move to Dynamics 365, IES can help you map out what's best for your business. Find out more about our consulting services and how we can benefit you as a solutions partner by consulting with one of our experts.