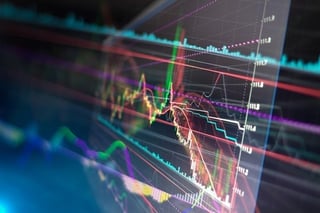 Are basic business functions holding you back?
Frequently, small businesses experience growing pains as they struggle to streamline efficiencies by automating various employee processes. Typically they have multiple data points across several software systems, and they're seeking increased efficiencies though integration of these various parts and pieces. They may be experiencing:
Miscommunication between departments.
Difficulties in responding to customer data requests.
Problems with managing inventory.
These are all great reasons to consider an Enterprise Resource Platform (ERP). ERPs help a business improve collaboration, production, and efficiency. Many are housed in the cloud; secure and robust, the cloud allows large file storage and the ability to access the ERP via the "Internet of Things" (IoT).
If a business is seeking a software partner that will integrate crucial business functions from sales and inventory management to payroll and accounting, then they're probably ready for an ERP. An ERP can help a business save time by self-populating data across multiple functions, automating inventory, payroll and customer billing, and helping keep you compliant with the latest legislative and regulatory changes.
Some key functions of an ERP include:
Finance, accounting, and banking.
Lead generation, sales (including order entry), and customer relationship management (CRM).
Inventory and purchasing.
Vendor management.
Human resources, time tracking, and payroll.
Reporting and business analytics.
The best ERPs integrate all these features into one interoperable platform. Ultimately, ERP platforms are business management tools designed for companies that are expanding their reach. Typically, these companies want to improve their workflows in order to gain more customers, reduce time spent on back office functions, and use analytics to improve profit. ERPs also allow remote functioning, typically from any digital device, which is crucial in today's business landscape.
If a business is ready to compare ERPs, it will be easy to bog down in all the functional features. Let's start with an apples-to-apples review of two of the leading ERPs in the market: Microsoft Dynamics vs. SAP Business One.
Microsoft Dynamics vs. SAP Business One – Side-by-Side Comparison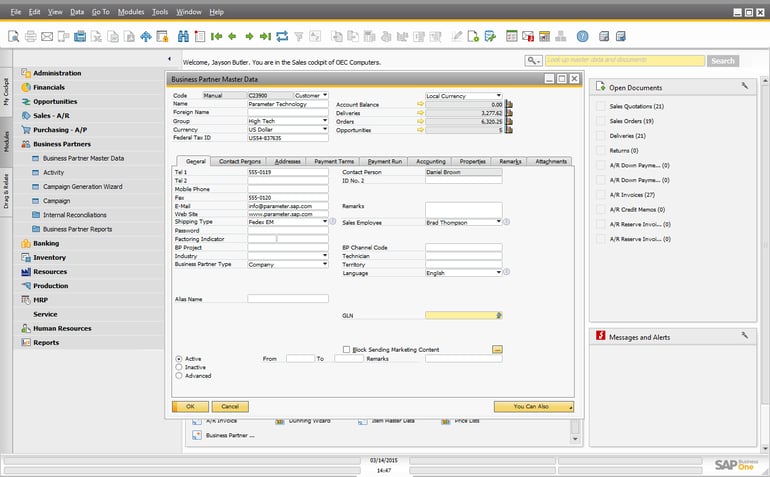 SAP first hit the American market when the company was purchased from an Israeli software development company approximately five years ago. They've been targeting small to medium sized companies but are struggling to play catch up to the international powerhouse that is Microsoft.
It's a foregone conclusion that SAP doesn't integrate as well with the Microsoft suite of office products, but they continue to work on that. SAP is most frequently used by small to medium sized IT companies, and thus has been designed with some more specific solutions tailored to that vertical market. Conversely, Microsoft Dynamics has been utilized across a wide variety of industries, from IT to healthcare, to food service and distribution. This makes for a more robust platform suited to a wider variety of settings.
Reporting and analytics work well on both platforms. However, Dynamics offers a wider array of reporting functions, changing how you slice and dice data with tools like SmartList Builder, Excel Report Builder, SharePoint integration, and Business Portals. SAP uses one add-on platform for analytics and reporting.
At first glance, the features lists for these two products look very similar. Microsoft Dynamics and SAP are both great ERP platforms, but Dynamics does have the advantage, right out of the gate, of more than 750 add-on solutions. SAP cannot boast to these numbers, but had developed a number of vendor partnerships to fill functional gaps in scalability.
Both platforms are fairly functional, targeting small and midsize companies experiencing accelerated growth. But this is where Microsoft Dynamics extends well past SAP: they can flex to handle the largest of enterprises across states and nations. SAP has a specific market niche, and they're doing well there, but if a business is planning on expansive growth, Dynamics is probably the better long-term fit.
Both platforms feature rapid start out-of-the-box features, but Microsoft Dynamics has the benefit of the more familiar environment. Most Americans have been using Microsoft products for several years, so the dashboards and workflow processes have a more familiar feel. This is an advantage when it comes to user adoption of this platform.
SAP is compatible with MAC OS, Linus, Windows, Unix, and Novell Netware. Microsoft Dynamics is compatible with, literally, all operating systems, including Windows and Mac OS. SAP lacks interoperability with an office suite application, such as Office 365.
SAP Business One offers the standard interface with access to a variety of features for all users. Interestingly, Microsoft Dynamics allows immediate customization in workflows, dashboards, and task lists, offering 20 templates and views to select. This personalization is a refreshing standard feature across the Dynamics suite of products.
SAP does offer out-of-the-box workflow solutions that Dynamics does not. The only drawback is you will have to adjust your internal processes to SAP's processes. But SAP lacks the ability to flex with a business that comes with the Microsoft product. Dynamics was designed with this flexibility in mind, so it can grow with your business, no matter what industry you're in.
General benefits of Microsoft Dynamics vs. SAP Business One to consider include:
Deploying Microsoft Dynamics from the cloud increases efficiency and flexibility for managers of information technology.
The upgraded window design of Microsoft Dynamics facilitates faster file sorting from one screen. You can track and view prior purchase orders; improve relationships and better manage vendors, and even set up custom filters highlighting your preferred search preferences.
Dynamics boasts robust, immediate functionality and implementation options that are scalable to your business.
Quick and simple configuration and customization makes Dynamics a good choice when the time from box to go live is important.
One "neat feature" to mention is the budged exception reporting feature that flags accounts that aren't setup system-wide.
Multiple simultaneous order entry across sale, purchasing, human resources and other functions is possible, managed efficiently by workflow reassignment notifications that allow for better document control.
In the sales module, there is an all-in-one document feature that allows concise review of all transactions by client in one single window.
But don't take our word for it; let's take a look at what businesses are saying about these two products.
Microsoft Dynamics vs. SAP Business One -- What Businesses Are Saying
Consumer reviews of Microsoft Dynamics vs. SAP Business One tell the story of one platform that is clearly accelerating the work world.
Microsoft Dynamics made Gartner's "Magic Quadrant," the IT equivalent of The People's Choice Awards. Capterra ranks Microsoft Dynamics with 4.5 of 5 stars. Keystone Strategy conducted an extensive side-by-side field test of Microsoft Dynamics vs. SAP Business One in 2007, with some interesting results. Their evaluation looked specifically at the benefits of these platforms, and how users increased their productivity as a result of using these ERPs. They measured use of these ERPs across 100 businesses in the following areas:
Collaboration and workflow efficiencies as an aid to inter-departmental communication.
Business insight across departments, and ease of BI reporting.
Flexibility in adapting the platform to changing business needs.
Usability including overall UX (user experience).
Familiarity and ease of learning and implementing the new platform.
Transactional Efficiency including the system's speed, reliability and effectiveness.
Their findings included:
Actual users of Microsoft Dynamics scored the platform 18% higher than SAP users scored the SAP platform.
While Microsoft Dynamics scored higher than SAP overall, the software was ranked as high as 27% better in some categories.
Dynamics scored twice as high for finance functions as SAP.
In the following survey questions, SAP scored twice as high as Microsoft Dynamics. In this case, twice as high, meant twice as bad. Some of the survey questions included:
It takes too long to learn how to work with this software.
I sometimes don't know what to do next with this software.
This software is awkward when I want to do something that is not standard.
This side-by-side comparison of Microsoft Dynamics vs. SAP Business One has yielded a substantial argument for the benefits for Dynamics implementation. It seems fairly clear that Microsoft Dynamics offers the flexibility to get the job done right, while allowing the scalability to grow with your business. The familiarity of the Dynamics platform increases ease of use, interoperability between functions, with a more robust add-on offering. Of particular importance is the concept of "user friendliness;" software adoption will increase automatically and training time will lessen upon adoption of the more familiar software package.
Nucleus Research, a global provider of IT research, backed up these findings, publishing a report showing companies that use SAP ERP are 20% less profitable than businesses that use Microsoft Dynamics.
While these findings are almost shocking in their comparison of Microsoft Dynamics vs. SAP Business One, ultimately, business owners will have to make their own decision when it comes time to adopt an ERP. When a business is ready to compare Microsoft Dynamics vs. Business One, IES can help you measure the on-the-ground ROI of these platforms, and aid you in selecting the best and most cost effective solution for your current and future daily business needs.