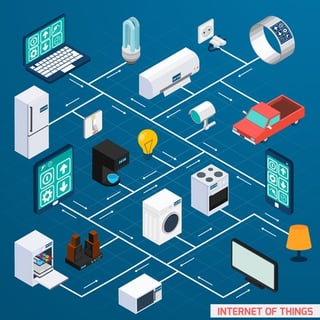 The Internet of Things isn't just a tech trend. For many enterprises, it's also an incredible data gathering opportunity. One of the most compelling new MS Dynamics CRM features is its improved IoT integration. IoT integration will make it easier for businesses to engage their customers and optimize their operations. In this post, we take a look at how Microsoft incorporates the IoT into Dynamics CRM.
The Azure IoT Suite
The Azure IoT is designed to connect devices directly to Microsoft integrated solutions. The Azure IoT is able to collect data from these devices and consolidate the information where it can be compiled and analyzed. Any device can be connected through Azure IoT, which can include smartphones, tablets, and other proprietary mobile systems. Many companies today use sensors and other mobile devices to gather information, which can range from customer service information to equipment data. Once the data has been collected, MS Dynamics CRM can take the information and analyze it.
Data Analysis through MS Dynamics CRM
Predictive maintenance, remote monitoring, and better security can all be achieved through Azure IoT. But the tool that organizations are likely to use most is Azure Machine Learning. Azure Machine Learning takes the consolidated information that is gathered through Azure IoT and then analyzes it. Insight gained from this analysis can be used in a variety of ways, such as monitoring customer satisfaction or determining when maintenance may be required on equipment. Businesses will be able to find new ways to analyze this data as these IoT devices become more commonplace.
Improving IoT Security
In addition to better data, Azure's IoT can also improve upon security. By tracking and connecting to IoT devices, Azure IoT can make it easier for these devices to be managed. Once devices are logged, the changes that they make to the network and the traffic that they push through the network can be monitored. The Internet of Things is rapidly growing and networks are finding it much more difficult to secure all of their new endpoints. Azure's IoT puts all of this information under the control of the network administrator, so they can make informed decisions regarding the health of their infrastructure.
Proactive Access and Response
Internet of Things devices often gather data at a speed that is far beyond what the organization could otherwise achieve. Equipment sensors and field agents will be able to give real-time reporting and maintenance information to the company's system, thereby providing them with the data that they need to make proactive decisions. The faster the response, the better customer service a company can provide. Improved mobile management also makes it easier for companies to offer their full array of services, products, and information as needed at client sites, with vendors, and in other geographic locations entirely.
Though it may be an incredibly impressive feature, the new IoT tools are only one of many improvements that Microsoft has made. Microsoft has remained committed to improving upon both the engagement and data analysis of its CRM solution. If you want to make the most out of MS Dynamics CRM, then contact IES.