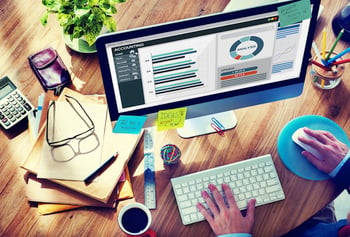 At any part of a project, money tends to be of the utmost concern. As the project's implementation creeps along, the amount of monies due can even exceed the value of the accounts receivable. Knowing where your project is at in relation to the red or black part of your bottom line is imperative to ensuring a successful project completion.
Keeping track of the ebbs and flows of cash is made much simpler when you integrate the accounting process into a simple project management software.

Related Blog: A PROJECT MANAGEMENT SYSTEM HELPS YOU MANAGE YOUR TIME AND MATERIALS

Keeping track of the ebbs and flows of cash is made much simpler when you integrate the accounting process into a project management billing system.
What is it?
Whether you need billing software for small business or big business, a project management system allows companies of all sizes to capture all billing activities of a project, making the management of invoicing much more streamlined.
How does it work?
Project management billing software employs the power of technology to remove many of the manual processes previously associated with tracking accounts payable and receivable for projects. The system will allow you to monitor and measure progress of the project in relation to the finances. Costly bottlenecks can be easily identified, as billable items relative to each task, activity, and person are captured.

This automated process helps fill any gaps where otherwise manual processes could leave overlooked revenue on the table, and you gain easy access to milestones, timesheets, and expenses associated with task-level or big picture items. You then have reports at your fingertips to help you analyze various aspects of the undertaking so you can hone in on quantifiable metrics, and make adjustments as the project progresses.
What types of billing are available?
A project management billing system isn't a one-size-fits-all opportunity. Different billing methods require systems that can handle the tasks at hand. Progress billing, for example, is a commonly used billing method for projects. In this circumstance, your company (the service provider) would provide an estimate of the entire project upfront. Due to the differences between estimated cost versus unforeseen expenses, in addition to time and a number of other factors, end-of-project-completion invoicing doesn't make a lot of sense in these situations. Rather, you would send out bills at periodic intervals throughout the life of the project. While this method is excellent in theory, keeping track of costs as you go can be a nightmare if you don't have the proper system in place.


Looking for a billing software for small business? Head over to our Solution Designer, and start building your perfect billing system.