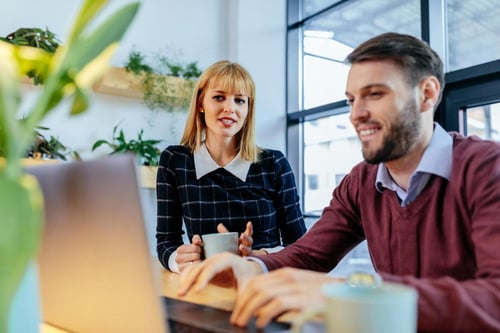 Businesses large and small often find themselves juggling multiple projects, plans, and tasks. Unfortunately, keeping up with all often becomes a job in and of itself. That's where it pays to have reliable project management software to help project managers organize the way they plan and run projects.
Microsoft Project, part of the overall Microsoft Office suite of products, aids users in performing essential tasks like resource management and report creation. One of the most helpful features includes Microsoft Project milestone creation.
What is a Microsoft Project Milestone?
A milestone in Microsoft Project represents a significant event in a project's lifetime. For example, let's say you're the project manager overseeing the development of a new mobile app. An important milestone in the project might include the testing phase ensuring that the app works on Android and iOS phones. You might end up setting up two different milestones representing the time it takes to test both mobile operating systems.
Setting Microsoft Project 2013 milestones (or any other version) keeps your team members accountable for assigned tasks. In addition, they keep managers on track to ensure a smooth deliverable process.
In addition to creating Microsoft Project milestones, other essential functions made available by the platform include:
Project Tracking
Time Management
Task Scheduling
Costs Tracking
Resource Allocation
Project Budgeting
Documentation
Examples of Milestones:
Project approval
Objective review
Planning
Resources
Decisions
Environments
Processes
Design approval
What are the Benefits of Using Microsoft Project Milestones?
Adding milestones to your Microsoft Project instance help you:
Monitor the Progress of Projects
After you've identified and set up a milestone, Microsoft Project helps managers keep track of important deadlines, stay on top of the project schedule, and ensure the team hits critical KPIs. In addition, after completing each milestone, management can provide stakeholders with a more accurate picture of the project's progress.
Enable Better Team Collaboration
One of the biggest stumbling blocks that tend to throw projects off-track is a lack of meaningful communication between project teams. If the business stakeholder for the mobile app fails to update the development team about a missed requirement, the app could end up missing an element critical to its future success.
Project managers can set milestones that include a requirement for the stakeholder to review the requirements before proceeding to production. That way, the developers can learn about any missed items and ensure they're covered during the development phase. Catching issues early leads to better productivity and increases the chances of successfully delivering the project on time and within budget constraints.
How Do I Add a Microsoft Project Milestone?
Microsoft Project depicts milestones as diamonds. The platform sets up any tasks with a zero duration as a milestone. It's also possible to add non-zero milestones to a project. An example of that might be waiting for a stakeholder to send back approval to proceed to the development phase of the app development project.
Creating a non-zero milestone
Open Microsoft Project, then click on View.
Go to the Task Views group, then select Gantt Chart. Gantt charts are ideal for tasks like communicating project schedules.
Type in a meaningful name for your milestone in the first empty row. You can also select a task you wish to turn into a milestone.
Add a 0 to the Duration field, then press Enter to save.
The task should now appear within your current Gantt chart.
Creating a milestone with a duration
Certain milestones take time to complete, like receiving approvals for completing different phases of development.
Select View within Microsoft Project, then click Gantt Chart.
Add a meaningful name for your milestone in the first empty row or select a task to turn into a milestone.
Choose your milestone, then click on Task. Next, navigate to Properties group for that task, then select Task Information.
Select Mark task as milestone, then click OK.
Once you're done, the milestone symbol should appear on the last day of the task in your Gantt chart.
Adding an external milestone
At times, project managers may need to track milestones outside the scope of a current project. For projects outside your organization, you can follow the steps outlined for non-zero milestones, then make manual updates as you track the external task.
What Are Some Best Practices for Microsoft Project Milestones?
Before you start setting up a Microsoft project milestone, make sure you understand the goal of your project. What is it you want to see at the end of the process? Once you have a clear objective, it is easier to plan out your Microsoft project milestone timeline.
After creating your new project, start planning out the structure of your project. That cuts down on the risk of something unexpected upending the entire process. Then, break the project into various tasks and subtasks for more concise tracking.
Gannt charts make it easy to plan important dates, tasks, and deadlines in your project. In addition, adding milestones allows you to create a Microsoft Project milestone report to share with stakeholders.
As you add your milestones, make sure you're also taking advantage of core Microsoft Project features, including:
Planning and scheduling — The planning and scheduling functions allow you to prioritize tasks, define activities for the project, and create a shared calendar for teams.
Project timeline view — Setting up a project timeline view that includes your milestones allows individuals independent of the project, like a company executive, to keep up with your progress.
Reporting — Project managers can quickly generate reports, including a Microsoft Project milestone report.
Multiple project tracking — Managers can work on and set milestones for various projects within the platform.
Enable Better Project Management with Microsoft Project
Internet eBusiness Solutions helps organizations learn to use the power of Microsoft Project to enable a higher rate of successful project deliveries. Find out more about how we can make your projects more efficient with Microsoft Project by contacting one of our representatives for a demo.