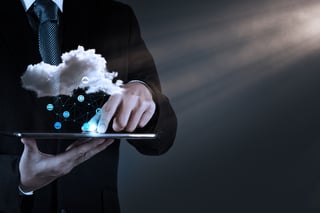 The worldwide public cloud market is projected to hit the $411 billion mark in 2020. That's great news for software developers like Microsoft, whose Azure cloud storage platform has been named to Gartner's coveted Magic Quadrant for Cloud Infrastructure as a Service Worldwide. In fact, Microsoft is currently the only cloud-based software provider recognized by Gartner for Software-as-a-Service (SaaS), Infrastructure-as-a-Service (IaaS), and Platform-as-a-Service (PaaS).
Microsoft and some of the other cloud providers on the market have come a long way in the last decade. Today, Gartner has declared the cloud as a mature technology and infrastructure, and CIO Insight points out that 90% of all enterprise organizations have adopted at least some form of cloud technology, with many choosing to migrate and store data in the public, private, or hybrid cloud.
Yet there remains a contingent of stubborn CIOs that are reluctant to migrate data and crucial business functions into the cloud. This article looks at the pros and cons of Azure cloud services to help inform any c-suite that remains uncertain about the technology and where their data is stored.
The Pros of Azure Cloud Services
The first positive attribute to consider related to Azure cloud services is the infrastructures incredible reliability. The Azure Service Level Agreement (SLA) cites an uptime of 99.95%, which equates to a little over four hours yearly of downtime. This is an achievement that even an on-premise solution simply cannot reach consistently. But hosting an application or storing data in the cloud is generally tied to high uptime – which is certainly an appeal of the cloud. But the high availability of Microsoft's Azure Cloud Services continues to impress and inspire CIOs to migrate at least a portion of their data-heavy functions online. That's why Azure cloud services have been named to Gartner's Magic Quadrant for Public Cloud Storage Services for the last two years.
An Azure cloud service offering also provides developer and administrative access tools, which allow IT teams the flexibility to create new applications and customizations. The product is comprised of multiple services and infrastructures, from web, mobile, testing, and storage, to backup recovery, and big data analytics. Organizations can launch internal or customer applications under the Azure framework. These applications can be launched and used quickly or ramped down just as fast.
While we hear this question less today, there are still those late-bloomers that ask the clichéd question, "Is the cloud safe?" Interestingly, the reality of cloud services today is that these providers are oftentimes safer than an on-premise application. That's because the security updates that help these companies prevent hacker intrusion are going on behind the scenes all the time. On-premise applications are often neglected – security updates and backups sometimes simply fail to happen.
One example that illustrates this point is the ransomware attack in the United Kingdom last year that shut down the National Health Service, the country's leading healthcare provider. The malware, called WannaCry, worked by infiltrating and exploiting operating system vulnerabilities in an on-premise platform that had failed to be upgraded. This is an important point -- these operating systems were not in the cloud; they were on site hardware and software that had failed to be updated by internal IT teams, in some cases, for years.
Azure cloud services have security teams devoted exclusively to detecting network and data encroachment as well as procedures for siloing and sealing the breach. These networks are monitored with the highest level of physical and digital controls that have made Azure a multi-compliance certified provider. From multi-factor authentication and encryption to application password requirements, Microsoft Azure cloud services offers full-service security designed to mitigate cyber threats.
Azure cloud services also offer the scalability to grow with any enterprise. One of the chief benefits of any cloud service provider is their ability to expand to accommodate shifts in service usage trends. Azure cloud services can flex upwards when more computer power is needed. Whether it's a small business or an enterprise with the need for a large data warehouse, Azure cloud services have infinite storage available to handle exactly what you need when you need it.
This leads us to another benefit of Azure cloud services, which is the cost. Cloud models are designed to be pay-as-you-go, whether it is a SaaS application or data storage. Businesses pay for what they use in the cloud in a subscription-based model. These services have evened out the financial spikes that come from upgrading or replacing hardware that still plague those enterprise organizations that operate an on-premise network of servers.
With Azure cloud services, companies can reduce and manage their infrastructure costs. This remains a very attractive feature for companies concerned with maintaining a competitive fiscal bottom line.
The Cons of Azure Cloud Services
Any technology can fail. In early 2017, the leading provider of cloud services, Amazon Web Services (AWS), experienced a technology disruption that was felt around the world. What this outage illustrated was not necessarily that the cloud is unsafe, but that service redundancy when it comes to critical business functions is an imperative.
There are three key lessons learned from the AWS service outage, which could be applied to any data storage service in the cloud:
Data backup and recovery services are an important part of any cloud or on-premise IT architecture. Just because the data is stored safely offsite is not a reason to skip creating a disaster recovery plan that encompasses all critical business functions.
Discuss where data is stored with your cloud services or managed services provider. Azure cloud services have a geographically dispersed data load that is also balanced; meaning data can be migrated to multiple storage locations. This is important to help mitigate risk from human-made or natural disasters.
If your organization still feels uncertain about migrating all data into the cloud, consider a hybrid solution that encompasses on-premise and cloud storage. The hybrid solution could also include a private cloud, virtual machines, or any other service that provides a redundant backup should the primary technology fail.
The other point to consider is that Azure cloud services aren't "upload and forget it." Ensuring all the moving parts that make up your IT infrastructure are meshing properly does take IT management behind the scenes. Without this focus, it's typical to over-provision for cloud services that end up not being used.
Whether an internal IT team or an outsourced managed service provider accomplishes this is up to you, but typically we see enterprise-level organizations seeking to outsource management of cloud functions. In these scenarios, managed service providers compliment an existing team. One positive is that outsourcing frees up internal IT teams to focus on other more pressing matters. A negative is that outsourcing relationships are always tricky and run the risk of going awry.
Conclusions
Techopedia says, "Microsoft Azure has recently proven to be one of the strongest players in the cloud industry."
Microsoft remains focused on bringing new developments to their cloud service that continue to shore up their offerings and the secure infrastructure that keeps Azure cloud services at the top of its game. At the September 2017 Ignite conference, Microsoft discussed upgrades and updates to their services that will continue to propel Azure cloud services to the top of Gartner's "best of lists." In 2018, watch for:
The launch of Azure File Sync, a secured files management and sharing service.
A new hybrid cloud data service that will offer enterprise-level data storage, management, and security.
A new security service called Azure DDoS Protection, which will secure some of the most vulnerable endpoints in your IT network (for example, Wi-Fi and cell phone connections).
Roll out of Azure Cost Management and Policy, which is designed to help enterprise organizations monitor spending and compliance.
Integration of new backup, monitoring, and disaster recovery for virtual machines.
The release of Azure Migrate, a backup service that captures all on-premise workloads, activities, data, and applications and then sends it to the Azure cloud.
Preview of the Azure Data Box, which provides security for data migration of very large sets of data.
If Microsoft succeeds in rolling out half of what they've promised, it is clear that they will continue to capture more market share with Azure cloud services.
While there are more pros than cons of Azure cloud services, decisions on whether to migrate data are up to the individual organization. Surveys show that organizations will continue to spend their IT budgets on cloud migration. Less than ten years ago, many companies were reluctant to migrate their data and tools into the cloud. But concerns over privacy, security, and compliance have been outweighed by the convenience, flexibility, and low cost that the cloud offers. Given these benefits, and the fact that Azure cloud services has been established as a secure platform by Gartner, it's clear that Azure cloud services will continue to offer businesses of all sizes real opportunities to reap the benefits of cloud computing in the future.