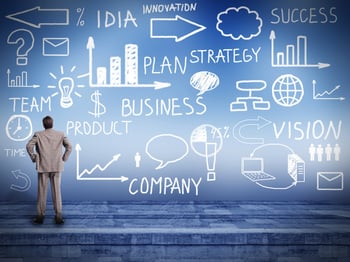 Midsize businesses often turn to QuickBooks for accounting solutions since it's a user-friendly software that isn't too expensive and doesn't require a long learning curve. But as your company grows and finances become more complex, it's advantageous to move on to more advanced enterprise software. The following is a comparison of midsize to small business MS Dynamics and midsize to small business QuickBooks so that you can decide which one works best for you.

Related Blog: HOW MEDIUM SIZED COMPANIES CAN MANAGE INVENTORY
Popularity of QuickBooks

QuickBooks, which runs on either Windows or Mac, is marketed by Intuit and is a popular choice for midsize businesses. It has been the dominant accounting software since the mid-nineties, partly because it doesn't require deep accounting knowledge to understand. Its market share reached as high as 94 percent in 2008, according to NPD Group, although in recent years its popularity has slightly dipped to 85 percent market share. The main drawback to the software is its limited functions, which include accounting, payments and payroll.
Why Companies Upgrade to Dynamics

If your company begins to develop several departments, sells multiple products or accumulates a long list of customers, it may be time to consider shifting to more sophisticated business software. Microsoft Dynamics is more than just an accounting program. Its functionality extends to tracking distribution, customer service, manufacturing and human resources. While QuickBooks may be sufficient for businesses with limited revenue, it becomes inadequate when your business starts to boom. Dynamics, on the other hand, is scalable and can be used by hundreds of workers at the same time.
Since Dynamics is a Microsoft product, it integrates well with other Microsoft software, especially Office. Like QuickBooks, Dynamics is easy to learn and is more about running your business than learning technology. It can be deployed quickly and used by sales teams to study organization statistics as well as learn about customer history. It's much more flexible than QuickBooks and eliminates the issue of double entry.
"Microsoft Dynamics GP met 84% of a typical customer's requirements, while QuickBooks Enterprise 7.0 met only 40%" Via @CALerpNews
Overall Midsize to Small Business QuickBooks vs. Microsoft Dynamics Comparison

Even though QuickBooks is sufficient entry level software for smaller businesses, when you grow your business to more than 50 employees, you will eventually need to upgrade to more robust software that runs faster and accommodates more users as your company attracts a growing customer base. While QuickBooks is somewhat rigid, Dynamics is highly customizable and allows employees to access data from various departments. The average return on investment of Dynamics CRM is 243%.
If you are interested in upgrading your small or midsize business to Microsoft Dynamics, contact us today for more information or to get started.