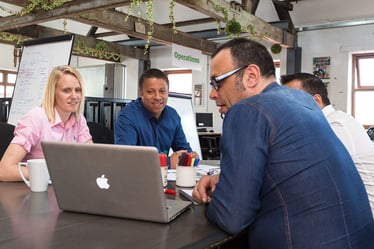 Understanding whether your small business needs an ERP is the first step. If you've done due diligence on enterprise resource planning (ERP) platforms, you already understand the efficiency and cost savings they can bring to any business. Small business owners are increasingly adopting these sophisticated platforms because they've become less cost prohibitive under the newer cloud-driven software as a service (SaaS) subscription models.
Today, a cloud-based ERP is one a necessity for small businesses that are looking to achieve a competitive advantage in an increasingly intense marketplace.
This article will look at some of the best of the SaaS ERP solutions for smaller companies. While there are many options for small business, what features should you look for?
SaaS ERP – What's Important for a Smaller Company?
One of the most crucial requirements of a SaaS ERP for small business is certainly finance and accounting. Many times we see small companies gravitate toward QuickBooks, that old reliable standby.
The problem today is when the modern office runs separate systems for inventory, sales, order processing, billing, human resources, and so on. These silos sometimes do not interact well with QuickBooks or whatever accounting platform you're using to run the numbers. That's exactly why a SaaS ERP for small business is so important. Integration between business functions is seamless, and busywork is reduced because the ERP works with one single source of truth across all of these functions.
PC Magazine points out, "In essence, ERP is a systemic approach to managing the entire enterprise, not just its finances. By integrating all of these modules into a single cohesive whole, customers can gain new insights and create new processes that weren't possible under separate tools."
A SaaS ERP solution also has built-in analytics that makes it easier to make faster and more accurate business decisions. Problems with the supply chain are quickly remedied, customer relationships are improved, and planning is more efficient.
Predictive Analytics Today says, "Through this system, small businesses can eliminate the need for storing multiple copies of data such as spreadsheets, databases and order forms. This makes it easier for personnel to access and update pertinent information with the click of a button."
With this in mind, some of the features to look for in the best SaaS ERP solutions for small business include:
Ability to allow for customization
Ease of use right out of the box
Ability to integrate with any existing platforms
Mobile-friendliness
While these are just four of the general requirements you should look for, it may make sense to consult with a managed service provider to determine the specific requirements for your business.
SaaS ERP for Small Business – PC Reviews
Earlier this year, PC Magazine reviewed some of the best SaaS ERP options for smaller companies. We're pleased to see that Microsoft Dynamics 365 made the list for 2018. Some of the other options for small business included Oracle NetSuite OneWorld, Syspro, SAP Business Professional, and Sage 300.
The review of Dynamics suggested Microsoft's tight integration with the 365-cloud Office productivity suite makes it a "solid offering that's easy to navigate." For small business teams interested in test-driving the Dynamics SaaS ERP, contact IES.