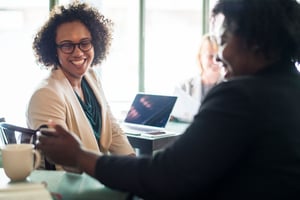 There's one thing that just about everyone can agree on when discussing cloud-based enterprise resource planning (ERP) software – it helps small businesses compete against bigger organizations.
When ERP is used in the cloud as software as a service (SaaS), small companies have an affordable option for improving the efficiency of their business. Traditionally, ERP was an expensive, heavily customized option typically affordable for only the enterprise or mid-level company. Today, SaaS ERPs brings this powerful platform to small business in a way that changes the competitive game.
However, not all ERP platforms are suitable for the small business. There are dozens of SaaS ERP solutions to choose from. Which ones are designed exclusively with the smaller business in mind?
SaaS ERP for Small Business: What Are Your Options?
SaaS ERP solutions are business management tools that puts all customer and business details under one framework with one shared database. This facilitates collaboration across all departments. It also cuts down on the redundant workflows that waste so much time and increase the risk of errors in information transfer between departments.
There are many SaaS ERP platforms to choose from on the market today. Each has features and benefits to the small business. According to PC magazine, some of the leading ERP companies include:
Oracle NetSuite
Sage Intacct
Multiview
SAP Business One
Acumatica
Syspro
AccountMate
Epicor ERP
But how could these platforms benefit small businesses and what should these companies look for in an ERP?
The Benefits of a SaaS ERP for Small Business
Cloud-based ERP solutions allow businesses to be more productive. SaaS ERP for small business takes accounting, financials, manufacturing, supply chain, inventory, and sales and rolls data from these functions into one database.
In the cloud, not only can this data be accessed at any time and on any digital device, it can provide information that is consistently updated and stored by every department in your business. This real-time data can be rolled into reporting that can allow small companies to flex with the marketplace. SaaS ERP for small business is also affordable, with one low subscription rate each month without the unexpected hardware costs of on-premise applications.
Many times small companies start out with a number of free or low-cost software applications to complete tasks in their business. The problem comes with the cutting and pasting and saving of documents into and between all of these legacy applications.
SaaS ERP solutions handle everything from project management and team collaboration to accounting and billing. This technology gives small companies a competitive edge by allowing more accurate and faster ways of doing business. The days of manually entering payroll data into spreadsheets have been replaced by powerful automation tools. Workflows are more streamlined, which helps companies make split-second decisions about important issues like inventory or cash flow.
A cloud-based ERP can help strengthen the supply chain with minimal infrastructure. It can bring remote workers more fully into project collaboration. Some specific benefits of SaaS ERP solutions for small business include:
Affordability
Scalability
Security
Agility
Microsoft Dynamics SaaS ERP offers all these benefits and more. It's software that was designed specifically for the small to mid-size business. Talk with IES to find out how this platform could help your business.