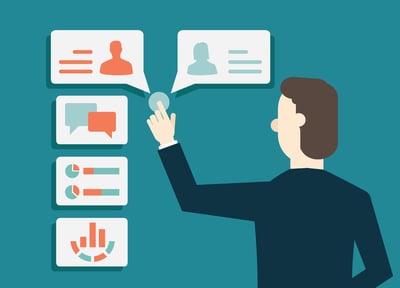 Customer relationship management (CRM) software is a single-database platform where all of your interactions with prospects and customers are stored. It is the single source of information that should meet the needs of multiple departments in a business.
For example:
Managers are concerned about activity, whether it's a sales rep making cold calls or a customer service rep solving client problems. A good CRM allows managers to look at a productivity dashboard that shares information on sales forecasts vs. closes. But it should also allow marketing managers to understand how their last marketing push performed. Finally, customer service managers should be able to see which staff members are the most productive while solving client problems.
Customer Service shouldn't be stuck with legacy platforms that make it difficult to decipher what's going on with the customer. There is nothing more frustrating for a client than to have to explain (again) what happened in their last few calls. They want a CRM that helps them troubleshoot customer problems without slowing them down.
Marketing wants to analyze consumer trends and see how their latest campaign is going. They love reports with colorful graphics and deep-dive data that they can tweak.
A good CRM needs to do all of these things. But the truth is that all these other tasks are superfluous to the one thing these platforms were designed for – managing the customer relationship. Where does this relationship start? With the sales reps, of course.
This article will look at the various needs of sales teams and compare Salesforce vs. Dynamics 365 to determine which platform will meet – and exceed what these reps really want.
The World of Sales
Here is the reality of selling that a manager, a customer service rep, or a marketing executive may not realize. The sales rep doesn't care about the same things as any of these team members. Sales reps care about one thing: Closing the deal.
Generally, sales reps hate anything that slows down the sales process. So, if the CRM is hard to navigate, the sales rep is going to be frustrated by it. They don't care about sophisticated pipeline reports, they want a reliable, fast process for tracking their sales funnel.
Sales reps hate entering data into a CRM if it's too unwieldy of a process. What they don't want is to be required to enter data that doesn't benefit them. The truth is many times that data can be simply busy work for a sales rep but important information for a manager.
Sales reps hate compulsory fields. Forcing the sales rep to fill in a lot of blanks about the client that don't specifically relate to sales can aggravate them. In the mind of a sales executive, the CRM should be designed to help the sales rep sell; the remaining functions for managers, marketing, and customer service should be happy accidents.
If the CRM is overly complicated they're not going to like it, viewing it as an impediment to the deal close. The trick is to find a CRM that gives managers the data they need without bogging down the sales team.
So, from a sales perspective, the CRM needs to be simple enough to be used effectively out of the gate, while still having the multiple layers of data, analytics, and reporting that marketing and management wants. It should be a sales tool first and a CRM second, intuitively following the same pattern as the customer journey from sales prospect to long-term client.
Now that we've defined what sales reps want in a CRM, let's compare Salesforce vs. Dynamics 365.
Salesforce vs. Dynamics 365: A Sales Perspective
Salesforce remains the market leader for CRM with Microsoft Dynamics 365 following in second place. Salesforce has spent millions on their effort to corner the market. The problem? Salesforce is not user-friendly. The system is very complex, requiring training and often, a developer to create customizations or run reports. While Salesforce offers Trailhead as a self-service training mechanism, it's a time-suck for sales reps that really should be focused on closing deals. Also, Salesforce licensure is expensive it is not typically designed for the small to mid-sized business.
By contrast, Microsoft Dynamics 365 has an intuitive interface that will seem familiar because most offices have been using Microsoft's office tools for decades. This makes the learning curve less steep for anyone on the team.
Dynamics integrates with Outlook and LinkedIn, and these are two tools that are imperative for most sales reps. It can pull data from SharePoint libraries which makes it easier to send proposals or respond to RFPs.
If you've ever attempted a data import into Salesforce, you'll appreciate the easy interface in Dynamics 365 that allows users to pull or push data as a single import or in batches. This data is easily accessible from any digital device.
If you're looking for a CRM that is designed to follow the structure of a deal, Dynamics 365 has you covered. The software has a built-in process flow that can send prompts to sales reps that help them ask better questions when prospecting potential new clients.
Another benefit of Dynamics 365 is that each lead can be tracked by sales stages in a way that is defined by the user. These pre-defined milestones are usually different for every company; Dynamics lets you set up these stages and gate them in ways that require every step in the process be completed before the opportunity moves to a new stage. This benefits both the sales rep and the sales manager.
Salesforce vs. Dynamics 365 -- Conclusions
With the right CRM, it's possible to have a tool that keeps sales, marketing, and customer service happy. Contact IES to take a test drive of Dynamics 365 and see how this tool was designed with your sales reps in mind.