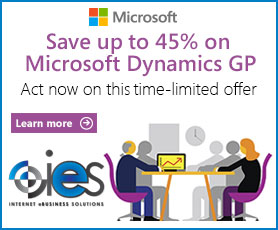 When growing your business, you need more than just hard work. You must have insight, control over your finances, and a way to streamline processes and reduce costs. You need to delight your customers in everything you do, every day.
Related Blog: CAN YOUR STARTUP COMPANY UTILIZE MICROSOFT DYNAMICS GP?
If your business is booming, it's likely that your current business management software isn't helping you out, but holding you back instead. Here is your opportunity to keep your business growing and on the rise.
Microsoft Dynamics GP is a business solution from Microsoft. It's quick to implement, easy to use, and has the capabilities to meet your business needs today and also in the future as it grows. It's available on Microsoft Azure, in Office 365, and with Microsoft Dynamics CRM. It's supported by a community of Microsoft Certified Partners all over the world with industry solutions built specifically for small and mid-sized businesses
Are you ready to redefine the way you do business?
If you're ready to take control of your finances, see your data in ways you couldn't before, set up basic warehouse and order management, and be able to manage your vendors and customers more efficiently, now is the time to do so.
Take advantage of the 45% discount we're currently offering on a license with access for first five users with Microsoft Dynamics GP. Don't wait too long to take advantage of this great deal, this is a limited time offer.
Please contact IES for a full list of eligibility.
This promotion ends 12/26/2015 . Offer not available in all countries.