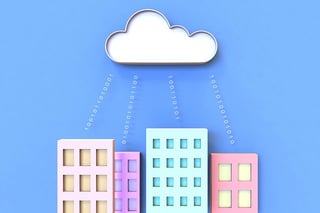 Choosing between a cloud or a hybrid platform is usually the very first step of a SharePoint migration. Both cloud and hybrid solutions have their own benefits, so it depends on what your organization needs. Cloud-based solutions are generally more versatile and accessible, while a hybrid solution may fulfill the specific needs of certain businesses.
Cloud-Based SharePoint Solutions
Cloud-based SharePoint is often adopted by companies as a way to improve accessibility and reduce cost. A software-as-a-service solution, the entirety of a cloud-based SharePoint system is hosted remotely and often maintained by the hosting company. Your enterprise will not need to invest a significant amount of money or time into the system and the entirety of the system will be governed by a low monthly service cost. Cloud-based solutions make it easier to leverage the many uses of SharePoint by providing more in terms of resources and accessibility. A cloud platform also makes it far easier to integrate SharePoint with other solutions such as Microsoft CRM. Cloud-based systems can be scaled upwards quickly to compensate for increased demand.
The downside to a cloud-based system is that it can only run as fast as the Internet connection can. A business that has many employees may find itself having to update and upgrade its data service to keep up with demand. However, the improve accessibility of such a system is often significant enough that this isn't a major concern. Security concerns are generally no greater with a cloud-based SharePoint installation than with a hybrid solution, due to the way SharePoint is deployed.
Hybrid SharePoint Solutions
Hybrid SharePoint solutions usually integrate a cloud-based system into a local copy of the same platform. A hybrid SharePoint migration ideally offers a blend of the benefits of both systems. Unfortunately this also gives it some of the associated downsides of both systems. Hybrid SharePoint solutions are often used to provide better local connectivity. The local network will be able to maintain a synced system, to reduce latency and improve performance for employees. This is especially useful for very large enterprises.
The downside is that this hybrid system will be more costly to maintain. Hybrid systems are naturally more complex, so integration with third-party solutions and other Microsoft products may be challenging. Internal IT departments will need to maintain two separate systems -- on-premise and cloud-based -- and the company may find itself spending more in terms of both man hours and direct expense. For most enterprises, a hybrid solution simply won't be necessary; cloud solutions are simpler in nearly every aspect.
Overall, if you really want to get the most out of Microsoft SharePoint, it's usually best to go with a cloud-based implementation. A cloud-based implementation will be inherently more versatile, accessible, and scalable. Microsoft has been steadily moving towards cloud-based platforms, and on-premise solutions are becoming somewhat outdated. If you're interested in learning more about SharePoint migration -- or if you need assistance in determining the best solution for our enterprise -- IES can help. Learn more about Microsoft SharePoint today.
Image by: Chris Potter