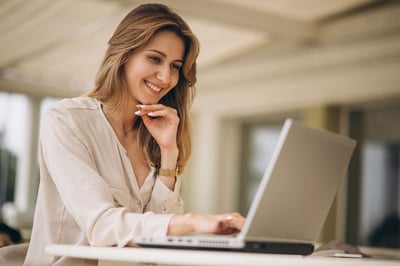 SharePoint online is Microsoft's answer for remote team collaboration. Use SharePoint online for everything from business intelligence to document sharing. It's a great tool to keep teams informed, allowing users to develop Intranet sites and web portals for constant communication and collaboration.
Some of the best ways to use SharePoint online include:
Human resource teams can build an Intranet site for employees to share information on business policies and procedures.
Project managers can use SharePoint to organize documents, timelines, labor tracking, and calendars.
Sales executives can use Sharepoint online to collaborate on large proposal documents requiring input from multiple subject matter experts.
SharePoint online offers a feature-rich package as an a la carte offering or as part of the Dynamics 365 suite of tools. The general features in Sharepoint online include:
File storage in Microsoft OneDrive in the cloud.
External sharing between users within and external to your company.
Team websites that serve as a virtual bulletin board, calendar, and filing cabinet for all your messages, content, and data.
Mobile apps that give you on-the-go access whether you're on Windows, iOS, Android, or any other digital device.
Workflow automation tools to help your entire team improve.
Smart search and query tools that help you find what you need when you need it.
Data-loss security that's constantly upgraded in the cloud.
The latest iteration of Sharepoint online has made it one of our favorite "cool tools" in the Microsoft product suite. Let's look at nine must-have SharePoint online features.
ONE COOL TOOL – 9 FAVORITE FEATURES
#1: User Interface
Let's start with the user interface, which is the layout and overall intuitiveness of SharePoint online. Microsoft took on a smart reimagining of how SharePoint online works, and it's more integrated and less cluttered than anything we've seen out of the Microsoft designers to date.
Here are some of the overall user experience that really had a favorable impact on our clients:
End users can select the default language on the SharePoint site they're building. There are 50-different languages to choose from.
You have the option of selecting modern or classic UI for the websites and portals you build. The modern sites display a little better on digital devices.
You'll like the top navigation framework that has a simple, single browser experience. You won't get lost in windows and have to close out and start over ever again.
#2 – OneDrive sync client
We've heard complaints about the OneDrive sync feature. Now you can synchronize your Sharepoint online content with the Microsoft OneDrive client. The new feature lets users link SharePoint online sites to their Macs and PCs. This applies to read-only files and shared folders in the document library or their own self-selected list.
This new tool lets you do cool things like dragging and dropping a file on to your desktop folder and then syncing it with the online library.
#3 – Security and compliance features
We think Microsoft pulled out all the stops on this one. As part of the Office 365 package, SharePoint online gives you the ability to create admin policies for document labels. Document labels can be used to designate higher-risk data, such as sensitive credit card information or customer data. Once you've created the document label policy, you can apply them to emails or existing documents, based on document content. You can also set rules that block document sharing with anyone outside your company if the document matches the document label policy. Those with admin rights can prevent users from deleting documents and automatically archive or remove files after a certain pre-set time. There are even filters that enforce healthcare's HIPAA rules or other regulatory compliance issues.
#4 – Workflows
SharePoint online integrates with Microsoft Flow, a workflow creation and management tool. It's one of the smartest tools for automating document approval processes. You can automatically send an approval request for a document after it's been uploaded to a library. There are 100 workflow templates in Flow, or, you can create your own.
#5 – PowerApps
Even if you don't have coding skills, you can use PowerApps to build a custom application. It's a well-designed visual app design tool that looks like a cross between Excel and PowerPoint. There's a great UI that makes it simple to use, with tons of pre-built templates and features with slick app previews for mobile and tablet. PC Mag lists it as one of their top picks for low-code app development.
#6 – Data analytics for sites
Having the ability to view SharePoint online usage data means you'll be able to see and understand how users are interacting with your sites. You'll see unique viewers, site visitors, most viewed, and more. While the data dashboard gives the overview, you can also deep dive if you have admin rights to the sites.
#7 – SharePoint themes
Applying custom colors and styles to SharePoint online sites is simple, yet sophisticated. There are several themes to choose from, and organizations can set rules that sites follow branding guidelines for the overall organization.
#8 – Co-authoring
If you've ever struggled with version control, the co-authoring feature in SharePoint online is robust and intelligent. If you've ever gotten one of those "this file is locked for editing" pop-ups, you'll breathe a sigh of relief with SharePoint online. Now you can co-author documents simultaneously with your colleagues. But don't worry, you can restrict permission to just a few editors and even automate the editorial and document approval process so you won't feel like you've lost total control.
#9 – Alerts
For those control freaks in the audience, did you know you could set an automated alert that emails you if someone has opened or edited a specific file? It's a particularly cool tool if you're waiting on an edit.
What's Your Favorite SharePoint Online Feature?
SharePoint online is one of those tools that are so robust that it's hard to learn all of the features. Contact IES to take a test drive of SharePoint online and let's talk about how this cool tool could help your business.