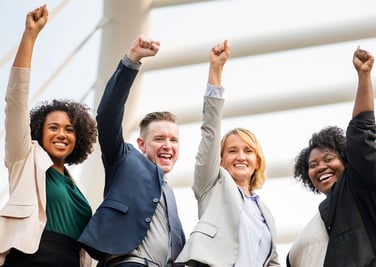 How many hours each week are your employees wasting on repetitive tasks? Are you confident that your organization is as efficient as it should be? Have you given thought to how your existing software tools could help your business improve?
A recent workplace automation survey suggests that your employees are wasting around 40% of their time on repetitious tasks. What you may not realize is that if you're using SharePoint, you have a tool at your fingertips to turn things around.
This article will show you how to use Microsoft SharePoint workflows to maximize productivity in the workplace. Let's take a look.
How to Use SharePoint: Creating a Collaborative Hub
Microsoft's SharePoint software was designed to do a lot of things for your business:
Improve collaboration between teams by creating communities of team members assigned to work on a specific project.
Increase project tasks by tracking project completion, task assignments, task descriptions, and more.
Increase efficiencies of file sharing resource libraries.
Create project management hubs where files, communications, calendars, and more are shared. These shared repositories of information have everything tied to one client or project all in one place. This is a huge time saver; you don't have to search data storage for files. Instead, a searchable library exists with that hub.
Real-time versioning and access controls that ensure your team stays organized when working on a complex document.
Data exchange between company employees and multiple software platforms are faster.
SharePoint work sites can be accessed from anywhere and on any digital device.
Easily expand the Microsoft universe by connecting to third-party apps like Facebook or Salesforce.
Engage in digital chats within the SharePoint hub where you can send documents, build camaraderie, or set up a sub-workgroup within a project.
Maximizing Productivity With SharePoint Workflows
But that's not all that SharePoint can do for your company. SharePoint also offers an organizational change management tool that helps you alter workflows and automate basic tasks.
We're talking about the process for creating SharePoint workflows. SharePoint workflows is a mini-application within the software designed to improve employee productivity. Not only can the tool help organizations cut redundant tasks by helping you get a 360-view department by department, but SharePoint workflows can also automate a lot of the busywork that distracts from the main goal of your company. SharePoint workflows can automate document tracking and routing processes, set reminders, and more. Some of the processes that SharePoint workflows can automate include:
Escalation protocols when documents miss deadlines.
Document approval processes.
Automatic reporting requirements.
Task assignments.
Project reminders.
Requests and approvals for time off.
Time tracking.
A workflow is any business process leading up to a deliverable or an outcome. SharePoint workflows can be used in even the smallest of companies to automate some of the most crucial tasks. For example, the myriad tasks in payroll management, which is normally time-consuming, could be automated in SharePoint workflows. The tool was designed to take manual processes and let the software do the work. SharePoint workflows can help your business in a number of different ways:
Saving time means saving money. SharePoint workflows can reduce overtime or help employees focus in on tasks that help grow the business – instead of just being busywork.
Improve customer service by increasing corporate organization. How many times have you felt as if the client perceived that the right hand didn't know what the left hand was doing within your organization? SharePoint workflows can help your organization achieve better communication – and, trust us, your clients will notice.
Streamline complex tasks and reduce the risk of human error. SharePoint workflow automation can ensure, for example, that your bills are paid on time or that other deadlines are met.
Automating tasks means that you have a consistently measurable process that you can analyze to see if it's working and tweak the workflow if necessary. Businesses that run smart don't run like a startup; they have rules that make sense and processes that help them work smarter.
SharePoint workflows can also cut the amount of time you spend micromanaging employees, a task that probably you and the employee dread.
Improve communication between departments.
Reduce contract or other paperwork errors.
Help enforce compliance rules by tracking due dates such as filing deadlines.
There are five SharePoint workflows already programmed into the software for you to take advantage of:
An automated approval process that lets you route documents to various departments or to people within an organization. One example of how to use this SharePoint workflow if for the sales process. Once a sales rep uploads a client contract, it could go to the sales manager for approval, then to a CEO for signature. Then the SharePoint workflow could route the document back to the client for filing, and onto provisioning and billing.
There's a SharePoint workflow that helps companies collect feedback from individual employees departments, clients, or any other target audience. It collates the feedback, and then sends it back to the person that initiated the workflow.
You can use the document signature process to collect digital signatures from multiple parties.
There's an automated document publishing process that we've found to be particularly helpful in seeking edits on complicated proposals or legal documents. If you've ever struggled with version control in your company, this is a particularly helpful feature.
For the most complicated tasks, there is a "three-state" SharePoint workflow. This can be useful within the context of a big project to help project managers track and resolve multiple tasks and issues.
Now let's look at the process for designing better SharePoint workflows to improve the efficiency of your office teams.
Designing Better SharePoint Workflows
The irony of today's modern work world is that we actually spend very little time doing tasks that are job-specific. A McKinsey study shows that less than 40% of our time on the job is actually spent on tasks that are specific to actually doing our job. The study showed:
28% of an average day was spent reading and answering email.
19% is spent searching and gathering information to do the job.
14% is spent on collaborating and communicating internally.
39% of a typical day is spent on role-specific tasks.
These are startling statistics that argue strongly for making better use of our workflows at work. Maximizing SharePoint workflows will help your employees spend less time on busywork and more time on the core tasks that are so vital to operations. So, how is this accomplished?
Assuming you're using Office 365 or SharePoint 2013, here are some of the options for workflow redesign to consider:
First, there is an out-of-the-box tool that allows SharePoint Server workflow redesign. The service is called the Workflow Manager, and it includes a development tool called SharePoint Designer 2013. This is a pre-programmed HTML tool with a set of customizable templates that cover areas like: help desk ticket resolution; sales pipeline reviews; inventory tracking; compliance; meeting planning; policy approval – to name a few. You can use SharePoint Designer to create rules and actions for each department in your organization.
Second, you can use an external workflow optimization tool. There are dozens of options. Or, IES can help you design your own.
Third, you could write your own code for SharePoint 2013. The Office 365 does not allow this feature.
Once you've picked the tools, you can start to build workflows. Here are some tips to consider when building SharePoint workflows:
First, are there any workflows that you can migrate from legacy environments into SharePoint workflows? There's no point in reinventing the wheel if you determine that the workflow improves team efficiency.
Involve the various departments in workflow development. In these instances it might be best to bring in an outside facilitator like IES, to help you build the most effective tools. It might be stating the obvious to mention that the workflows in HR will be different from sales, of course, so we typically recommend a period of shadowing each department to figure out what's working and what should be revamped.
Take the time to prototype the workflows. This can be as simple as mapping on a whiteboard, writing it out on paper, or using a prototyping program to begin to get a handle on process improvement via SharePoint workflows.
Next, go back to these departments and seek feedback. Take the time to justify workflow changes and the logic behind the adjustments you're suggesting.
Then and only then can you begin to automate tasks and establish new SharePoint workflows.
We know that we are suggesting a process of change management that may be difficult if you can't "see the forest for the trees." That's where gaining an outside perspective is sometimes critical to making these changes. Also, it should be mentioned that SharePoint is an incredibly sophisticated enterprise-level software. Having a preferred Microsoft vendor in your corner will ensure that SharePoint workflows are optimized right out of the box.
Find out how IES can help you optimize your Microsoft investment. Contact us for SharePoint training or consultation to help customize your SharePoint workflows today.