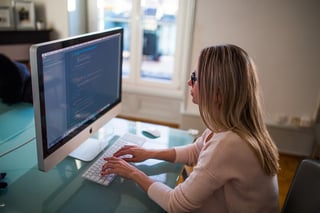 SharePoint 2013 was Microsoft's robust solution for managing all of your documents, no matter how large or small your company. But the platform was much more than a holding tank for corporate data—it was a collaboration platform that offered social media and website management, calendars, project management, a community forum, and more.
SharePoint Server 2016 is the latest upgrade that adds new enhancements to improve workplace collaboration through a more robust document library.
Microsoft knows that corporate collaboration most often centers on the documents we share and the work we do in teams. Let's explore some insights and tips on SharePoint document management and how it can help your business improve.
Insights into the Sticky Conundrum that is a Corporate Document Library
Cross-departmental collaboration can build or destroy a document. How your documents are created and managed can mean the difference between a messy, inefficient process or a streamlined collaboration that gets the job done properly.
This is clearly one of the biggest challenges to cross-departmental collaboration. Without setting some ground rules for document lifecycle management, having a huge SharePoint library can be a detriment, not a benefit.
Defining your organizational goals and rules for using SharePoint is the crucial step that not only will allow you to manage documents properly, it will also help you configure SharePoint in a way to make it more effective. Here are ten key considerations before you start uploading:
1. Starting at the beginning of the collaborative process, what are the naming conventions for proper document storage?
2. Along the same lines, what document templates will you adopt for each department?
3. Did you know you could configure SharePoint to require the population of specific metadata to build a document?
4. You can also configure SharePoint libraries to allow only very specific types of content.
5. Have you considered who has document access during the various stages of its life cycle?
6. What are the rules for how documents move between departments and individuals?
7. What about document control? When do you dispose of the various older versions of a document?
8. What legal guidelines govern these processes?
9. Automated workflow processes can be set up to require a mandatory approval or review process across departments and individuals.
10. Document sets can be configured to group similar types of content together, such as compliance documents or human resource policies.
Creating workflows and a governance plan for your SharePoint document library will ensure an efficient document management process for your company and the internal teams that collaborate on the platform.
Tips on the Differences between SharePoint 2013 and SharePoint Server 2016
Some of you reading this may still be on SharePoint 2013, which launched as an on-premise application in 2012. SharePoint Server 2016 is focused firmly in the cloud and as a result works well with other Office 365 applications. The latest version of the software features some updates that will please and surprise users. Here are ten tips on the SharePoint upgrade:
1. Compliance
SharePoint now allows you to turn on DLP Policies that notify users when a sensitive file is stored and also restricts access, preventing improper document sharing.
2. Search
The search feature on SharePoint Server 2016 actually roams across a wider array of content in the cloud including OneDrive for Business, SharePoint Online and SharePoint Server 2016.
3. Large files
SharePoint 2013 didn't support files over 2,047 MB. SharePoint Server 2016 lets you upload or download bigger files according to your configured limits, which you can set yourself.
4. Mobile
Mobile browsers now have the same dashboard and features as the desktop. Clearly, Microsoft has been paying attention to the increase in user collaboration via a mobile device. So, the latest iteration of SharePoint has a clean new layout that includes rich text, videos, news, dashboards, and more. Document collaboration can now happen anywhere on any digital device.
5. Office365 Groups
While SharePoint is storing your documents in the cloud, you can also make use of Microsoft's Office 365 Groups for a whole new communication experience beyond document collaboration.
6. Delve artificial intelligence
SharePoint has delved into the world of AI. Now the software can recommend library documents beyond what's popular or tagged. Delve now suggests content based on your activities in SharePoint.
7. Improved user interface
The latest SharePoint is more intuitive, making it easier to learn to create a folder or upload files. There's a new command bar that makes functions a lot more streamlined and clickable allowing you to move and copy files right from this feature.
8. Highlight important documents
You can now "pin to top" to add your most important documents above the fold for easy access.
9. Import other library files
The library now remembers the other SharePoint files you've used. You don't have to copy files; you can import them as links from other libraries. The thumbnails and metadata will still show as native files. It also lists most recent documents, so you don't have to look them up.
10. Integrated with Office Online
There is nothing wrong with a one-stop shop. SharePoint is integrated with Office Online, which means you'll now see document previews at the top of the info panel. Metadata, activity history, file updates and shares, and more are now easily taken in at a glance.
These improved features will help transform your document management workflows and increase corporate collaboration and productivity. SharePoint Server 2016 is catching on. Microsoft boasts more than 200,000 organizations and 190 million individual users currently using the platform for document collaboration and storage, as well as managing Intranet sites and their content.
SharePoint document management will help your organization protect file integrity while allowing editing in a more streamlined and organized workflow. That's why SharePoint is growing in popularity. This robust and flexible software is more than a document library—it is a full-fledged communication and collaboration tool.
To learn more about SharePoint and other Microsoft Solutions, contact the experts at IES today to set up a free consultation.