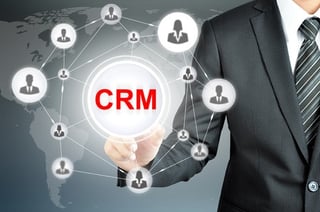 Even the most conservative enterprises are partnering with Software as a Service (SaaS) providers for everything from enterprise resource planning (ERP) to customer relationship management (CRM). In fact, Gartner predicts the public cloud services market will grow from $175 billion in 2015 to $246.8 billion in 2017.
Why the sudden shift to the cloud? When it comes to CRMs, a more mobile sales force has created a sense of urgency around accessing the sales data our organizations have been collating. But this is just one reason why Microsoft Dynamics CRM Hosting could be right for your enterprise. We've assembled the top seven reasons we hear most frequently from our clients who have decided to make the jump to hosted services.
Top Seven Microsoft Dynamics CRM Hosting Benefits
#7 Upgrades
When you're in the cloud, software updates happen continuously. There's no reason to wait for the next upgrade to improve the CRM. There's also no downtime associated with a version update.
#6 Interoperability
The Microsoft suite of products is designed to integrate seamlessly under the 365 services suite. This saves data entry time.
#5 Uptime
The architecture of a cloud-based CRM is created to maximize network performance. Dynamics offers a higher level of reliability than on-premise applications.
#4 Security
Choosing a cloud CRM software provider can come down to "Who do you trust?"
With Microsoft, you can rest easy knowing this trusted provider offers unparalleled service including backups, disaster recovery, and network security.
#3 Accessibility
One key benefit for small to medium sized businesses is that you now have access to the same tools that the "big boys" in your industry have. You can leverage the same competitive advantages found in this powerful software and no longer have to settle for just the tools that you can afford. It doesn't matter if your business has one or 100 employees—you now have the same set of powerful tools at your fingertips that your larger competitors have always had.
#2 Cost
Installing on-premise hardware means big money. Upfront costs include a technology staff to install, configure, go-live, and maintain on-premise equipment. This is a huge advantage to cloud hosting; you cut overhead by eliminating the upfront capital expenditures and on-site upgrade and maintenance costs. Microsoft Dynamics CRM online is a subscription service that can be scaled up or down depending on the number of users. This establishes a fixed monthly cost for your business that's easy to plan for.
#1 Convenience
What's wrong with working on the beach? If you're in the cloud, your sales teams enter real-time data at the customer site. You can access Microsoft Dynamics CRM from any cell phone or digital device—you just need Wi-Fi. There's a huge benefit for a sales executive who can access real-time client data right before a meeting. They can find out about that customer service issue that happened 15-minutes ago and stay prepared, polished, and professional. CRM hosting means you have 24/7 access, which is what is generally demanded these days by both employees and your clients.
To learn more about the benefits of Microsoft Dynamics CRM hosting, contact the IES team today and set up a free consultation.