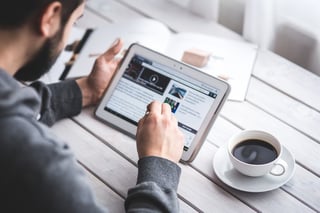 What is a Microsoft Gold Partner and why should your business consider working with one? A Microsoft Gold Partner is an expert in the deployment, management, monitoring, and customization of Microsoft software solutions. Organizations that are interested in utilizing Microsoft Dynamics-related software can take advantage of all the benefits of Microsoft Dynamics through these knowledgeable specialists.
Below, we dive into what it means to be a Microsoft Gold Partner and how they can assist you with choosing and implementing a Microsoft Dynamics solution:
What Is a Microsoft Gold Partner?
A Microsoft Gold Partner is a business that is skilled in the customization and development of Microsoft Dynamics; they are experts within this space. Microsoft Gold Partners have an extraordinary amount of knowledge and experience regarding Microsoft Dynamics as a product, and have thus earned certification and recommendation from Microsoft itself. The top benefits of utilizing a Dynamics partner include:
Expert solution customization.While Microsoft Dynamics works effectively out-of-the-box, a Microsoft Gold Partner will be able to develop your solutions to suit your organization, thereby streamlining your company's operations and making them more effective.
Top-tier solution support.A Microsoft Dynamics partner will be able to troubleshoot any issues that you run into, making it less likely that you will need to rely upon an on-site technical support team or costly by-the-hour technical support. Microsoft Partners can even offer training and other support benefits to their clientele.
Quick and easy deployment.Microsoft Dynamics partners are able to deploy Microsoft Dynamics solutions more quickly than non-partners, as they will know exactly what you need and be able to bring it to your business quickly and effectively. This makes transitioning from another CRM or ERP solution a less time-consuming task, and reduces any potential downtime.
The Advantages of Microsoft Dynamics
Microsoft Dynamics is an all-in-one software solution designed to streamline and improve operations in businesses of any size and any industry. Operating as both a CRM and an ERP, Microsoft Dynamics includes sales solutions, customer servicing, marketing, inventory management, enterprise resource planning, and more. Through Microsoft Dynamics, businesses in all sectors can gain a well-integrated platform that can be customized and tailored to their individual needs. With integration into Microsoft Suites such as Office 365, Microsoft Dynamics is also able to work seamlessly with many of the other tools that employees are familiar with. Intuitive and quick to deploy, the advantages of Microsoft Dynamics are clear, and a Microsoft Gold Partner can ensure that is implemented and maintained without problems.
So what is a Microsoft Gold Partner? A Microsoft Gold Partner is able to empower your organization to make the most of the valuable tools that Microsoft Dynamics business solutions provide. Contact us today to find out more about what a Microsoft Gold Partner can do for you.