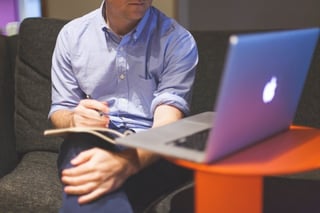 If keeping track of your data has become a hassle, or if you're afraid of what will happen to your website if there's a power outage or equipment failure, then you may want to consider migrating your information to the cloud. As a result of moving to the cloud, more and more businesses have seen decreased capital expenditure and energy waste with the extra benefit of increased productivity.
Below, we share the reasons migrating your business data to the cloud might be the best decision for your company:
Cloud Computing is Cost-Effective
For most companies, choosing to host data onsite means investing in costly and heavy machinery you may not even understand. It can also take months of work to set everything up properly. Trusting a technology institution like Microsoft to safely host your ERP software saves you on the initial costs and continued upkeep, and allows you to perform changes or upgrades on demand. Everything you can do with onsite hosting can be done with offsite cloud hosting, and at a lower cost than if you were to purchase the equipment, keep the center functioning properly, and perform all of the required updates and scheduled work on the machinery in-house.
Improved Flexibility and Features
A good cloud provider will offer you more flexibility for better performance with a variety of features that can make your business more productive and efficient. Finding a customizable cloud solution, like Microsoft, may be just the boost you need to increase productivity. And migrating to the cloud doesn't just mean your employees will have more features at their fingertips to improve their performance, it also means that you can quickly set up external features and servers for your clients as fast as they can make their requests.
Reduced Energy Consumption
Large cloud computing centers take a fraction of the energy required to host your data. They use green technology to distribute the power effectively amongst all of their clients, so everyone saves money and the environment.
Peace of Mind
Cloud hosting centers have a variety of back-up plans and solutions to protect both physical equipment and virtual data in the event of an unexpected disaster, so you can relax when you know your company's data is in secure and in expert hands. You can think of the cloud very much like you think of your light switches: you don't need to install the wiring, convert the electricity and maintain the generators. All you need to do is switch it on so you can get to work.
If you are thinking of migrating to the cloud, you should turn to a Microsoft Dynamics Certified Partner so you make the transition without confusion. Contact IES for a free consultation.