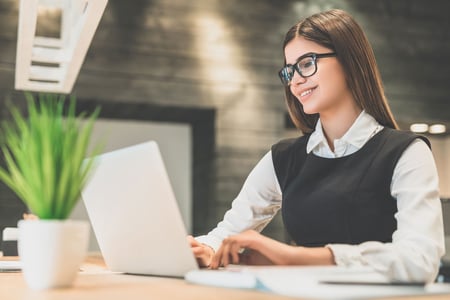 Dynamics 365 Business Central is a management solution designed to help small and mid-sized businesses (SMBs) manage various business processes. If you're currently thinking about purchasing a license for Business Central, Microsoft provides a way for organizations to evaluate the product. That way, you get the chance to try out the rich features offered through Business Central before making a purchasing decision.
What Are IWs in Business Central?
No, you haven't missed yet another addition to the Dynamics 365 ecosystem. The term "IW" stands for information worker. Information workers are those individuals assigned to one of the 10,000 licenses provided to trial users of Business Central.
How Can You Sign Up for a Trial Account?
You can sign up for a trial account by contacting a Microsoft Cloud Solution Provider (MSP). They can set up customers with the trial version of Business Central. While you can use the trial account in a production environment, it's not as robust as the paid version. The different types of paid licenses include:
Essential
Premium
Team Member
External Accountant
What Do You Get with a Business Central IW Trial Account?
The Essentials license provides users with access to the following modules:
Finance Management — Gives you access to functionality including access to a basic general ledger, budgeting, account schedules, cost accounting, bank account, and customer payment processes.
Sales and Marketing — Gives you access to capabilities including campaign management, email logging, and integration with Dynamics 365 Sales.
Sales and Delivery — Gives you access to control of essential processes like sales invoicing and order management, campaign pricing, alternative shipping addresses, and sales-return order management.
Purchasing Payables — Gives you the ability to keep up with purchase invoicing, purchase invoice discounts, and purchase order return management.
Inventory — Helps you manage business functions like keeping up with basic inventory, item tracking, location transfers, and shipping agents.
Supply Planning and Availability — Helps support your need to track supply planning, project demand forecasting, and other business processes.
Project Management — Allows companies to manage resources, handle capacity management, create calendars, come up with sales and inventory forecasting, and deal with order planning.
Warehouse Management — Gives you the ability to control bin setup, warehouse shipments, and have line of sight into your warehouse management systems.
The premium license provides you with all the features offered through the Essentials license, and also includes:
Service Management — Helps you with managing service contracts, service orders, service price, and planning and dispatching
Manufacturing — Gives you control over product orders, standard cost worksheets, basic capacity planning, and lets you create production bill of materials.
How Do You Set Up Trial Users in Business Central?
Once you sign up for a trial through a Microsoft CSP provider, you can start adding individual users.
Sign into your Business Central with your admin account
Select the Search icon, enter Users, then select the link that appears.
Pick the option labeled Update Users from Microsoft 365.
If you're working with new users, you'll need to assign user groups and permissions. Permissions are assigned to specific database objects. You must assign your IW users to at least one permission set before they're allowed access to Business Central. Admins can use the predefined permission sets added by Microsoft or their CSP. Alternatively, you can create custom permissions tailored to your organization.
You can set permissions for users by:
Choosing permission sets from the User Card page to assign to users
Choosing a user with established permission sets from the Permission Set by User page
You can also review the permission assigned to individual users.
Click the Search icon, then enter Users and choose the link that pops up.
Select the relevant user, then choose the Effective Permissions action.
Edit permission sets as needed by looking for By Permission Set for the User-Defined permission set, then select the correct value.
Alternatively, you can edit individual permissions within a permission set by choosing the value in the Permission Set field. You can then edit permissions once the Permissions page opens.
How Do You Onboard Users?
There are several ways for admins to set up onboarding for IW users.
Banner — You can set up the home page for your company so that users see a welcome banner that encourages them to get started on their assigned tasks with a call-to-action button.
Checklist — IW users see a checklist within the banner that shows users what they must do to complete onboarding activities. It also helps users explore their Business Central workspace and learn more about the different functions.
Teaching Tips and App Tours — You can set up tours, which are a sequence of teaching tips that answer user questions about Business central and show them how to execute tasks relevant to the page or app in question.
What Happens After the Trial Expires?
Both the Essentials and Premium license trials expire after 30 days. If you're trying out the Premium tier, your CSP can extend your trial by signing you up for a second Business Central for IWs license. After that, you must make a decision on whether you wish to purchase a full licenser.
Internet eBusiness Solutions can guide you through the process of setting up your Business Central account. Contact us today if you'd like a free demo of the capabilities offered through the Dynamics 365 suite of business applications.