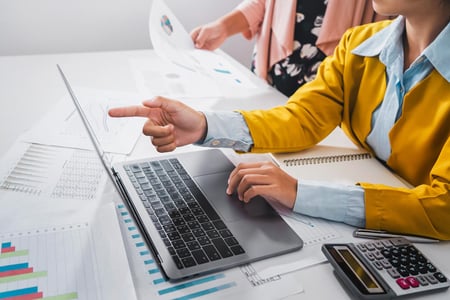 Dynamics 365 is Microsoft's enterprise resource planning (ERP) solution that helps enterprises handle critical business functions. Dynamics 365 for Finance and Operations helped companies manage finance, accounting, production, warehousing, and transportation management.
In 2020, Microsoft decided to split Dynamics 365 for Finance and Operations into two different applications, Dynamics 365 Finance and Dynamics 365 Supply Chain Management. Let's look at how the two platforms differ and how both can benefit your business.
What is Dynamics 365 Finance?
Dynamics 365 lets businesses monitor the performance of their financial operation in real-time. The platform uses AI to help companies optimize financial operations. Organizations can use Dynamics 365 Finance to automate repetitive tasks that up a lot of time. Other essential features of Dynamics 365 Finance include:
Accounts payable — Organizations can enter invoices from vendors manually or get them electronically and review them within the platform. Use features like invoice matching and workflow to automate invoice review. You can auto-approve invoices that meet specific criteria and flag others for manual review.
Accounts receivable — Dynamics 365 Finance lets companies create invoices for customers using packing slips or sales orders. It's also possible to create invoices unrelated to a sales order. Receive payments using different payment types like cash, checks, electronic payments, and credit cards. Create centralized payments to capture payments for a legal entity on behalf of other legal entities.
Budgeting — Create budget registries to manage your budget and trace different transactions. Revise existing budgets, transfer money, and move money from budgets from a previous year. You can set up levels of control around budgeting according to your company culture.
Cash and bank management — Maintain the bank accounts of legal entities and items like checks, deposit slips, and promissory notes. Companies can also reconcile bank statements and print out bank data in reports.
Expense management — Create integrated workflows where you can capture payment information, track credit card transactions, and follow the trail for any expenses employees incur while doing business for your company.
Financial Reporting — Dynamic 365 Finance's report infrastructure lets you create, update, and deploy reports.
Project management and accounting — Companies in different industries can use Dynamic 365 Finance to keep up with personnel and resources tied to different phases of projects. You can also analyze the cash flow around different project initiatives.
What is Dynamics 365 Supply Chain Management?
Dynamics 365 Supply Chain Management helps organizations oversee product quality, find ways to optimize operational efficiency, and increase profitability. Dynamics 365 Supply Chain Management can transform your supply chain and manufacturing operations. Core functionalities of the application include:
Asset management — Keep up with managing and repairing assets like production equipment, vehicles, and other industrial machinery.
Cost management — Oversee the valuation and accounting for raw materials, finished goods, and assets still in progress.
Inventory management — Manage tasks related to inventory control, quality assurance, inventory activities, outbound operations, and inbound operations.
IoT intelligence — Integrate IoT intelligence into the Dynamics 365 Supply Chain Management platform to help with business functions like managing production delays. You receive a notification when production seems to be off-track, allowing you to intervene. It can do the same in areas like dealing with equipment downtime and product quality issues.
Procurement and sourcing — Keep up with all procurement and sourcing steps within a centralized location. That includes everything from identifying any products or services needed to processing payments to vendors.
Sales and marketing — This lets you track information around data tied to marketing and sales initiatives. Keeping up with new and ongoing campaigns, monitoring interactions with customers, and tracking relationships with contacts are just some of the features offered.
Transportation management — Capabilities available in this module include planning and managing company transportation and locating vendor and routing solutions for inbound and outbound orders.
Warehouse management — Define your warehouse layout to keep up with shifting space needs. Use the module to create zones for your warehouse, designate warehouse locations on different levels, and control the way you store and remove items.
How Do Both Solutions Work Together?
Because all Dynamic 365 solutions work together seamlessly, your organization can pick and choose between the functionality you need.
Use Finance 365 to:
Monitor your company's financial performance and make predictions around different business outcomes;
Use analytics to make data-driven decisions to promote future business growth;
Leverage Finance 365's agile reporting to support multiple entities and currencies.
Use Supply Chain 365 to:
Become more proactive in your operations by leveraging the IoT capabilities of Supply Chain 365;
Streamline processes tied to production, warehouse operations, and transportation to run your operations more efficiently;
Perform real-time planning and adapt to the changing needs of customers and deal with capacity constraints in your warehouse facilities;
Receive minute-to-minute updates on what's happening with your stock and shipping operations.
Used together, you can build an overarching architecture that lets you oversee essential aspects of your company in one place.
Make the Most of Dynamics 365 for Finance and Operations
Let Internet eBusiness Solutions help you maximize the benefits of both Dynamics 365 Finance and Dynamics 365 Supply Chain Management. Set up a demo to learn D365 finance and operations and find out how both solutions can transform your business.