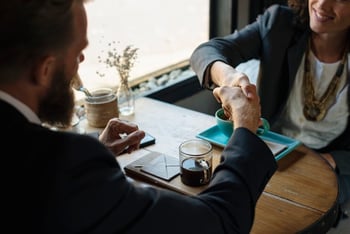 Choosing any partnership can be a tricky decision. Choosing a Microsoft Dynamics partner is certainly no exception to the rule. There are dozens of potential partners clamoring for your attention -- but only a few with the top skills to help you maximize Dynamics 365 for sales. Since deploying any ERP is a major investment of time and energy, it's crucial to find the Microsoft Dynamics partner that can lay the groundwork for a successful deployment of this robust and effective software.
This article will give you the tools you need to make the right partnership choices for a successful go-live.
Microsoft Dynamics Partners – Benchmarks for Success
Benchmark #1
You might think that we'd lead with technical acumen as the top skill to look for in a Microsoft Dynamics partner. We're going to cover that in a minute, but we also want to tackle an intangible first, and that is the need for people skills.

We don't mean that the sales rep is a likable person, although that's not a bad thing. Instead, look for a partner that you would feel comfortable with handling installation issues or additional training. Part of stakeholder buy-in in software adoption includes helping end-users feel good about this big change in their workflows. They should feel comfortable asking "dumb" questions. Look for a Microsoft Dynamics partner that builds your team's confidence with the new technology. Look for the partner that's able to assimilate into your culture and speak your language.
It's this ability to support your team that is so important for any technology. Speaking of support, make sure the partner has a track record of on-going training support. The partner should have a variety of help desk coverage options to fit the schedule of your team.
Benchmark #2
Now that we have that out of the way, let's get back to technical knowledge. Look for partners that know how to integrate Dynamics with other legacy software used by your marketing and customer service department. What certifications and awards do they have? How many implementations have they done? How in-depth is their knowledge of cloud computing? Can they help consult with your team to develop a needs assessment to make sure you're using Dynamics to the fullest advantage? Do they have any experience in your particular field? These are all excellent questions to find out before choosing a Dynamics partner for your team.
Better Rollouts with the Right Microsoft Dynamics Partner
The market is full of Microsoft vendors, but you're not searching for a vendor; you should search for a partner. IES would like the opportunity to offer our expertise to your team. We are a three-time recipient of the Microsoft President's Club award, have earned the Manager's Excellence Award, and was twice listed on CRN Magazine's "Fast Growth 100 Companies" list. We have more than 14 years of experience consulting with businesses like yours on ways to optimize Microsoft Dynamics. Read our case studies here.