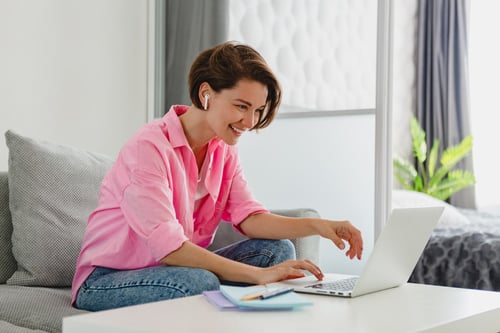 Each year, the Microsoft Dynamics and Power Platform teams release documents that cover features coming in waves throughout the coming year. The company released documentation for the 2022 Wave 1 Release covering both platforms. In addition, Microsoft provided additional details about new updates coming to its vertical Industry Clouds.
The company made some features available for early access on January 31, 2022. Unless something changes, the current plan is to make the features generally available on April 1, 2022. We'll touch on the update plans for the Sales component in the upcoming Dynamics 365 Release Wave 1.
Dynamics 365 Sales 2022 Wave 1 Release
The sheer quantity of data made available to salespeople can become overwhelming. That makes it harder for them to provide value to every customer interaction. To help with that, the upcoming Dynamics 365 Release Wave 1 provides a variety of new features to help sales teams fully harness the power of intelligence and data.
Conversational intelligence
Use conversational intelligence to capture your customer interactions. The new updates allow organizations to automatically transcribe calls, analyze the content of each interaction, and provide better intelligence insights.
All information collected from conversations with customers becomes accessible in a centralized location. That improves collaboration among different sales team members. In addition, the new update improves the search function within Dynamics 365 Sales, making it easier for your sales team to take advantage of conversational intelligence insights.
Help With Digital Selling
Companies with an Enterprise license will receive access to more Premium features with Dynamics 365 Release Wave 1. Tools like sales accelerator and predictive scoring make it possible for organizations to better fulfill customers' expectations by highlighting the value of different products.
The above tools make it easier for sellers to set priorities based on the most promising leads. In addition, they receive:
Real-time analysis while on a call
Automated action notifications
Meeting summaries generated programmatically
These tools help sellers gain much-needed insights, cut down on manual tasks, and increase data quality.
Preinstalled Sales Hub
Microsoft designed the Sales Hub app to provide sellers with ideal experiences. It comes with core sales features and insights that help your sales team get up and running quickly. The modern, interactive interface simplifies day-to-day sales tasks. In addition, sellers see all vital information in one centralized location. That makes it easier for individual salespeople to focus on essential activities.
Sales Hub comes preinstalled with the following security roles:
System administrator
System customizer
Sales and Enterprise app access
Salesperson
Sales manager
Vice president (sales)
Administrators decide which users or roles gain access to Sales Hub. In addition, they can quickly set up any new Sales Premium features.
Forecasting and Pipeline Intelligence
The latest Dynamics 365 Release Wave 1 provides sales teams with a workspace that provides comprehensive views and insights into the sales pipeline. They also gain more predictability around sales forecasts. In addition, it's now possible for users to assign a relevant sales stage to each attribute to help train models and make predictive scoring more accurate.
In addition, the platform offers a view of statistics showing the impact of attributes on a model at different stages of the sales lifecycle. That way, admins can make sure they're assigning attributes to the correct part of the sales cycle.
The improvements provide sales operations teams with more efficient forecasting. That speeds up access to sales projections and additional opportunities. In addition, admins can add default views that automatically display certain selections to sellers when viewing the forecast page.
New functions available for forecasting and pipeline intelligence include:
Improved filtering of opportunities associated with a forecast
Access to analysis from a predictive scoring widget
Access to historical data on deals
Using accuracy reports to measure the performance of a predictive scoring model
Using inline editing and quota rollups to quickly update quotas
Comparisons of annual projections with progress over different periods
Mobile Collaboration
The new Dynamics 365 Sales Wave 1 release makes it easier for sales teams to maintain productivity and collaborate from anywhere. Organizations can stream data from a seller's mobile user's contacts and calls and log calls from customers directly into Dynamics 365 Sales.
Giving salespeople the ability to create contacts from a mobile contact list reduces inconsistencies between salespeople's actions and captured data. In addition, sales teams can improve the completeness and value of information stored within a company's Dynamics 365 Sales instance.
Microsoft also made improvements to the ability for a seller to log information using their mobile phone camera, cutting on time spent logging data into the Dynamics 365 Sales app. Better models, additional languages, and a better user experience make capturing information from business cards easier. In addition, it's possible to scan handwritten notes with a cell phone camera then send the digitized text into Dynamics 365 Sales.
Another great improvement to Dynamics 365 Sales mobile capabilities is the addition of deep-link integration with Microsoft Outlook. Sellers can use email templates when composing emails. In addition, information from Dynamics 365 Sales automatically gets filled into an Outlook email. That saves time because salespeople don't have to switch back-and-forth as much between Dynamics 365 Sales and Outlook to pull in relevant information.
Relationship Intelligence
When sellers interact with contacts via email, they usually have to add them to Dynamics 365 manually. That means the information stays hidden in the email server. New enhancements in the Dynamics 365 Wave 1 release let sellers use interactions pulled from Dynamics 365 and Exchange to query their entire network.
That helps them uncover hidden relationships between contacts, gain a warm introduction into various target accounts, and locate key stakeholders to speed up opportunities. In addition, the new updates help sales teams query accounts through which members have had email interactions, uncovering all known contacts.
Sales Accelerator and Process Automation
The sales accelerator in Dynamics 365 Sales helps sellers engage with customers and prospects across various channels. Automation helps sales teams automatically assign leads and opportunities to members using business logic. That allows managers to ensure availability and balance the workload among the sales team.
Updates to sales accelerator and process automation let sellers define the sequence of how the sales accelerator works based on personal preference. In addition, team members can set up the way they view and select different arrangements. Another significant enhancement for sellers is the ability to use advanced filtering to prioritize worklists.
Stay tuned to keep up with updates coming to other Dynamics 365 modules in the 2022 Wave 1 release. Contact Internet eBusiness Solutions if you need help customizing your Dynamics 365 Sales instance.