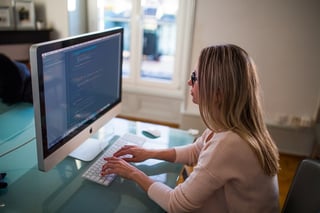 If you haven't already moved your MS Dynamics to the cloud, you might want to consider doing so now. MS Dynamics NAV Cloud is a cost-effective, flexible, and accessible solution that has a lot to offer for businesses of all sizes. Here are some of the major advantages.
A Cloud-Based Solution Is Easier to Maintain
On-premise ERP solutions require in-house IT staff members for maintenance, repairs, and other support. Additionally, the on-premise system will demand hardware maintenance and upgrades, which can be prohibitively difficult for in-house IT staff. With a cloud-based solution, a company can instead shift its in-house IT staff towards innovative new projects.
A Cloud-Based Solution Is More Cost-Effective
MS Dynamics NAV is already a very cost-effective solution, recovering its cost of deployment very quickly. MS Dynamics NAV Cloud is even more cost-effective. Rather than having to invest in software upfront, companies can instead invest in a subscription-based model on a low fee schedule. Companies will not need to pay for expensive hardware; everything will be maintained through the hosting service. Further, a cloud-based solution will require less technical support, thereby requiring less in technical costs.
A Cloud-Based Solution Offers Additional Peace of Mind
With a cloud-based solution, a company also gains an invaluable partner. The partnership between a cloud service provider and a company can be both very close and very valuable. The cloud-based solution will be maintained, repaired, upgraded, and updated through the partner. This service partner will be able to give your business information on how to best customize and otherwise deploy your new system. With a managed partner, you won't have to worry about your system out of hours or what could potentially occur if something goes wrong. Instead, you'll know that your system is being taken care of 24 hours a day, 7 days a week, and that it is built on a professionally managed infrastructure.
A Cloud-Based Solution Is Flexible and Scalable
Cloud-based solutions run on systems that can quickly and easily deploy additional resources. Companies that have on-premise systems may become over-burdened during unexpectedly high moments of traffic. When this does happen, the company may find its system going down when it needs it the most. A cloud-based system can quickly adjust to compensate for additional traffic and activity. Even better, the cloud-based solution can then scale downwards when this period of time is over. Otherwise a company with an on-premise solution might find themselves having to commit to unnecessary permanent upgrades to cover a temporary shortfall.
A Cloud-Based Solution Is Less Likely to be Interrupted
Business interruption is a very serious consideration. Microsoft Dynamics NAV provides better stability through an all-in-one integrated ERP solution. Cloud-based systems are even more resilient. A cloud-based Dynamics NAV solution will have the resources necessary to weather unexpectedly high amounts of traffic -- and it will be accessible through the Internet rather than relying upon local infrastructure.
A Microsoft Dynamics NAV Cloud solution will have all of the benefits of a traditional deployment and more. If you want to learn more about the advantages of migrating MS Dynamics NAV to the cloud, contact IES today.