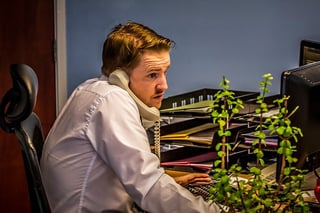 With local and global competition at an all-time high, more businesses than ever are looking for a software solution that can help them improve their processes and develop stronger customer relationships. Luckily, there's a solution—regardless of the industry you are in, an effective CRM platform can help you streamline your business and improve your reputation amongst customers.
If you want more contacts, connections, and higher sales, Microsoft Dynamics CRM may be your solution. Below, we share three ways that Microsoft Dynamics CRM can improve your business's level of customer service and facilitate loyal relationships:
1. Improved Accuracy
When emails, updates, reports and processes all run like clockwork, your customers come to trust you and the way you're handling their information. Through Microsoft Dynamics CRM, crucial data can be made readily available and easily searched by everyone on your team from sales to marketing. Your customers won't have to scrutinize the numbers and will appreciate that they can focus their energy on other aspects of their businesses, and you won't need to expend as much effort to generate what they need.
2. More Efficient Sales Processes
A good salesperson doesn't have to badger a potential customer to make a deal, but they do need to be the right combination of persistent and consistent to close the sale. Using Dynamics CRM can help your salespeople walk this fine line in many ways. For example, say you have a specific contact procedure. Dynamics CRM can account for the strategy and build in alerts so there's no chance for a sales member to forget to make that important second or even third attempt at contact. Taking the burden off of your team to have to manage these types of repetitive tasks leaves them with more time to create the personal customer relationships they'll need for sustained growth.
3. Social Media Management
Leveraging social media gives companies a huge advantage, allowing them access to public opinion on their business as well as insight into future trends. Microsoft Dynamics CRM uses social listening to provide rich analytics ensuring you don't make a potentially dangerous decision that could negatively affect your brand. Dynamics CRM also allows you to integrate social interactions to create an end-to-end experience that delights customers and facilitates loyal relationships.
If you're looking to invest in Microsoft Dynamics CRM to improve customer service and develop stronger relationships with your clients, you should first speak with a Microsoft Gold Certified expert. Contact IES today for a free consultation.
Image Source: CWCS Managed Hosting