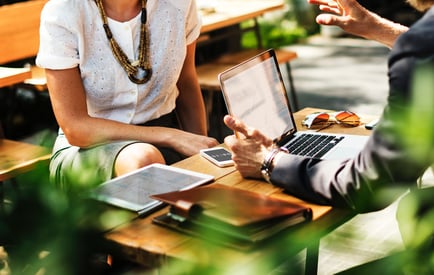 One of the biggest technology mistakes with small business is when they pick their software "in the now." What we mean is that they look for software to handle HR, payroll, billing, sales, or other operational functions based upon criteria tied to what they need today. In this, there is a failure to see the vision of scalability that could, and should, come with business growth.
The result is that they end up with a piecemeal of legacy platforms. The effect on the ground is that this patchwork of technology creates more work for staff, and many times the software isn't able to flex with business growth.
That's the reason enterprise resource management (ERP) software was created. ERP systems are integrated software packages that handle all the heavy lifting in a business, including:
Accounting

General ledger
Accounts payable and receivable
Fixed asset management
Budgeting and forecasting
Cash management

Human resources

Recruiting
Payroll
Reviews and incentives
Worker management

Supply chain management

Supply and demand planning
Distribution
Order entry and management
Inventory and warehouse management

Manufacturing

Material billing
Quality management
Product management
In addition to being scalable and reducing redundant office workflows, ERP is now more affordable for small business. Cloud technologies in the form of software-as-a-service (SaaS) have allowed ERPs to become accessible to even the smallest of companies. SaaS products offer a lower monthly subscription rate, making even the most sophisticated tools mainstream.
This is an especially important point when we discuss ERP because the systems are all-encompassing. Purchasing ERP hardware and software, along with the technological expertise to deploy it on-site, was generally only affordable to larger businesses. SaaS ERP is now democratized for the small to mid-size company, giving them a leg up against larger competing firms. While businesses may think they are too small for ERP, the truth is that they need ERP no matter their size, just to keep up with the competition.
Criteria for ERP for Small Business
Before looking at our ERP system examples, let's look at the criteria for choosing this software. ERP automates basic business functions while improving business communications. From one hub you can get a glance of pending orders, cash flow, the sales pipeline, and more. Because all of this works from one shared database, all the spreadsheets, databases, and order forms you've been storing can be migrated to one integrated platform. This is particularly important during times of company growth, where multiple dispersed systems can make it feel like the right hand just isn't communicating with the left.
When looking at the criteria for your own ERP upgrade, consider the following:
Is the platform customizable and industry-specific?
Does the ERP out-of-the-box solution fit your business? Can it be tailored for retail or finance, automotive or talent acquisition -- or some other industry?
Is it web-based?
For businesses that are planning to scale, cloud technology offers the best solution, typically cutting the cost of on-premise solutions by thousands of dollars. Cloud ERP is also generally easier to deploy.
Does it include all of the modules you'll need?
Which legacy platforms can you dump in favor of an all-in-one ERP? How much will it save you in time, hardware, and licensing costs to dump legacy CRM, analytics, accounting, finance, supply chain, HR, payroll, or other systems?
How does it integrate with existing office tools?
While Microsoft tools in the office generally dominate, are there other presentation or spreadsheet tools you're using that will need to flow into the ERP? How will this all work together?
Is the ERP mobile-friendly?
With today's dispersed teams, this is an important point. If your sales rep can't dial up the latest comments from customer service before going to a remote client's office, you've got a bottleneck.
How intuitive is the ERP?
If the platform feels clunky or too complex, user adoption may decline or you may need additional training that adds to the cost.
Now that we're all on the same page with the benefits and what to look for in an ERP, we've found five ERP system examples to share.
ERP System Examples – Top 5 ERP for Small Business
"The lesson is clear: Do your homework before attempting to evaluate any ERP system. Chances are you'll work with a reseller to manage the fit between your company and the software. But the better you understand how your company operates and where the potential bottlenecks and problem areas in an implementation will be, the smoother the process will go."
The Best ERP Software for 2018 PC Magazine
While it's pretty obvious that IES would favor Microsoft Dynamics for ERP, there are four others on the market that are generally grouped in the category for the small to mid-size business. In this blog, we'll review, in alphabetical order, Microsoft Dynamics, Oracle, PeopleSoft, Sage, and SAP.
Microsoft Dynamics 365
Microsoft Dynamics 365 remains on anyone's list of top 10 ERP platforms geared for the small to mid-sized business. Software Advice says "It's highly configurable and has many vertical partners that offer market solutions." FitSmallBusiness.com points out that the integration between Dynamics ERP and other Microsoft products is seamless.
Microsoft's ERP offers modules for accounting, inventory management, purchasing, operations, sales, and talent management. It is available on-premise, in the cloud, or in hybrid models. One of the chief benefits of the software is that it has an intuitive interface familiar from other applications such as Outlook, Excel, or Word.
Chief among the benefits of Dynamics is that it offers customized modules prepared specifically for manufacturing, distribution, retail, government, and recently, for talent management. Customer reviews on Software Advice and the editor's rating on PC Magazine gives it 4.5 stars out of five.
Oracle
Oracle Netsuite Oneworld is a cloud-based ERP solution designed for the mid- to enterprise-level business. Therein lies its chief problem; they are not marketing this solution to small business. However, this does not mean that the Oracle product won't scale.
Oracle ERP offers financial accounting, material planning, and analytics, with a self-service dashboard to control all the features. It's mobile-friendly and has an integrated invoice imaging feature for scanned documents.
While Oracle as a good ERP system example that always makes the top 10 lists, PC Magazine lists the broad feature set as both a pro and a con of the platform.
PeopleSoft
Oracle took over PeopleSoft several years ago, and today we're on version 9.2. An article in TechTarget suggests that the software's human capital management features are the "sweet spot" in the design of this ERP. PeopleSoft also offers:
Financial management and analysis that includes asset lifecycle management and compliance functions.
Supplier relationship management for procurement.
Supply chain management that lets you manage client orders from start to finish.
PeopleSoft has an app toolkit that allows for customization along with automation to further improve workflows. Like some of the other offerings in our top five, it is primarily to midsize companies or enterprise organizations.
There are currently nearly 450 reviews of PeopleSoft on G2 Crowd, and the average is 3.6 stars out of five. Chief among the complaints is the complexity and cost of the platform.
Sage
Sage is Microsoft's most direct competitor in the small business space. Like Dynamics, it offers finance, accounting, payment processing, manufacturing, distribution, and sales. Ironically, TechTarget points out that "Sage 100 runs on a Microsoft Windows platform."
Sage has some good industry-specific features including healthcare compliance reporting and level three credit card payment processing. It also integrates nicely with the Sage CRM and has enhanced reporting features. The on-premise Sage is available from $4,000 to $20,000, while the cloud version has a monthly subscription rate.
SAP
There are currently more than 300 reviews on the G2 Crowd website for SAP, which suggests that SAP software, which has been around for 40 years, has "nearly 50,000" ERP customers. SAP services more than 25 industries with this software, providing applications and analytical tools to streamline "procurement, manufacturing, service, sales, finance, and HR." Finances Online says the SAP client base is a lot larger, at "172,000 businesses worldwide."
SAP offers on-premise, cloud, or hybrid solutions. The vendor has a large network of partners that help companies customize their out-of-the-box solutions. Some of the features include:
The ability to consolidate all financial data into a general ledger with reporting and analytics.
The ability to link production schedules to ordering and procurement.
Management of employee time and attendance, recruiting, onboarding, and HR administration.
A procurement module that helps with distribution and supply networks, along with requisition, invoicing, and payments.
Finances Online say SAP ERP is in the top 200 for best-selling accounting tools, but in the top 20 for ERP products generally.
Choosing ERP for Small Business
The first step toward determining which ERP is right for your business is to sit down and map out your ERP requirements. Is the goal scalability? Do you want to dump your legacy platforms? Would it help to have a 360-view of operations? An ERP can help in all of these areas. IES is standing by to help you develop your own ERP roadmap and can show you the features of Microsoft Dynamics to get you started on your selection process. Contact us today.