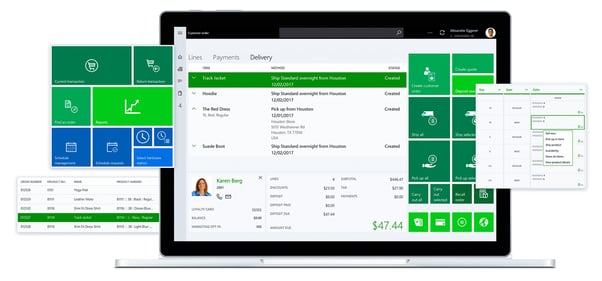 Microsoft is trying a new strategy this summer, offering specialized applications for specific industry categories. They've offered Dynamics 365 for Finance, Operations, Talent, and now for Retail applications. It's a smart way to offer these products by tying the software into the areas where businesses need them the most.
This blog will look specifically at Dynamics 365 for Retail to see how it can benefit companies seeking to drive revenue.
Features of Dynamics 365 for Retail
Customers are fickle. The world is full of discarded e-commerce sites and abandoned storefronts from when a business failed to keep up with changes in consumer demands.
Retail is probably one of the most challenging of industries, which is why these professionals need cloud software that can help them adapt by working smarter.
Dynamics 365 for Retail is meant to integrate with all of the other products in the Microsoft portfolio, such as Dynamics CRM. Dynamics 365 was always intended to be a whole suite of interoperable applications that are easy to use affordable.
Dynamics 365 for Retail was created to bring back-office billing and inventory, in-store merchandising, and mobile customer-centric applications together with one shared database.
These management and sales applications can handle customers in whatever channel they're interacting with your brand, whether it's a brick-and-mortar store, e-commerce, or a call center.
Some of the features in this software include:
Omni-channel buying features, which let customers order online then pick up in-store.
Customer personalization via machine learning algorithms offers a smart, personalized experience. The software can make purchase suggestions based on prior customer activity.
You can monitor sales performance and its impact on inventory in real-time and make split-second decisions about your business in response to market trends.
There is also a POS (point-of-sale) application for tablets, phones, and PCs for brick and mortar locations.
The supply chain feature lets you see on a dashboard report which items need replenishing.
Marketing features allow you to plan, implement, and then analyze the results of marketing campaigns.
It has a scheduling feature that lets you manage staff for brick-and-mortar locations or call centers.
For retail store management, end-of-night closing is faster with intuitive software that automates certain processes.
There is also analytics on the platform that business owners and managers can use to make split-second decisions, which could positively impact the bottom line. This intelligence about your core customer base can help align your retail activities with your customers' wants, needs, and priorities and manage inventory and pricing accordingly.
Why You Need Dynamics 365 for Retail
If you have multiple legacy platforms for e-commerce, POS, CRM, inventory, and analytics, this software will help you handle all of these functions under one integrated umbrella. If you're still tracking inventory on a spreadsheet, Dynamics 365 for Retail is a must-have. Staying on top of consumer sales trends is a necessity to stay alive in business today. Contact IES to find out how Dynamics 365 for Retail can help your business capture and retain market share.