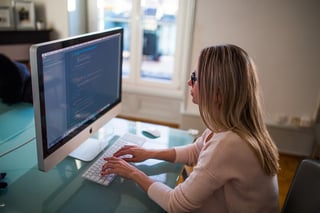 Combining Microsoft Dynamics CRM and SharePoint's document server is an excellent way to improve workplace productivity, as it makes it faster and easier for your employees to both collaborate and provide better customer service. As with any integration, however, there are some additional considerations you'll have to make. Here are six major things you should know about Microsoft Dynamics CRM integration with SharePoint.
Microsoft Dynamics CRM Integration with SharePoint: 6 Important Things to Know
1. User Authentication Methods May Change
When integrating Microsoft Dynamics CRM and SharePoint, only a single authentication system will be used. Users should be directed to use their single use sign-in, which should conform to all of the company's security standards. If Dynamics CRM and SharePoint were previously being used in a non-integrated way, this may change the way users interact with their system login information.
2. The Process May Take Longer Than You Think
Always add a buffer when calculating how long a system integration may take. There are always issues that do arise and the transition may take longer than completed. It's ideal to set aside some time outside of business hours to complete more involved integration projects.
3. You'll Need the Right Versions of SharePoint
Microsoft Dynamics CRM and SharePoint will have some required dependencies, so there are specific versions of SharePoint that may need to be used. In general, Microsoft SharePoint Online can be used with any version of Microsoft Dynamics CRM. SharePoint 2010 or 2013 will be necessary to be used with Microsoft Dynamics CRM 2016.
4. You May Experience Business Interruption
Any system integration does have the potential to disrupt your business systems—even those that aren't directly related to your CRM or SharePoint document server. Professional integration and planning ahead can reduce these risks.
5. Only Some Versions Offer Server-Based Support
Microsoft SharePoint 2010 SP1 or SP2 does not offer server-based SharePoint integration support—instead, you will need to upgrade to Microsoft SharePoint 2013. Microsoft SharePoint 2013 only supports server-based integration with Microsoft Dynamics CRM Online or Microsoft Dynamics CRM 2016.
6. Entity Display Names May Not Properly Transfer
There is a known issue with the Microsoft Dynamics CRM List Component which may alter the display names within SharePoint's document library. Display names and entity names will need to be compared following integration in both SharePoint and the CRM.
Following your integration, your business will be able to leverage the improved productivity of both Microsoft Dynamics CRM and SharePoint document management. Still, there are many issues that can arise during both the integration and transition. Working with a reliable and experienced integration partner can help. IES is a top Microsoft Dynamics implementation partner with comprehensive knowledge of Microsoft Dynamics GP and related service integration. Contact IES today to learn more about Microsoft Dynamics CRM integration with SharePoint.