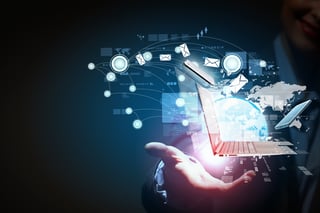 Today's enterprise office systems are multi-layered, interoperable hardware and software platforms with middleware and database functionality behind the scenes. But this entire infrastructure is nothing without the top layer of business application software that interacts with your employees.
In truth, most employees never see or experience the middle and back end of today's technology stack, even though it's a vital part of getting their job done. What they really care about are their front-end office applications—especially the Microsoft Office suite, email, or the software they use to conduct human resources, run reports, or handle supply chain. When these programs don't work, the office doesn't function.
That illustrates the importance of business application software, an industry that
CRN says will hit $114.4 billion in 2017. That's an increase of 10.2 percent from 2010. Business application software is designed to perform specific tasks and is particularly beneficial to the modern office.
Benefits of Business Application Software
Business application software was designed to streamline our workflows and take away the "by hand" elements of our day-to-day office functions. Around the world, every industry has felt the hugely positive impact of these types of software programs.
Here are eight ways business application software has likely impacted your business:
There's a whole line of productivity software that has streamlined our basic office functions. For example, Microsoft Word is the standard for producing clean, error free office documents with headers, graphics, and the ability to create graphically pleasing text by changing fonts and colors.


Whenever you think spreadsheets, Microsoft Excel is always top of mind. Collating information in one place, adding and subtracting numbers, creating formulas, and sorting data—it's all possible with this business application software.
There are also presentation and slideshow software applications, like Microsoft PowerPoint. One look at LinkedIn SlideShare

,

and you'll see the majority of your fellow office workers from around the world are using MS applications to get their point across.
Business application software also includes your appointment calendar, contacts list or address book, or a notepad; all functions found in a personal information manager.


This leads us to email, of course, which is part of Microsoft Outlook. Outlook also includes personal information manager functions. Can you imagine what you would do if you didn't have these functions?
For those tasked with organizing a plethora of functions, there is project management software within Office365. From Gantt charts, task management, and time and expense tracking, these are the tools that help organize our most important business projects.
CRM business application software is an absolute must-have in today's competitive environments. Microsoft Dynamics CRM is an unparalleled resource for tracking when and how you contact your most vital resources—your customers.
Last, but certainly not least, is business application software like such as Microsoft Dynamics NAV that manages money in/money out.
Now, do you see why business application software is so vital to your business? Contact IES to find out more about these products and how our team can help you implement them.