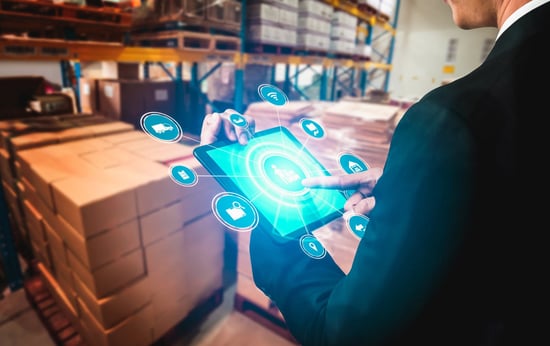 The past few years have seen supply chains challenged like never before. Even though we're past the worst effects of the COVID-19 pandemic, there are still other issues to address. Many businesses have learned that they need technology capable of helping them adapt to changes and achieve a higher degree of supply chain resilience. Microsoft wants to help companies to accomplish this by using artificial intelligence (AI) in the Dynamics 365 ecosystem. Let's look at what you can achieve with AI in supply chain management.

How Can Copilot Streamline Supply Chain Management?
Microsoft Copilot allows organizations to incorporate supply chain AI across different functions. It will be rolled out natively to all dynamics customer relationship management (CRM) and enterprise resource planning (ERP) modules.
Copilot offers companies the ability to use next-generation AI in supply chain processes. Consider how much time your employees spend sorting through purchase order change responses. They often have to change order quantities, product deliveries, or delivery dates. Once that's done, procurement clerks must review the individual orders for potential risks that might impact other downstream processes.
Using Copilot in the Dynamics 365 Supply Chain Management module lets users quickly and efficiently handle purchase order changes. The AI assistant also helps assess the impacts of various risks to help optimize procurement workflows. Users can locate and act on high and low-impact changes to minimize risk.
Benefits of Supply Chain AI
Supply chains produce a lot of data. It's hard for workers to review and categorize the information manually. That includes looking for trends that inform organizations about potential issues. Supply chain AI continuously learns from the data and finds better ways to optimize various processes.
Integrating Copilot into supply chain management can offer organizations a significant business advantage.
Better Inventory Management
Improving the accuracy of your inventory management processes helps with ensuring that the correct items flow in and out of company warehouses. Businesses can use predictive analysis to avoid overstocking items or ensure adequate inventory to meet customer demand.
The number of variables that go into inventory management, like order processing and packing, can make workers prone to errors and consume a lot of time. Using AI in supply chain management improves a company's ability to handle a lot of information.
Copilot analyzes data from different parts of the supply chain to provide more accurate supply and demand forecasts. They can look at customer habits and determine how much inventory a business needs to meet seasonal demand. Recognizing these trends helps minimize costs associated with overstocking.
More Warehouse Efficiency
With Copilot, organizations can review real-time information from factors like customer preferences, sales, lead times, and supplier performance. The algorithms can detect optimal reorder points, determine what items in a warehouse need restocking, and ensure that you have enough orders to fulfill orders.
Another benefit of AI in supply chain management is the ability to analyze and optimize a company's warehouse layout. Copilot can help managers figure out the best way to utilize floor space and reduce the time workers need to walk from one point to the other. Businesses can improve picking efficiency, which helps cut down on operational costs.
Improved Safety
Companies have long looked for ways to ensure worker safety. Copilot helps flag potential issues that could impact workers by reviewing historical information, looking at sensor readings, and using real-time inputs to locate hazards.
From there, Copilot can assess the risk level associated with different and alert workers and supervisors about taking appropriate safety measures. In addition, business owners can become more proactive about implementing measures to prevent incidents.
Organizations can monitor and analyze data provided by machinery and equipment to monitor their status. Copilot can use the data collected to determine if a piece of equipment is at risk of failure. Businesses can set up alerts that let them know when they need to initiate maintenance or repairs of
Logistics and Transportation Optimization
AI in supply chain management can help with locating optimal shipping routes. You can find the quickest and most cost-effective routes to ensure customer satisfaction. Companies can use Copilot to keep drivers from spending a lot of time waiting by finding ways to avoid peak traffic hours. Organizations can also forecast traffic patterns and determine the busiest periods to help with scheduling.
AI can help manufacturers increase their visibility into fleet performance. Companies can ensure they have assets in place to fill routes. Better forecasting helps companies avoid nonessential container shipments and having more vehicles on the road than necessary.
Copilot helps businesses work through the complexity of transport networks by leveraging current and historical shipping data. Companies can find better ways of optimizing their fleets and automating logistics scheduling for optimal functionality.
Managing Supply Chain Challenges
The best way to maximize the potential of AI in supply chain management is to understand the problems you might encounter. Some AI systems are difficult to scale, especially if the technology is using on-premises servers. You also have to think about training users on working with AI, which can impact business efficiency.
AI machines require continued input to grow and expand their usefulness. That can be quite a lot for one organization to handle. It's why many companies partner with experienced professionals like Internet eBusiness Solutions (IES) to help them leverage AI in platforms like Microsoft Dynamics.
If you want to use Copilot within Dynamics 365, IES can help you integrate its capabilities into popular modules. Your company can leverage Copilot to ensure better customer service and optimized business processes.
Enhance Supply Chain Management With AI
Let IES help you explore the transformative power of AI within your organization. Contact us today if you're ready to embrace a new way of doing business.