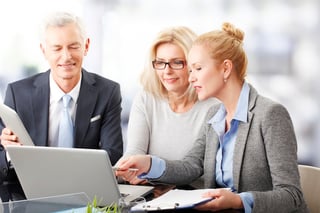 Chron defines mid-market companies as those with annual revenue between $10 million and $1 billion. These organizations have successfully emerged from the entrepreneurial phase to become mini-titans of their business universe. At this phase, they've captured a good deal of internal and external data on everything from market fluctuations to consumer trends. It's at this point that it's crucial to use that insight to make organizational and procedural shifts to capture even more revenues.
This is the perfect time for enterprise resource planning software (ERP). If you are looking for the best cloud ERP solutions for small business, then please see our earlier post. However, if you are a medium sized business that would like to learn more about the benefits of ERP software, then read on.
What is ERP?
ERP software encompasses data analytics across all of the most important parts of running a business: accounting, customer relationship management, human resources, inventory, sales, vendor management, and more. ERP software, such as Microsoft Dynamics 365, takes these processes and melds them into one dashboard in order to better manage these functions across a business. At the central core of this hub is a database that is shared across multiple tasks. Analytics tools are added to these platforms that can help with sophisticated profit, loss, and sales projections – to name a few of the reporting functions of these platforms.
Benefits of ERP Software for Mid-Level Businesses
Just a description of how an ERP functions may start to give a sense of the benefits of the platform. Some specific benefits of ERP software include:
Improved and more consistent reporting features. Many of these reports can be automated to save time. ERP reporting is also characterized by using data visualization tools that make even the most complex concepts accessible to any audience.
Eliminates manual processes that used to hamper data quality. When data can self-populate in multiple places, it eliminates errors that can stymie outdated Excel reporting. ERP software improves data quality and saves time.
ERP software can improve operations while cutting costs. It helps mid-market companies streamline processes across HR and payroll, sales and marketing, or anywhere else that could benefit from improved efficiencies.
Having an improved supply chain is a huge benefit of ERP. Procurement, inventory, forecasting, and more can all improve with the proper application of ER.
ERP helps reduce the complexity of internal functions and workflows. There is an elegance to ERP software that can streamline clunky processes.
An improved marketing and customer management through the use of a CRM platform. The reporting functionality of ERP software allows marketing and sales to understand exactly what processes are working – and what isn't.
Finally, and perhaps most importantly, the business analytics portion of an ERP platform is simply a game changer. Having the right data in a form that makes sense to your stakeholders will improve their ability to make the decisions that allow competitive advantage. ERP goes to the heart of intelligent analytics that changes how work gets done.
These benefits are exactly why mid-level businesses seek out ERP platforms as a tool to take their companies to the enterprise level. Having an ERP in place can help businesses in countless ways. In today's competitive environments a mid-market company that lacks the streamlined efficiencies that come with an ERP is working with an extreme handicap.
If you aren't sure if it's time to switch to Microsoft Dynamics ERP, then we recommend reading our post on the subject.