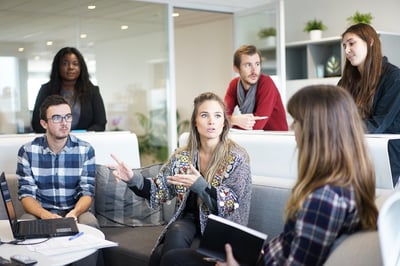 Change is hard. That's why deploying technology makes for a challenging environment in any company. New technology helps companies improve – but only if employees are properly trained in how to optimize it. That's why the installation of new software or hardware is often met with a collective sigh; providing training takes skill and attention to best practices – or the rollout may cause a lot of frustration.
Deploying any new technology requires expertise in best practices that will facilitate learning across a diverse set of employees. Those best practices must accommodate all learning styles with a variety of techniques designed to reach every user in the company.
The training must allow for remote employees as well as provide support before, during, and after a rollout. All of these processes must be mapped out in advance, allowing for technology customization and changes to inter-departmental workflows to make them more efficient after the go-live. Best practices should also dictate that "each one teach one," incorporating training methodologies designed to stretch your dollars while obtaining maximum benefit for the entire organization.
This article shares some of our secrets for building best practices for Dynamics 365 training. These best practices will not only ensure that the technology will be implemented properly, but it will also encourage stakeholder buy-in, so that use of the software will go smoothly long after the transition team has left the building.
Creating a Training Roadmap
Everyone now knows that people have different learning styles. Some learn best through hands-on training; others prefer lectures. Some people enjoy one-on-one interactions, while others do well in a group. These are all reasons why it's important, as the first step toward establishing training best practices for Dynamics 365, to build a roadmap that fits your team's learning styles.
Any training plan that we create has some recommended processes to build a successful user experience. They typically include:
As a first step before any technology rollout, we work with clients to conduct a needs assessment. This process allows us to understand what customizations of Dynamics 365 need to occur, as well as what your desired departmental workflows should look like before and after Dynamics 365 deployment. Proactively planning for the go-live is one of the best ways to ensure that the software will work well for your company. Too often technology rollouts fail – we know you've heard the horror stories. Conducting pre-planning yields higher user adoption and conformance to internal workflows and operational best practices.
Next, we plan the training itself, by engaging the end users before, during, and after the deployment. We usually suggest establishing a "super users" group, or training council; a group of employees that are already fairly technology-savvy. This team, which should include representatives of key stakeholder groups, will engage with IES to build out an employee training roadmap.
Establish metrics or KPIs for your success. Set up a 360-retrospective after the installation is complete. How are things going at the 30, 60, and 90-day mark post go-live? How is the customization working? Are employees following the new workflows or have they found shortcuts that are either smart and useful (therefore everyone should adopt them) or disruptive and potentially harmful?
Finally, make sure management is prepared to lead by example; most of the managers should be in the super user's group. Leadership must support the Dynamics 365 training as well as the technology rollout; employees will take their cues from management teams.
Generally, one thing is certain; people learn best with a combination of auditory, visual, and tactile learning. Usually, this means an instructor-led group or individual training is best. However, what if the employee is remote and unable to come on-site for in-person training? We have a best practice for that, too.
On-Site vs. Online Dynamics 365 Training
Today, it's likely that your team is dispersed. Remote workers, employees across state boundaries, multiple offices, and even spread out internationally, are the norm. Imagine the cost of bringing all these people together for on-site training! Fortunately, we have all kinds of options for Dynamics 365 training, including on-site as well as training by video conference. There are multitudes of training videos, as well, that we can take advantage of.
The point is that online training allows us to reach your team virtually with the same support that those on-site will receive. Online training saves travel costs and time, and the sessions can be tailored into shorter, multi-segment increments.
Group Training Best Practices
One of the most important parts of group training is that everyone gets plenty of time to practice the software. This means real data in real life scenarios, not a demo, or a lecture where the employee is told how to use the software but doesn't get to practice. There's a reason the cliché "practice makes perfect" is still so popular. Without actually practicing the Dynamics 365 training will not be as effective. One key objective of the group training should be to "certify" the users in their understanding of the system. We do this by training them in real-world scenarios, which make for a more compelling user experience.
We also find that training in a group setting is less expensive for our clients. But it's also a subtle way to engage even the most reluctant user of the software. There's a sense of "we're all in this together" in a group setting that you frankly miss out in during one-on-one time. In Dynamics 365 training for a small group, the more positive employees will "infect" even the surliest employee. The group setting applies a little peer pressure to the training process. So, group training is more than just cost-efficient; it improves stakeholder buy-in.
Best Practice Techniques Used During Dynamics Training
But what about specific instructor-led techniques during training classes? Some of the basics include minimizing distractions in the room, like no cell phones or instant messaging during classes. Giving frequent breaks, of course, is important.
Here are more of the tips and tricks from our training team:
Use real-life scenarios whenever possible. This means providing classes with the real-world benefits of using the software. We try to encourage classes to share their own stories about how difficult their workflows are without Dynamics 365 or how much frustration they had with the legacy software. Our goal is not only to train but also to inspire and motivate your team.
We also try to engage employees by having them ask questions throughout the training. Encouraging them to share their thoughts as well as seeking feedback in a continuous improvement cycle ultimately makes for better training. We also try to share the training roadmap and identify the post-go-live training and support, so they know what to expect. Finally, the super users are identified early on, engaging with users throughout the training.
Dividing big groups into smaller pods helps improve collaboration and employee interaction, we've found. Breaking up the team and sending part of them to go online to practice, while the first group engages in some hands-on exercises, is one typical workflow best practice.
Finally, it's crucial to stay flexible. Sometimes we're engaged with an organization and find that our techniques aren't working. A best practice in this scenario would be to stop, adjust, and change-up the training, to shift priorities and do a better job.
Super Users – Should You Use Them?
"Train the trainers" is a good idea because it helps develop one (or several) on-site "experts" that can answer questions on-the-ground. Typically, training should use company data, not a demo. It gives the super-users a chance to make changes to workflows in advance of actually rolling out a system. But even during the group training, we stay alert for potential super users in the audience who we can call upon as champions during the Dynamics 365 training. These superusers can be leveraged throughout the process to help with small tasks, or to provide peer training in a one-on-one setting.
Elbow-to-Elbow Support During Go-Live
Personalized training is one more arrow in your training quiver; best practices for Dynamics 365 training suggest that an organization should offer elbow-to-elbow support as the new system is being rolled out. This will allow both department heads and training teams the comfort of knowing that the customization within Dynamics 365 fits the most intuitive workflows. Too, it will help teams know that you have their back during the rollout – something that is crucial to long-term stakeholder buy-in.
Post Go-Live Support
It's important to account for post go-live support. This could include training for new employees or updates tied to versioning rollouts. It could also include additional customizations or support as businesses change. IES tailors all of our full-service training to the Microsoft suite of products and the unique wants, needs, and priorities of our clients. While we've shared many of our Dynamics 365 training best practices on this blog, our efforts are constantly being honed and improved by the clients we serve.
Contact IES to find out more about Microsoft Dynamics 365 training to ensure that you optimize the tool for your unique business.