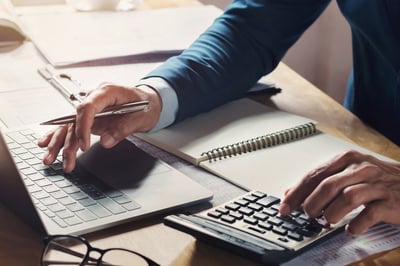 Like most businesses, the financial services industry relies on the client relationship to stay competitive. It's a people-driven business, after all, and with those clients come reams of financial data that must be kept secure. A customer relationship management (CRM) platform is an important tool for financial advisors in banking, retirement, portfolio planning, or other areas, to manage data and client contacts. Here are 10 ways a CRM for financial advisors can change your business.
CRM for Financial Services
A CRM is a software that helps companies manage business relationships by keeping them connected with existing and potential customers. You can use these tools to find new clients, manage information, handle customer issues, upsell existing clients, and more.
A CRM for financial advisors, or for any other business, helps manage the flow of information from customer service, marketing, social media, and sales. All of this is done from a customizable dashboard that shows customer data at a glance. These tools keep companies more organized and individuals working smarter. Forrester Research reports that prospect-to-client conversion rates can improve up to 300% when a CRM is used. That same research says that 74% of businesses have better customer relationships when they use a CRM.
We know that customers are increasingly seeking a personalized experience. CRM for financial services allows these firms to provide customer service that will attract new and retain existing clients. The key to CRM isn't the customer relationship; in fact, it's the management of that partnership between the business and the client that is so important.
Having a user-friendly CRM with smart automation tools allows sales teams to stay organized around the hundreds of leads and clients that are required to build and manage a book of business. When a lead becomes a client, the CRM tracks prior customer activity and automate regular contact to keep them engaged longer. Why does this matter? A Bain & Company report shows that if companies can increase customer retention by 5%, they boost profits by 75%.
While this is good data to make note of, the financial services industry is a competitive, complex, and challenging profession. Becoming a trusted advisor who handles client money and confidentiality while staying compliant with federal regulations takes exceptional software.
Can a CRM for financial advisors really handle all this? How can a CRM change a business in this industry?
ROI from a CRM for Financial Advisors
CRMs allow greater control of your leads and clients. Without a CRM, how will you track sales activity or know when to follow up with your database of clients and leads? While you may spend big bucks on lead generation, it is the crucial follow-up that often fails. Statistics tell us that it takes an average of eight contacts to convert a lead to a sale. A CRM organizes your efforts to reach current and potential customers to engage them. How else can a CRM help your financial company?
Build sustainable relationships with CRM for financial advisors. Understanding your customer's needs, wants, and priorities are particularly important in the financial services industry. A CRM allows you to record notes of every single client interaction, from a text to a face-to-face. Each time customer contact occurs you are able to pick right up where you left off by simply looking at the notes in front of you. No matter how large your business grows, the CRM will provide you with the information you need to build a sustainable long-term relationship with your clients.
Increase sales efficiency by working smarter. Automation tools can market your services regularly to customers, eliminating busy work while warming up leads. Reporting allows you to see which prospects engaged with your company so you can prioritize your efforts to focus on the leads ready to convert. This same data can increase cross-sell and upsell opportunities, bringing in more reoccurring revenue. It can also automate the process of asking for referral business with your existing customers.
In sales, even the simplest of tasks can be time-consuming. For example, if you're still booking client appointments manually, a CRM can automate that task. Most allow you to email clients directly from the customer record, which documents the conversation. More importantly, you can observe the big picture by using sophisticated analytics to track the customer segments where you're winning and where you need to grow.
Eliminate silos and creates transparency in your financial services organization by creating a single source of truth for each customer. Many CRM platforms are now cloud-based. The benefit is that data can be entered and viewed in real time. How can that help financial services firms? A CRM for financial advisors brings organizations together to share information across departments. When a customer calls into one department, there is transparency so that everyone with access to the CRM will see it. This eliminates silos and keeps every department on the same page for more unified customer experience.
Improve customer service, which could be a key point of differentiation for your firm. The financial services industry is about trust, and a professional and efficient customer service experience shows why the client should pick you over all the other choices in the marketplace. But a CRM can also nurture the relationship over time by providing personalized solutions, messages, and resources that show you are in tune with what's important to the client.
Personalized one-on-one customer care is essential in the financial services industry. A CRM can help you make every meeting relevant by providing you with every detail of your interactions. It allows you to track all the details of the client, from birthdays to portfolio preferences. As your client base grows, keeping these details manually will become more and more unwieldy, potentially leading to costly mistakes. Failing to understand your clients' priorities will erode trust and potentially cause you to lose the customer. A CRM will keep you on top of the myriad small details—even when your business expands.
You'll find all of these benefits in the Microsoft Dynamics CRM for financial advisors. IES works closely to bring these tools to the financial services industry to help them easily make use of the best tools available to grow their business. Talk to our team today to take a test drive of the software that will grow your business.