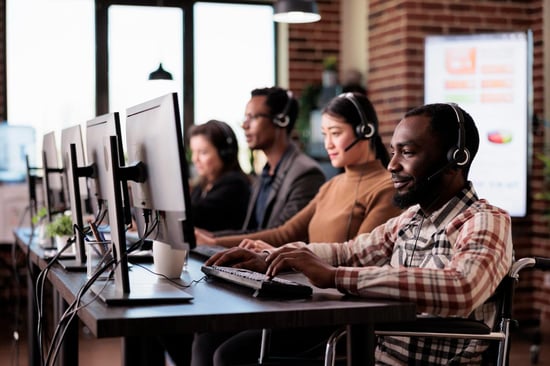 In a world where consumers have more choices than ever, businesses must find ways to forge connections a customer can't get elsewhere. Customer relationship management (CRM) solutions give small and medium-sized businesses (SMBs) a way to understand customers and prospects to help them provide better service. Microsoft Dynamics 365 provides a customer service CRM platform that helps track, manage, and store customer-related information.
Why Do Businesses Need a CRM?
There are still many companies keeping track of company information using spreadsheets. Many people use their email inbox as a repository they tap into to track information about a customer issue. Without automation and integration of customer data, people working on different teams have trouble locating up-to-date customer information.
Your CRM system can help improve experiences at each customer journey stage in the following ways.
Customer engagement — You can figure out how to locate new leads and transform them into loyal customers.
Customer interactions — Dynamics gives you a complete view of customers, including purchasing patterns and other information to help teams provide more individualized service.
Customer tracking — You can keep up with where customers are in the sales lifecycle to help craft more targeted marketing tactics.
Increased productivity — Dynamics allows you to streamline standard processes to improve productivity and enable team members to focus on more essential tasks.
CRM systems automatically collect data on current and prospective customers, including:
Phone numbers
Social media posts
Purchase histories
Email addresses
Service and support tickets
You can connect Microsoft Dynamics 365 to other business tools. It also has built-in business intelligence and artificial intelligence (AI) features. You can use them to speed up the ability of users to complete administrative tasks. Dynamics also provides actionable insights to help leaders with decision-making.
Let's look at other ways your company can benefit from a CRM solution.
1. Centralized Customer Data
You can use Microsoft Dynamics CRM as a single repository for all customer information. Instead of bouncing from one database to another, you can set up a single source of truth for your representatives. That way, they have all relevant customer information at their fingertips when needed.
Having customer data in a CRM helps keep all business stakeholders on the same page. Most businesses have sales, customer service, and marketing operations performed by different teams in various locations.
If a customer has previously interacted with your company, you will see it in your Dynamics CRM records. That can help inform future sales pitches and marketing efforts toward that customer. You also save time for employees because they no longer must dig around in different systems to uncover that same information.
2. Lead Identification and Conversion
Companies must do a lot to attract customers to their brand. Many try posting social media ads and putting out blogs. Some companies rely on old-fashioned methods like setting up booths at trade shows. Once you catch their attention, you must figure out how to keep them interested. CRMs help by giving you a framework to optimize a business's lead generation funnel.
For example, you can keep up with a customer's favorite social media channels and determine how to target them with your marketing. You can capture information from forms embedded in your blog to choose the most popular keywords. From there, you can create content to bring more attention to your page.
CRMS can browse different channels and keep up with user activity. Businesses can use the data to qualify leads, then integrate that data into automated marketing campaigns. You can also use the Dynamics 365 customer service CRM to set up reminders to follow up with prospects.
3. Automated Data Entry
Customer service can have the most significant impact on a company's bottom line. If they get it right, that can lead to more business through positive word of mouth. It only takes one negative experience to sour a customer on a company and leave for a competitor.
The customer service automation tools in Dynamics 365 help you improve service quality, which leads to better customer retention. Businesses can set up automated chatbots to provide customers with assistance. That frees up human representatives to handle more complex issues.
Customer service teams can spend less time logging calls and emails. Instead, businesses can automatically collect and aggregate that information within their system. CRMs provide updates on various issues based on the current stage, reducing the amount of research required by a representative.
4. Organized Contact Information
You can quickly track all contacts and related data at every stage of the buyer journey. A customer service agent can look at details like when customers visited the company site, if they downloaded content, and whether they've called in previously.
In addition, representatives can log notes from calls and emails based on contact interactions. That information becomes searchable within the CRM, meaning that other departments have ready access to the same data.
5

. Data-Driven Decisions
The Microsoft Dynamics 365 customer service CRM provides data analytics tools. Businesses can unlock insights that might not be readily apparent. Analysts can measure factors like customer sentiment, how well a company is meeting expectations, and the success of a recent marketing campaign.
Organizations can set up dashboards to organize customer data based on various demographics and characteristics. For example, you can track the level of consumer engagement in the Southwest of the US. Businesses can determine which marketing tactics might impact a customer segment the most.
The insights provided by an organization's CRM can help them create more accurate forecasts. That removes a lot of the guesswork out of planning for the future. In addition, businesses can leverage insights about customers, sales performance, and forecasts to figure out their next product launch or ways to make customer service interactions more seamless.
Boost Customer Experiences Using a CRM
Internet eBusiness Solutions understands the importance of keeping current customers happy while attracting a steady stream of new prospects. We help businesses leverage the power of technology to support their organization. Learn more about how we can help by contacting one of our specialists.