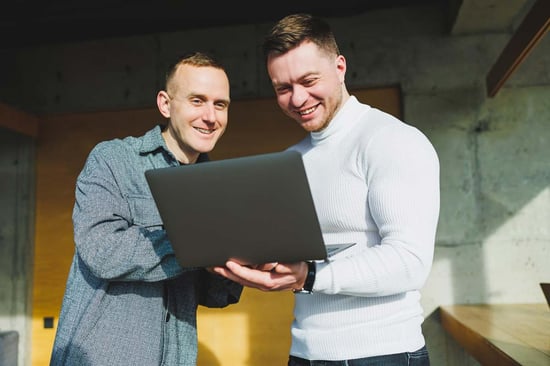 More organizations are starting to understand the benefits of having essential business applications within a single platform. Microsoft 365 and Microsoft Dynamics 365 are both software-as-a-service (SaaS) platforms that fulfill different organizational needs for companies. Let's look at how the platforms differ and the benefits they offer for organizations working in various industries.
What is Microsoft 365?
Microsoft 365 is a subscription service that provides businesses access to Office desktop applications, including Word, Excel, and PowerPoint. Previously known as Office 365, the productivity cloud platform allows companies to manage devices, security, and devices from one location. Microsoft 365 keeps the best parts of Office 365 while adding new features like intelligent security and support for more recent Windows and Enterprise Mobility versions.
Microsoft 365 subscribers gain access to collaborative features like SharePoint and Teams. In addition, because it's hosted in the Azure cloud, users can log into Office applications from anywhere. For example, a remote worker can access the same documents as their in-office counterparts, add updates and comments, then save the information for viewing by other team members. These kinds of features simplify collaboration among business units.
Other advanced tools available through Microsoft 365 include the following:
Microsoft Editor
Microsoft Money
OneDrive
If your company is already familiar with using traditional Microsoft products, then users should have an easy time adjusting to the digital experience provided by Microsoft 365. Inexperienced users typically have an easy time getting up to speed using the different applications.
OneDrive, Microsoft's cloud file hosting service, lets users connect to, store, and share files if they can connect to the internet. Company employees can upload files and documents from OneDrive using a computer or mobile device. In addition, Microsoft 365 lets users establish file permissions, ensuring no unauthorized user views sensitive information.
Organizations can centralize the storage and handling of documents and information. For example, if a worker ends up cut off from their internet connection, they can still access saved documents, make updates, then have them upload once they reestablish a connection.
What is Microsoft Dynamics 365?
Microsoft Dynamics has existed in one form or another since the early 2000s. Dynamics 365 represents the latest evolution from legacy products like AX and NAV. The most significant change from earlier versions is that they were primarily on-premises solutions. Because Dynamics 365 is a cloud solution, any user can access the available applications from a device with an internet connection, the same as Microsoft 365.
Organizations gain access to robust enterprise resource planning (ERP) tools and customer relationship management (CRM) features. The ERP functions give small and medium-sized businesses (SMBs) what they need to run operations and remain competitive with larger organizations. In addition, the platform supports the development of automated workflows to handle regular business tasks.
The CRM functions within Microsoft Dynamics 365 provide companies with a 360-degree view of all customer interactions. For example, organizations can use Dynamics 365 to connect customers' feedback on the internet to phone conversations with a call center representative. In addition, marketing teams can tap into that data to help refine their campaigns for specific audiences.
In addition, business leaders can quickly pull insights connected to employee activities. That way, they can quickly spot inefficiencies within their processes and find ways to reduce tedious manual work. Workers are then free to dedicate themselves to more critical tasks.
Dynamics 365 Functionality
Finance — SMBs gain access to core features like a general ledger for managing journals, sales tax, and VAT. Organizations can also use the platform's financial capabilities to manage cost accounting tasks tied to projects and operational processes.
Supply Chain Management — The supply chain module supports the management of purchase orders and purchase credit memos. Organizations can track processes related to generating quotes, blanket order transactions, and order processes in one location.
Marketing — The marketing module supports sales teams by helping them locate and nurture the most promising leads and guide them through the sales funnel. Businesses can use Microsoft Dynamics's cloud intelligence and analytics to track the performance of individual marketing campaigns and find ways to improve ROI.
Can You Use Microsoft 365 and Microsoft Dynamics 365 Together?
Organizations can easily integrate the features of Dynamics 365 and Microsoft 365 to improve business services. For example, many workers find themselves needing to update a lot of records in Excel. Instead of going through each row individually, you can connect to the Excel file online through Dynamics 365 and update the records simultaneously. Analysts can also perform data analysis functions within Excel Online and save the changes within Dynamics 365.
Dynamics 365 has preset Word templates that let users quickly take advantage of the application's best features. Users can quickly set up a professional-looking Word document from Dynamics 365, then promptly merge data held within an Excel spreadsheet.
There's also an integration for Outlook that lets Dynamics 365 users easily track their information. For example, sales teams can get an overview of all sales activities using Outlook Calendar and monitor upcoming customer appointments and meetings. In addition, users can quickly set up new records in Dynamics 365 using Outlook if needed.
Power BI subscribers can integrate the cloud service and set up an internal analysis solution within Dynamics 3650. Gain insights by analyzing customer history records held within Microsoft Dynamics CRM. Users can create centralized dashboards, reports, and other visuals from there.
Which Solution Should I Choose?
Microsoft 365 and Dynamics 365 support the need for businesses to streamline their operations, enhance worker productivity, and enhance collaboration between business areas. Internet eBusiness Solutions (IES) helps organizations find solutions that fit their business environment and support their business goals. Learn more about how we can help transform your company's digital posture by connecting with one of our solutions experts.