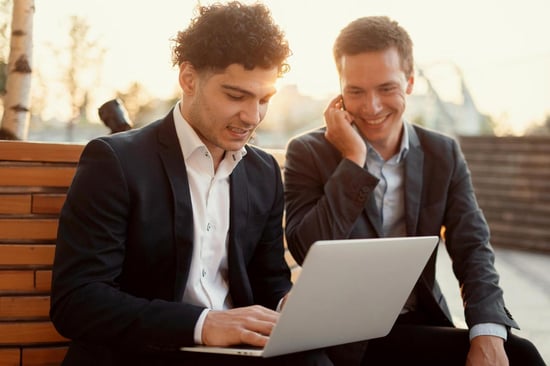 Over the years, Microsoft has offered businesses a variety of business technology. If you're new to the world of Microsoft Dynamics, keeping up with the different software versions can be challenging. It doesn't help that you can still find older versions of Microsoft Dynamics running in organizations nationwide. It helps to understand the history of Microsoft Dynamics instances and their use in business.
Microsoft Dynamics AX
Dynamics AX is one of Microsoft's older enterprise resource planning (ERP) platforms. Medium-sized companies and enterprises primarily use it to help make the workforce more efficient. The user-friendly nature of the platform makes it easier for organizations to get employees comfortable working within the application.
Among the functionality provided by Microsoft Dynamics AX includes automation of business intelligence, supply chain, and financial processes. The software is popular in logistics companies because it helps optimize the flow of goods and materials. Dynamics AX offers advanced logistics management capabilities that get good out to customers faster.
Another reason why logistics companies rely on Dynamics AX is the ability to gain more visibility into company assets. The automation capabilities help companies streamline standard business processes. Dynamics AX comes with data collection functions and analytics capabilities to help companies understand what's happening at different points in the supply chain.
There are upfront costs involved with setting up a Dynamics AX instance. You'll need to pay for servers capable of hosting an on-premises instance. Businesses must also purchase licenses outright for servers and users. Many Microsoft partners no longer support Microsoft Dynamics AX, making it difficult to find someone to help when you run into issues.
Microsoft Dynamics CRM
Dynamics CRM business software, launched in 2003, allows businesses to manage customers within a database. The information contained within the platform helps generate new leads for sales teams, assists companies in engaging directly with customers, and resolving customer service problems.
Organizations can capture data from different customer touchpoints, including email, faxes, and phone calls. All the information can be pulled together to create an individual customer profile. There are three individual modules that make up Dynamics CRM.
Sales
The sales module lets salespeople access social data and manage relationships with current customers and potential leads. The information provided through the CRM helps the sales team collaborate and have instant visibility into individual pipelines from any device.
Marketing
With marketing becoming more essential to business success than ever, marketers need a way to collaborate, plan, launch, and track measurements around campaigns from beginning to end. Dynamics CRM provides a centralized platform to help accelerate marketing plans and remain agile in an ever-changing business environment. Marketers can rely on Dynamics CRM to:
Set up consistent messaging across campaigns

Pull customer insights to set up personalized content

Work together within the team to ensure that everyone remains aligned with marketing goals
Customer Service
The customer service module supports a company's desire to reduce customer response times and boost resolution rates. It also supports providing a way for companies to offer self-service to customers, which helps businesses meet the terms of service level agreements (SLAs). Customer service functions enable representatives to connect with customers using any channel.
Microsoft Dynamics GP
Microsoft Dynamics Great Plains (GP) accounting software is mainly used by small and mid-sized companies looking to remain competitive against larger organizations. In addition to accounting functionality, the platform offers the following capabilities:
Human resources — Allows companies to track employee metrics and benefits. HR representatives can reduce the manual work required for accurate employee management.
Supply chain — Dynamics GP tracks stock level, keeps up with asset costs, and additional supply chain management functions. Employees can use the accounting module to see product details and keep up with inventory.
Project management — Organizations can use the project management functions in Dynamics GP to keep up with project management tasks like analysis, approving timesheets, and handling approvals.
Another benefit of Dynamics GP is the integrated end-to-end security designed to protect confidential business data. Organizations can streamline manual tasks and workflows by using artificial intelligence (AI) and automation functions.
Microsoft Dynamics NAV
Dynamics NAV is an end-to-end ERP platform that helps smaller companies gain more control over business functions related to:
Operations

Procurement

Accounting

Supply Chain Management

Project Management
With Dynamics NAV, companies can decide to start with a few modules to see how the applications fit into their organization. From there, they can expand to add additional modules based on changing business needs. Other Microsoft products like Office 365 integrate directly with Microsoft Dynamics NAV.
Companies must work directly with a licensed dealer if they wish to purchase a Dynamics NAV instance. In addition to paying for licenses, companies need to account for costs related to training, consulting with a partner, and setting up customizations. You must also consider whether you have enough server support to handle an on-premises instance.
Microsoft Dynamics 365
Microsoft Dynamics 365's cloud-based suite of business applications lets organizations pick and choose the functions most applicable to their company. It provides a way to streamline manual business processes slowing down worker efficiency. Below is an overview of some of the essential modules within Dynamics 365.
Business Central
Business Central helps companies optimize operations, sales, and finance functions. It offers s seamless user experience, eliminating the need to bounce from one solution to another. Business Central's intelligence tools provide real-time feedback from connected apps like Power BI. You can customize the module to fit the type of services your organization offers.
Sales
The sales platform gives agents what they need to achieve a higher conversion rate. Users can set up dashboards with essential details that help them prioritize leads and hit relevant KPIs. Stream current information from the connected CRM to identify prospects in critical markets.
Field Service
Improve how your home office and field agents communicate with and handle customers. You can schedule automated workflows to ensure that customers receive speedy service, even in more remote areas. The Field Service module helps teams work smarter and make better workload distribution and maintenance decisions.
Pick the Right Dynamics Instance for Your Business
Internet eBusiness Solution prides itself on the extensive knowledge held by our specialists about different versions of Microsoft Dynamics. Let us help you make the right choice for your organization by scheduling a consultation with one of our Microsoft Gold experts.