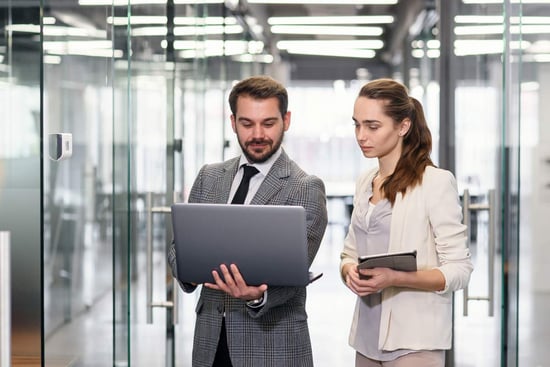 A successful Dynamics 365 setup depends on putting a lot of time and effort into the implementation. You want to make sure you adopt features most useful to business users. That means doing a complete business analysis of what's available from Microsoft Dynamics 365 and how you can design it to fit your company's needs. That's why we've come up with this list of Dynamics 365 implementation best practices to go over as you think through how you can best leverage the platform throughout your organization.
1. Bring in Subject Matter Experts (SMEs)
The best way to encourage users to migrate to the new Dynamics 365 platform is by having subject matter experts (SMEs) who understand those business roles involved with the setup. They know the workflows followed by users and can offer input on how best to adapt a Dynamics 365 component to fit their daily work needs.
Having SMEs involved from the planning stage reduces the risk of you investing a lot of time and money into an implementation that's not useful to your core workers. The feedback from SMEs can be invaluable in ensuring you keep user needs in mind.
2. Assess Your Current Tools and Systems
Even large enterprises still rely on legacy systems to run their business. One of the best Dynamics 365 best practices to follow is making sure you account for how the new implementation would need to interact with those older platforms. If the older application or system is obsolete, you need to determine whether it needs replacing or if there are modifications required by the IT team to help bridge the technology gap.
A thorough evaluation of your existing systems, application suites, and programs allows your organization to centralize your solutions. That means you need to follow Dynamics 365 data migration best practices to ensure that critical data makes its way into the correct database. The insights you gain from reviewing the infrastructure currently used within your company can build momentum for your project and help you set achievement benchmarks.
3. Go Over Available Dynamics 365 Modules
One of the great things about Dynamics 365 are the modules and features available to handle any business function. However, you can easily get lost in the weeds and get overwhelmed by the available choices. Depending on your industry, you may be fine implementing only a few available components, like Business Central or Field Service.
Look at the functionality available in each Dynamics 365 module and match them to your business needs. It's also an excellent time to consider any modifications you might need to accommodate your business process requirements. Taking the time to understand each Dynamics 365 feature helps you clarify whether there is a need to build custom components.
4. Establish Cross-Functional Teams
In addition to your SMEs, try to get input from people across the organization impacted by the new Dynamics 365 implementation. They can help identify potential bottlenecks and inefficiencies you can address through your new Dynamics 365 setup.
A team of professionals working together can help you identify how to address problems and develop viable solutions. You can minimize the risk of unexpected issues throwing your Dynamics 365 implementation project completely off-track.
5. Involve IT in Decision-Making
One Dynamics 365 best practice you don't want to overlook is the involvement of your IT team. They can give you technical advice on whether your ideas for the new platform are feasible, given your current technology stack. They're the ones tasked with handling more complex integrations.
Remember, your permanent staff will need to maintain your new Dynamics 365 platform after the implementation and the project team disperses. You want their expert opinion to ensure they can support your future integrations or modification needs.
6. Build up a Solid Foundation
Avoid getting ahead of yourself by adding integrations during the initial implementation. If you can make it work with your timeline needs, try to get your base modules working before you try adding in third-party services.
The time it takes to get custom integrations working can cause you to miss your project milestones. Get the Dynamics 365 module that you need the most up and running. Carve out enough time to adequately address your data mapping and script creation needs for the modifications, then plan a separate phase to implement those changes.
7. Decide on Your System of Record
Another essential Dynamics 365 implementation best practice is deciding on your system of record. That's the data source your organization should depend on as the ultimate source of truth for your data. You can choose Dynamics 365 for Sales or another module. Making decisions early around your system of record helps you decide on an overall design. You can also account for any security requirements needed to protect your information.
8. Make Sure You Align Implementation and Business Guidelines
Think carefully about how your Dynamics 365 implementation affects other business goals. You don't want the work needed to get the system running to impact other important dates. Try to make your deployment plan attainable and reasonable to avoid unnecessary delays.
9. Document Your Procedures
Keep track of all use cases and feature documentation in a centralized location. People come and go, so they have that information to tap into and understand what went into the initial Dynamics 365 set-up. Having that documentation at your fingertips also helps with designing training materials to help users learn how to make the most of the new platform.
Accelerate Your Business Transformation With IES
Working through the details of a new Dynamics 365 implementation can become complicated. The seasoned professionals at Internet eBusiness Solutions (IES) have experience adapting Microsoft Dynamics products to fit the needs of different industries. Find out how we can support your efforts by setting up a consultation with an IES technology specialist.