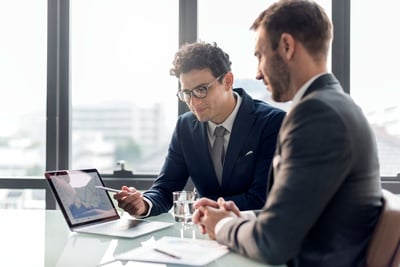 Software changes. It's the cardinal rule, whether you're Oracle, Microsoft, or Apple. As a Microsoft partner, we know that the organization is constantly iterating to make their products better for the end user. While it's important to embrace the spirit of continuous improvement in the digital era, we also recognize that Microsoft has been changing their products a lot lately, including renaming and rebranding these new and improved tools.
Recently Microsoft launched their Dynamics 365 Business Central product line, which has thrown some of our clients for a curve as they attempt to understand what's changed. Many of them are still using NAV, but in fact, there's a newer, better iteration of these products under the Business Central rebrand. This article will look at Dynamics 365 Business Central vs. NAV 2018 to help you understand exactly why Microsoft undertook the upgrade. How will the new Dynamics 365 Business Central improve your organizational efficiency? Why is it important to upgrade from the legacy Nav product?
First, Some History – Dynamics 365 Business Central vs. Nav 2018
Dynamics 365 is a cloud-software model from Microsoft that pulled together an integrated package of CRM, ERP, and business productivity tools under one umbrella. Microsoft has been road tripping toward this end result since about 2001 when they purchased two ERP software packages called GP (Great Plains) and Solomon. In 2002, Microsoft acquired two more ERP software tools called Axapta and NAV (Navision). One year later, these tools were mined and repacked under the Microsoft brand.
Microsoft has been working on these tools ever since, to the applause and critical acclimate of end users and developers.
Released in 2005, Microsoft Dynamics NAV became one of the most popular ERPs globally, handing multiple business functions, including:
Business analytics and predictive intelligence
Customer relationship management
Distribution
E-Commerce
Finance and accounting
Human resources
Manufacturing
Project and resource management
Sales and Marketing
Service management and fulfillment
Supply chain
Warehouse Management
NAV was moved to an annual release cycle, with more than a dozen iterations and versions since its launch. Today, there are thousands of companies globally using NAV as an on-premise or cloud solution.
By 2016, Microsoft launched Dynamics 365, a cloud software package that worked well with Outlook, Excel, and other office productivity tools, but also integrated the CRM and ERP functions under one brand. Dynamics 365 uses the power of apps to offer an always-on, scalable product affordable for even the smallest organization.
Within those apps lies the heart of the new Business Central, but there was one more iteration that Microsoft had to trial before announcing the new product. In 2017, the company said they were discontinuing Dynamics 365 Business Edition. At the time, that was one of the top-selling ERPs designed specifically for the small to midsize company. So, what did Microsoft have up their sleeve next?
The Launch – Dynamics 365 Business Central vs. NAV 2018
Here's an insider's tip that's actually common knowledge in IT circles; Microsoft is moving everything to the cloud. The cloud offers the always-on connectivity we crave, as well as higher levels of security, and scalability, which benefit businesses of all sizes. While having digital connectedness on any device has been widely accepted for cloud models, along with infinite scalability, it's the middle point – security -- that still fosters debate. But Gartner spells it out clearly, "Through 2022, at least 95% of cloud security failures will be the customer's fault."
This gives credence to Microsoft's recent push to repackage NAV into a new framework, with new cloud features, under the name Dynamics 365 Business Central. While current NAV customers will be supported, Dynamics 365 Business Central has received a powerful makeover. Some of the improvements we've noticed include:
Better elimination of application silos -- Business Central has a tighter integration with the entire Microsoft universe of apps. The benefit is that your business workflows will improve as redundant processes are eliminated.
Embedded business intelligence tools -- Business Central has a powerful predictive analytics engine with a machine learning backbone that will make you work smarter. The benefit is that you will be able to use real-time analytics to create actionable insights to improve your business.
Easier upgrades in the cloud -- Business Central is on an annual cadence, but, as Gartner suggests, cloud technology is safer. The benefit for business is a constant stream of security upgrades that will keep your data up-to-date on the latest walls to mitigate the risk of hacker encroachment.
Workflow creation and automation – Business Central has a new tool called Microsoft Flow for process efficiency. The business case is that Flow can help organizations seeking process improvement. It's useful as a prototyping and iteration roadmap tool. But it can also help you map workflows and determine when to automate to save time.
Integration and data sharing with CRM – Business Central takes the busywork away from your sales team. There is now a seamless integration between data housed in the CRM platform and other tools. The benefit is to have a better-informed sales team and eliminate extra work that takes them away from what's important – closing deals.
So, now that we know NAV is ready for the Business Central upgrade, what's the process for transitioning existing customers to this new iteration?
The Transition – Dynamics 365 Business Central vs. NAV 2018
We've been fielding calls from existing NAV customers who want to know if they should upgrade from their legacy platform. It's important to understand that there is only one upgrade left for older on-premise NAV applications, which is expected at the end of this year. Microsoft tells us that NAV 2018 will gradually be phased out, as no new sales are to be expected after January 2019.
For customers ready to make the switch, there are several licensing options, including:
A cloud monthly subscription by the user, which helps organizations normalize expenses while reaping the benefits of cloud security updates.
A perpetual hosted solution on-premise on a server in a private data center, which is perfect for those organizations that are still cloud-leery.
Third-party managed service agreements that include licensure, upgrades, customization, and consulting for on-premise applications.
Talk with the IES team about your options. We're available to help you reap the maximum benefit of your on-premise and cloud Microsoft solutions.