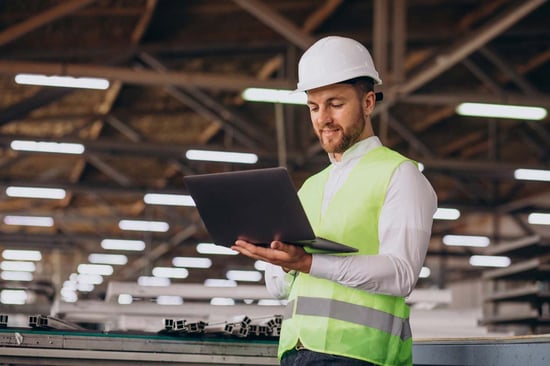 The evolution and maturing of the construction industry have brought about a change in what's needed to manage projects effectively. You have the complexity involved in keeping up with the different responsibilities of organizing workers, contractors, suppliers, and materials. When you add to that the importance of staying within a budget and delivering on time, you see why many in the construction industry see the need to move on from spreadsheets and into an all-encompassing business solution like Microsoft Dynamics 365.
What is Dynamics 365?
Microsoft Dynamics 365 provides construction companies a comprehensive platform for managing construction projects. It helps them deliver consistently high-quality results and eliminate human error thanks to Dynamic 365's business intelligence and automation capabilities.
Staff can tap into information housed in a single location from a construction site or an office. Everyone gets the opportunity to provide real-time data to help complete projects on time and keep them within budget.
The scalability of Dynamics 365 makes it popular among construction organizations. Businesses can expand their subscription to add new services as they are needed. Dynamics 365 gives you access to connected ERP and CRM systems, connecting your essential business and financial workflows. That makes it easier to track costs associated with different phases of construction projects.
How Does Dynamics 365 Help With Construction?
Dynamics 365 helps construction organizations maintain a competitive edge thanks to its future-facing artificial intelligence (AI) and machine learning (ML) capabilities. The modules that come with the solution package help construction firms boost engagement with merchants and keep up with what's happening during various project phases.
The user-friendly interface works similarly to other Microsoft solutions like Power BI. Businesses can quickly automate essential business processes and gain insights that allow them to make real-time adjustments to keep construction projects on track.
Dynamics 365 gives managers what they need to monitor construction projects and associated resources. Instead of struggling with spreadsheets, information can be accessed quickly from customized dashboards displaying information associated with project finances, progress, operations, and profits.
Use Dynamics 365 to manage other construction processes, including the following:
Job quotes

Project accounting

Labor and equipment management

Subcontractor management

Equipment management

Job material planning
What Are the Benefits of Dynamics 365 for Construction?
Now that we have a better understanding of Dynamics 365, let's look at some of the benefits it offers construction firms.
1. Access to Mobile Technology
Dynamics 365 helps ensure everyone associated with a construction project access the same information in real time. An office worker can input data into the Dynamics 365 database and push it out to those working in the field, and vice versa. Everyone can tap into Dynamics 365 from a mobile device like a cell phone, laptop, or tablet.
That means those working on a site no longer must travel into the office if they need updated statistics about a job housed in a spreadsheet on a local computer. Anyone with a mobile device can tap into the Dynamics 365 database for up-to-date information.
2. Resource Scheduling and Management
Construction managers can eliminate the frustration of realizing at the last minute that they don't have the right personnel to finish a construction project phase. Dynamics 365 lets users set up drag-and-drop scheduling boards. That way, managers can ensure they have assets, people, and equipment in place for projects. Construction firms improve their ability to deliver for customers and ensure their needs are prioritized.
3. Improved Collaboration
Dynamics 365 provides oversight of what's happening with resources within a construction unit, improving efficiency and giving managers what they need to execute. Users can set up dashboards driven by business intelligence to make data available for everyone immediately. The platform also supports the ability to communicate about issues like the following:
Change orders and billing

Defining budget constraints

Forecasting

Project estimates

Project phase scheduling
4. Control Over Finances
Modules like Business Central help teams track costs and time for construction projects. Methods like Budgets vs. Actuals and Cash Flow assist managers in finance monitoring. Stakeholders have transparency around decision-making around project deliverables when you hook dashboards and reports up to the capabilities provided by Microsoft Power BI.
5. Integration with Other Microsoft Products
Dynamics 365 has built-in integrations that make it immediately compatible with other Microsoft products. You can connect with Power Apps to extend and customize applications within Dynamics 365. Use Power Automate to establish workflows for processes like notifications, file synchronization, and configuring endpoints for third-party platforms.
Users can move seamlessly between applications like Outlook, SharePoint, and Office. Employees are more effective because they don't have to log in and out of different applications when inputting customer data.
6. Better Customer Service
Use Dynamics 365 to collect information on construction project customers. Analyze the interactions between your staff and clients. That gives you a better sense of how you can improve customer service by uncovering and fixing issues more quickly, giving clients a reason to return to your company for future construction projects.
7. Analytics
Dynamics 365 comes with built-in analytics tools. Use algorithms to collect statistics and establish predictions around the outcomes of construction projects. Find trends that might impact resources and your ability to deliver by project deadlines. Analytics lets managers set up more accurate reporting to make more informed decisions.
8. Data Privacy
Data privacy concerns affect every industry, including construction. Dynamics 365 is protected by Microsoft's cybersecurity protocols. Customers also receive 24/7 support for technical issues and disaster recovery. Microsoft handles all data needs, including housing information in physical data centers and setting up service hosting platforms.
Experience the Benefits of Dynamics 365 for Construction
Internet eBusiness Solutions (IES) helps businesses find solutions capable of delivering on the needs of their industry. Find out more about how we can help you find the right products for your business environment by consulting with an IES expert.