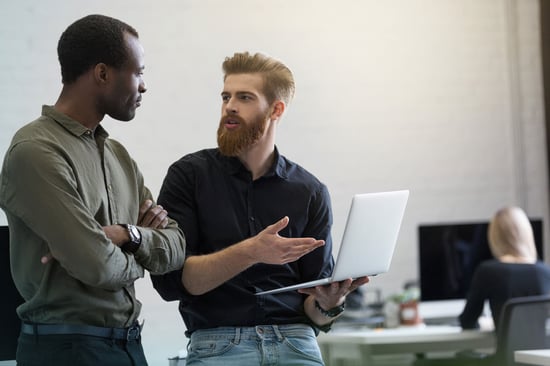 Microsoft Dynamics combines the benefits of enterprise resource planning (ERP) and customer relationship management (CRM) software into one platform. Earlier versions of Microsoft Dynamics included products like AX, GP, and NAV to help companies manage financial and operational processes.
Microsoft Dynamics 365 represents the evolution of the solution to a cloud-based infrastructure. If you're new to the Microsoft Dynamics ecosystem, you may be confused about certain aspects of the software. Below are some answers to questions asked frequently about Microsoft Dynamics.
Is Microsoft Dynamics Easy to Learn?
The answer to that depends on your job role. It helps to be familiar with other Microsoft products like Microsoft Power or SharePoint. You may also have an easier time using the ERP or CRM functions if you have used other versions of that kind of software. Many employers also provide users training to understand the nuances of working in Microsoft Dynamics.
Microsoft provides beginners with tutorials on using Microsoft Dynamics directly on their website. You can also ask your employer about providing training for the platform. Those interested in developing Microsoft Dynamics applications can take learning courses offered through Microsoft learning. You can focus on individual Dynamics modules, like Finance and Operations.
Is Microsoft Dynamics SaaS?
Microsoft Dynamics 365 is a software-as-a-service (SaaS) product. Users can access the applications from a Windows device using a web browser. It's possible to access any modules, like Dynamics 365 Business Central, from anywhere. The flexibility of the cloud platform means that organizations can scale the platform to adapt to their changing business needs.
Does Microsoft Dynamics Work on a Mac?
Yes, it is possible to work with Microsoft Dynamics applications on a Mac. If you're working with a desktop version, you will need an OS (Windows 7, 8, 10, Windows Server 2008, Windows Server 2012) installed to support the software. Because Microsoft Dynamics 365 is a cloud application, you can run the web client on a supported browser. Users can also run the full version of Microsoft Dynamics on a Mac device using Parallels Desktop.
Can You Work with Third-Party Tools Through Microsoft Dynamics?
Microsoft Dynamics 365 comes with many out-of-the-box integrations to connect with popular third-party tools and software. You can use APIs to set up your integrations. For example, you can work with SAP Concur, an invoicing and expense management system. Doing so can help your company speed up expense management, manage cash flow, and set up automation around general ledger entries and purchase invoice creation.
If you're going to set up a third-party integration using Microsoft Dynamics, make sure each integration has a clear business purpose. You also need to consider whether the infrastructure supports what you're trying to do, if security issues may be introduced, and how to handle updates to the third-party software.
Can You Integrate Twitter into Microsoft Dynamics?
Customers like to engage with companies using social media. If your organization uses Microsoft Dynamics 365 Customer Service, you can extend modules like Dynamics 365 Customer Service using the Twitter integration. After setting it up, companies can receive and respond to communications sent through Twitter.
Does HubSpot Integrate with Microsoft Dynamics?
Yes, there is a HubSpot integration available to connect with Microsoft Dynamics 365. Connecting the two helps your sales team access the functionality of both Dynamics 365 and HubSpot. For example, they can easily decide how to prioritize leads and sync accounts between the two platforms. The marketing department can use the information collected from both systems to create more personalized marketing campaigns and establish a more precise segmentation of audiences.
Does Microsoft Dynamics Work with Power BI?
You can connect your Microsoft Dynamics instance to work directly with your Power BI installation. Integrating the two lets users set up interactive dashboards containing rich visuals powered by data collected from different business areas. It's also possible to set up easily understood reports that make communicating with higher-ups and other stakeholders easier.
Using Power BI with Dynamics 365 helps you create business documents reporting company transactions, then send them to any device. Establishing electronic reporting also makes it easier to send documents internationally that comply with the legal requirements of various regions.
Can You Use QuickBooks with Microsoft Dynamics?
Yes, you can integrate QuickBooks into your Microsoft Dynamics 365 instance. For example, your sales department may need accounting data housed in QuickBooks. Setting up a connection between QuickBooks and Microsoft Dynamics makes that information available in the Sales module. Both departments get real-time insights into financial details.
Organizations can also sync CRM functions to allow them to see customer accounting information. A customer's purchase history can give salespeople ideas on targeting various accounts. Sales made can get passed over to QuickBooks, eliminating any need for the IT department to conduct daily information transfers between the two systems.
Is Microsoft Dynamics GP Going Away?
Microsoft currently has no plans to eliminate Microsoft GP Completely. GP Instances 2013, 2015, 2016, and 2018 operate under the Fixed Life Policy. Below is the current schedule for completely sunsetting these versions of Microsoft Dynamics GP.
2013 — April 11, 2023

2015 — April 8, 2025

2016 — July 14, 2026

2018 — January 11, 2028
If you're currently running any of the above versions, you will have to look into transitioning to a different platform before the sunset date.
Which Version of Microsoft Dynamics Should I Purchase?
Your decision on which Dynamics instance to purchase depends on your current business needs and infrastructure setup. Right now, organizations are still running older versions of Microsoft Dynamics Great Plans (GP). Others have moved to the cloud by investing in Microsoft Dynamics 365. If you need a CRM, ERP, and software that covers your customer service, finance, and sales needs, then that may be the route to choose.
It also helps to consult with a partner familiar with working with Microsoft Dynamics products. Internet eBusiness Solutions (IES) can walk you through the benefits of different Microsoft Dynamics solutions and help you make the right choice for your business. Our team of experts also guides you through installing and optimizing the solution to fit your organizational needs.
Learn more about how we can help you transform your business operations by setting up a consultation with one of our Microsoft specialists.