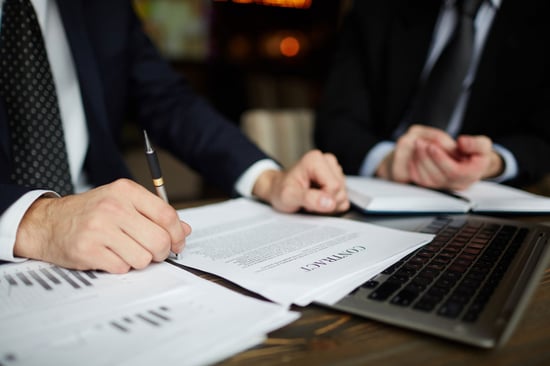 Contract management is an essential function for many businesses. However, setting up, negotiating, and finalizing the terms of an agreement can become complicated very quickly. It helps to handle contract management using Dynamics 365. While you might be familiar with Microsoft Dynamics' ERP and CRM capabilities, it's also possible to set up a D365 contract management solution capable of handling contract creation, approvals, and management. Admins can also integrate Dynamics 365 with third-party contract management platforms.
How Do Dynamics 365 Contracts Work?
Initially, Dynamics 365 supported contract entities that helped companies define agreements. You could use them for setting up service level agreements (SLAs) or outline agreements for a specified period. Organizations could create them for new and existing customers. Regarding contract management in Dynamics 365 Finance and Operations, users could make updates to contract entities in a draft form until they finalize the agreement.
Microsoft retired the old contract entities and switched over to the use of entitlements. They provide similar functionality to Contracts with some expanded capabilities. An entitlement defines support details for agreements supplied to customers. Companies can use entitlements for scenarios including:
Warranty contract management
Service-specific contracts
Incident-based contracts
Time-based contracts
The new entitlement system in Dynamics 365 is composed of the following elements:
Entitlements — The agreement defining specific support details provided to customers. Common attributes associated with an entitlement include coverage period, outlined contract terms, support channels, and covered products or services.
Entitlement channels — Channels are used to add specifics around coverage provided for an item or product.
Entitlement template — Entitlement templates help users quickly pull together entitlements drafts and define options for what to offer customers.
Entitlement Life Cycle in Dynamics 365
Entitlements are placed in a draft status upon creation. In that stage, users can edit details like adding channels, products, and coverage dates. From there, the entitlement is moved to a waiting status, where the contract is inactive until the effective date of the agreement kicks in. It's not possible to edit a record at this stage.
Entitlements become active contracts once the effective date rolls around. Attaching cases to an active entitlement is possible, but you can't make edits at that point. After the entitlement expires, it's no longer possible to do anything with the record. It is possible to renew expired or canceled entitlements within Dynamics 365 contract management.
Integrating Dynamics 365 With Other Contract Management Solutions
Businesses face many challenges when it comes to handling contracts. Teams need ways to collaborate on the details of agreements before sending them out for signature. Microsoft Dynamics makes it easier for workers from different areas to take care of pertinent details to help close deals. You can designate activities to help with:
Drafting contracts

Setting up approvals

Performing reviews

Adding updates after negotiations
While using Dynamics 365 for contract management might be ideal for some companies, others prefer using other third-party software designed specifically for that purpose. That's why Microsoft made it possible to integrate those tools used to help with contract management in Dynamics 365 for Finance and Operations.
Contract management in Dynamics 365 helps streamline what can become convoluted processes. It's easier to look up contracts through the CRM and associate the information with a customer calling the contact center. You can also use tools like Power BI and Outlook to help enforce business rules, maintain contract processes, and perform data analysis.
Benefits of Using Dynamics 365 for Contract Management
Dynamics 365 works well for businesses looking to create and manage contracts within the platform. The benefits of using Dynamics 365 for contract management purposes include:
Handling contracts and signatures — Use available Dynamics CRM connectors configured for document management solutions to help manage contracts and various transactions. They help by automating and tracking signature collection from all required signees.
Support compliance needs — Capture relevant metadata and set up standardized workflows for dealing with documents. You can create secure locations to store drafts, initiate workflows, and conduct reviews with other business partners. Businesses can ensure that users follow all required rules for setting up a valid contract.
Enable process automation — Ensure you meet all contract obligations by setting up automated workflows to handle manual processes. You can reduce errors and ensure that each contract gets the appropriate signoffs and contains all required language.
Using Dynamics 365 to manage contracts helps your organization by:
Letting you make changes to multiple solutions for faster impacts
Adapting quickly to market changes
Taking a data-first approach to contract management
Integrating with other Microsoft solutions to resolve issues
One-Stop Contract Management
Integrating your preferred contract management system with Dynamics 365 gives you greater visibility into when you achieve milestones around contracts. You can also reduce the number of apps employees have to navigate. Use the Dynamics CRM interface to expose contract data, documents, and requests, allowing reps to use it as their top application for managing contract requests, updates, and tasks.
Better Data Accuracy
Company representatives can communicate through the D65 contract management setup to share details about upcoming deals to account for in a contract. Instead of working things out through emails, which can lead to mistakes during an exchange, all vested parties can pull information about draft agreements directly from Dynamics 365 automatically, cutting down on the potential for errors.
Create an Optimal Contract Management System
Internet eBusiness Solutions (IES) can assist your organization with setting up Dynamics 365 to handle your contract needs. We can strategize on using it as your primary contract source or integrating other third-party systems. Our team of Microsoft experts understands how to optimize how Dynamics 365 works to your company's benefit.
Find out the advantages you gain by working with IES as your solutions partner. Contact us today to set up a personal consultation.