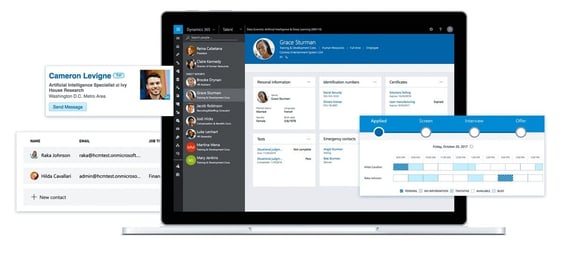 The U.S. is facing a talent shortage. CNN Money reports the unemployed labor pool is still at 4.1%, a 17-year low. While this is good news for employees, it's bad news for employers struggling to find the help they need to get the job done.
One thing that can give recruiting teams and HR departments a competitive edge is the right tool to help keep track of human resource management (HRM). This blog will look at Dynamics 365 for talent – Microsoft's answer to one of today's most pressing workforce problems.
Features of Dynamics 365 for Talent
Dynamics 365 for Talent was designed for managing human capital. From recruiting to onboarding, this tool helps employers improve the candidate experience.
The talent management module within Dynamics 365 ERP functions effectively within all of the human resource recruiting tasks, including:
Sourcing candidates
This tool can manage the application process, including recruiting potential candidates. It will help you with interview scheduling and allows candidates to track their application throughout the process. Dynamics 365 for Talent is integrated with LinkedIn, reducing the volume of administrative tasks for your recruiting and HR team.
Candidate testing
Dynamics 365 for Talent lets you establish a candidate profile complete with all documentation, including interview notes, test results, reference checks, and more. Recruiters can easily share info with hiring teams for a seamless workflow.
Employee onboarding
With the onboarding app, you can design an entire template to share with employees on their first day on the job. You can set up personalized training, which new employees can access on their personal intranet site. The site can have a customized welcome along with team contact info, a week one schedule, or a list of tasks. It's a nice way to engage new employees.
Another big plus for Dynamics 365 for Talent is that it melds beautifully with Microsoft Office 365 tools. Creating and emailing employment contracts, producing productivity and resource reports are all possible in the Microsoft universe. You can use Skype for Business to train remote employees or set up instant messaging to keep the lines of communication open. Big corporations no longer have to shoulder the expense of flying everyone in for corporate meetings; Microsoft has given us all the tools to keep dispersed teams communicating around the globe.
While all of these tools have out-of-the-box functionality, there is also a great deal of customization that can be done. Dynamics 365 even offers country and industry-specific templates designed to comply with HR laws and regulations. The only remaining set of tasks is to add customization tied to specific HR workflows.
Dynamics 365 for Talent Acquisition is fully integrated with Microsoft Azure, so hybrid or full cloud deployments are no problem. As with any cloud application, the tool functions appropriately across any digital device.
The Final Word on Dynamics 365 for Talent
If you're using another human capital management software platform, you owe it to your team to look at this tool. The range of application features in this software is widespread, giving companies the options they need when the talent shortage is at an all-time high.