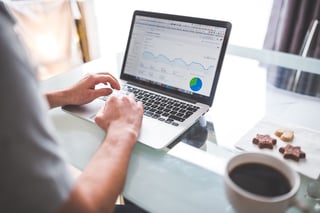 When you think of office productivity tools for business, it's accepted that Microsoft continues to corner the market. Tools like Microsoft Word, Excel, and PowerPoint have become some of the most commonly used software programs in the entire world. In fact, you may have a hard time thinking of an office that doesn't use Microsoft products regularly.
But traditionally, businesses use a mix of software products to get the job done. Maybe they'll use GoogleDocs for collaborative editing. Or, they'll use GoToMeeting for remote or on-the-go-meetings. Maybe they'll use Slack for inter-office communications or BaseCamp for project management. These are all great tools, but they come with one big problem. These products often function in silos, which may require a lot of duplication of work; copying files between systems or even retyping data when platforms don't play well together. Interoperability is a big issue in the modern office. But it doesn't have to be this way.
Microsoft Office 365 features all of the tools you could need for an office. This cloud subscription can scale for the enterprise organization while providing the same functionality for small offices that the big players use. The tools are interoperable and can streamline your workload by intuitively capturing data and populating it across multiple programs.
Office 365 Features for Business – What is it?
Let's start with the basics. The Office 365 subscription offers cloud-based productivity tools. There are several packages available, but they typically include:
Skype for Business web conferencing
Exchange Online hosted email
OneDrive for Business file storage
Office applications, including Access, Excel, OneNote, Outlook, PowerPoint, Publisher, and Word.
You can implement the subscription on a variety of different devices, including Macs, PCs, and Android and IOS mobile devices. (There's an exception – Publisher and Access are only available for PCs.) These services are pay-to-play with an annual or monthly fee.'
Now we'll talk a bit about some of the best Office 365 features that your business can take advantage of with a one-stop-shop subscription to Microsoft 365. Here are some of our favorites:
Collaboration Tools
One of the Office 365 features that we like the most are the collaboration tools. If you save a file to SharePoint or OneDrive, you can invite collaboration between multiple users. You can even set up a portal with passwords, so members of your team or even clients can dial in and work together. Working in the cloud allows you to control edits in real time for multiple remote users. You can see the edits as they happen, along with who is making them in a smart sidebar feature. You can also talk through the edits as they occur, with Microsoft's Skype integration. You can continue to Skype on a mobile device if you leave the laptop at the office. If you make edits to a document offline, it automatically syncs as soon as Wi-Fi is restored.
One Central Admin Hub
The administrative hub is the portal that lets you access configurations for all software functionality and manages permissions in Exchange, Sharepoint, Outlook -- and all the other 365 tools. From that hub, you can manage service status to see if there are any issues that need to be resolved before they become a problem affecting users. You can also manage phone passwords and other hardware features and control access to SharePoint in case you want to invite outsiders to access shared documents. There are shortcuts to the most common tasks, such as password resets or adding new users.
Efficient Personalized Calendars and Emails
You'll find the same feature-rich Outlook functionality in the online version of 365 as the on-premise version. The calendar features remain efficient and robust, and there were some new features added in 2017 that you might want to check out. Namely, there's now a family calendar and a slicker interface for calendar sharing. Also, emails that contain dinner reservations or other events can automatically be added to your calendar. Finally, Cortana, Microsoft's helpful AI assistant, can help you schedule calendar meetings. All you have to do is ask her.
File Storage
It always saves time when you're not emailing files back and forth. It also ensures you won't have to worry about version control ever again. These are some of the benefits of the very straightforward and easy to use file storage system, SharePoint. Editing documents between the web version and the mobile version isn't a big deal anymore. There's a pop-up card in a document that alerts you when someone else is viewing and editing a file.
Real Time File Sharing for PowerPoint and Outlook
You already know how SharePoint can help your office work as a team. But the new, cool rollout for early 2017 was the collaboration feature expanded to PowerPoint. Today, you can share PowerPoint slides in a way that allows you to co-author a presentation. You can also take an attachment from your Outlook email and share them in the cloud. Once the files are in OneDrive, you can even receive cell phone alerts that your Word, Excel, or PowerPoint files are being changed. This feature is compatible with Android, iOS, and Windows Mobile. Read more about this update here.
These are just some of the best Office 365 features for business. Our next section covers a few cool features that you may have missed.
Favorite "Hidden" Office 365 Features
There are so many Office 365 features that it's possible you missed some of the latest "cool tools," functions, and upgrades. We've assembled some of our favorites for you to check out:
Here's a tip for when you've uploaded a file to cloud storage. Did you know don't have to send files as attachments, but can instead just send a link to where it's housed in the cloud? If you're trying to share the file, Microsoft automatically gives edit-level permissions to whomever you send it to (and this default can be changed.)
It's easy to take a to-do from OneNote and convert it to a calendar task.
Clutter lets you reorganize your inbox by marking emails as less important, and then learning from what you select. The inbox will then automatically sort "clutter" versus more important emails.
You can add your (real) signature to emails without having to scan it in, thanks to integration with DocuSign.
The latest version of Excel now lets you turn cell data into maps with a feature called Power Map.
You know those annoying people who like to finish your sentences? It turns out that isn't annoying at all when you're filling in an Excel spreadsheet. Excel can spot trends in how you're formatting data, and then flash fill it in for you. It will show you a preview, and if the program got it right, you just click to accept.
We know that many offices have been using Microsoft Office products for years, so it's easy to get stuck in a rut of using the same shortcuts and processes that you've always used. But Microsoft never stops innovating their products. In fact, the next section covers a number of functions that were either new in 2017 or slated to appear as additions to the already terrific Office 365 features line up.
New for 2017/2018
TechRepublic had a terrific article in late 2016 that shared the aggressive rollout of new features Microsoft was gearing up to add to the Office 365 features for business:
It's clear that Microsoft continues to dominate the office productivity suite. With the Office 365 features available in an integrated, bundled package, it means you will have the tools you need – and then some – to get the job done. From document storage and collaboration to email, to presentations, Microsoft Office 365 features work together to make sure you're moving at the speed of business.
Contact IES to talk about Microsoft Office 365 and how we can help streamline your business efficiencies, eliminate silos, and improve.