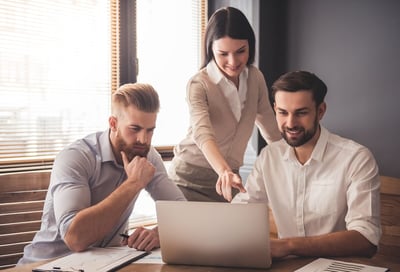 The old Dynamics CRM received an upgrade in 2016 to the new rebranded Dynamics 365. The new platform combined the existing customer relationship management (CRM) software with Microsoft's enterprise resource planning (ERP) platform and a full suite of tools covering finance, marketing, sales, operations, and more. The goal of the upgrade was to eliminate the silos between these departments in a repacking of some of the Dynamic suite of products into one integrated whole.
Business owners still using Dynamics CRM have a big decision to make. When looking at Dynamics CRM 2016 vs. Dynamics 365, should they make the switch? What's the big difference between CRM 2016 and Dynamics 365? Let's tackle this issue to figure out what's right for your business.
The Difference Between CRM 2016 and Dynamics 365
Over the years, Microsoft has released several upgrades to its CRM product. Last year, Microsoft introduced some serious upgrades in their AI for Sales that used machine learning and predictive analysis to provide data-driven insights. It was a huge step forward in helping sales teams make smarter decisions on the fly.
When comparing Dynamics CRM 2016 vs. Dynamics 365 there are several features exclusive to Dynamics 365, including:
Machine learning and AI
The backbone of the new Dynamics 365 tool is a relationship assistant that uses AI algorithms to track prior behavior and, from that, predict human response. It is extremely helpful for prospecting; the tool can determine where a prospect is in their buying cycle and provide the sales rep with an action card of behaviors they can undertake to move them through the funnel to the close. It's a very smart way to help sales reps hit the numbers; the AI can offer next step suggestions for improving customer relationships and upselling, as well as re-engaging with a customer that hasn't purchased any products in a while or a prospect that has gone stone cold.
Integrated Interface
More than a year ago Microsoft updated its user interface to help sales teams get to the data they need more quickly. They took this standardized user experience and applied it across any screen for a consistent look and feel for their tools.
Tighter LinkedIn Integration
Another difference between CRM 2016 and Dynamics 365 is that the updated tool has better integration with LinkedIn data. This has made the world's leading business-related social connection site more effective as a prospecting tool for sales teams.
Microsoft Flow and PowerApps
We think one of the coolest of the new tools found in Dynamics 365 is PowerApps, which allows anyone to build an app without code. Users literally can drag and drop their way to an app, connect it to their data and use it without having programming skills. Microsoft Flow lets users create automated workflows that let the software handle manual tasks. For example, you could automate a workflow that sends you an email anytime someone posts about your brand on social media.
PowerBI
The CRM 2016 lacks the data-savvy sophistication of Dynamics 365. 365 lets you visualize your data by adding PowerBI to the CRM dashboard.
Developer Tools
If you have Dynamics CRM 2016 licensed to more than 25 users, you are probably using the free development sandbox. But Dynamics 365 upgrades automatically receive this, no matter the volume of users. Note the self-service portal so developers can innovate and test at will.
Gamification
Dynamics 365 has a gamification module that allows sales teams to participate in individual and team exercises to improve their efficiency. The goal of these tools is to increase sales team engagement.
Enhancements for Mobile
Another benefit of Dynamics 365 over Dynamics CRM 2016 is the enhancements to mobile features. The cameras are better and you'll enjoy geolocation features missing from 2016.
Given the depth of the innovation found in Dynamics 365, it seems as if Microsoft's future commitment to upgrades will extend away from the old Dynamics CRM 2016 and into the cloud-driven environment of Dynamics 365. We know the support for legacy 2011 and 2013 versions of Dynamics CRM have ended, and in 2020, support for the 2015 version will also stop. We also know that the support for Dynamics CRM will extend just to basic security updates; new features, design changes, and warranty supports will disappear.
Dynamics CRM 2016 vs. Dynamics 365 — Is It Time For An Upgrade?
Any Dynamics CRM user running a version that predates 8.2 (which is the version first branded as Dynamics 365) is at risk. These customers will have limited access to the most recent updates and feature upgrades. Microsoft seems to be encouraging customers that are still maintaining the Dynamics CRM 2016 to move to Dynamics 365. The upgrade is likely more cost-effective than the legacy software; customers will save on maintenance, hardware upgrades, and labor costs.
But there is a productivity issue to take into account. With each iteration, Microsoft has gotten a little smarter, more intuitive, and with better interfaces to speed up your workflows. There will come a time soon when Dynamics CRM 2016 users will be forced to upgrade if they want to keep up with advancements in Microsoft's CRM product. Planning this migration process should be a highly planned proactive event, not a reactive last-minute attempt to catch a ship that has already sailed.
The other reality to consider is that software as a service (SaaS) models in the cloud have been more cost-effective for most companies. Beyond the cost reduction, there is the simple fact that Microsoft is putting money back into the Dynamics 365 product and working hard to upgrade and improve it. They've been pretty clear that the Dynamics CRM 2016 is slowly disintegrating in favor of newer, more intelligent software. That software is found in the Dynamics 365 package. Isn't it time your team considers the upgrade to improve business processes?
Dynamics 365 was designed as the next generation software businesses need to compete in today's global markets. IES is an award-winning third-party Microsoft partner devoted to helping organizations maximize the potential of this incredible software. Talk to IES. Take a demo of the new and improved Dynamics 365. We're standing by to help.