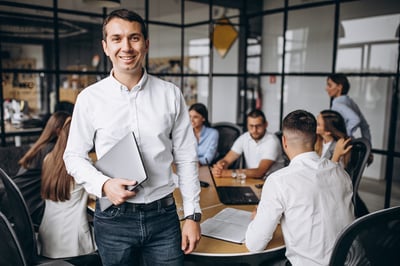 2019 has been the year that enterprise organizations finally moved to the cloud. TechRepublic reports that nearly 70% of enterprise organizations moved data to an off-premise data server this year. This encroachment by cloud vendors into the formerly on-premise space has led many software companies to add cloud software options to previously installation-only software.
Microsoft led the way by developing a parallel version of their popular customer relationship management software. Companies can now use Dynamics CRM in an on-premise installation or leverage the tool in the cloud. But which is better? In a head to head comparison of Dynamics CRM on-premise vs. cloud, what solution will meet your business requirements?
Understanding the State of the Cloud
Enterprise organizations have been the last holdouts on a massive migration that has taken data from back-office server rooms onto the Internet and into remote data centers run by big cloud providers like AWS, Azure, and Google. The cloud is now an accepted alternative to the challenges of an on-premise server room, so finally, after more than a decade of stable operations, the largest and most stoic companies are adapting to these models.
TechRepublic surveyed executives at enterprise organizations and found that their concerns about the cloud included:
The moving of sensitive data;
Compliance challenges;
Security;
Disruption of business operations;
And the time it takes to migrate data.
Cloud providers worked hard to overcome many of these objections over the years.
In 2019, Flexera (formerly RightScale) conducted their eighth annual State of the Cloud Survey and found:
84% of enterprise organizations have adopted a multi-cloud strategy. On average, enterprise organizations use nearly five different vendors.
Public cloud adoption increased this year while the more costly private cloud option declined.
Cloud provider Azure is closing the gap rapidly and encroaching on AWS' market share as the top vendor.
Managing the costs of cloud computing is a high priority, yet less than half of enterprise organizations are taking advantage of cloud provider discounts for high usage.
For any company, the customer database is a revenue goldmine, so the thought of working with this data in an out-of-house framework can feel a little daunting. But Microsoft's CRM has adapted itself well to the cloud, so customers should feel comfortable when considering cloud versus on-premise options. If you're in an either/or scenario, here's what you should consider.
Dynamics CRM On-Premise vs. Cloud
An on-premise CRM requires a license and installation for the number of users that leverage the tool. Cloud CRM is a subscription service with no on-premise installation. Instead, customers go through the Internet to use the tool.
Most companies understand the basic benefits of the cloud when considering cloud versus on-premise software:
Dumping on-premise servers or lessening your reliance on an IT infrastructure also lessens overhead costs of hardware, software, and staffing.
The cloud is infinitely scalable, allowing your company to more easily expand and contract as staffing and market demand changes.
The cloud is typically less expensive and more of a planned budget expense. On-premise servers can break, causing downtime and unexpected equipment purchases.
The cloud allows the convenience of the Internet, so that workers can access information and work from anywhere at any time.
The cloud is typically more secure; Gartner says the cloud has at least 60% fewer security incidents annually over on-premise infrastructures. This is because cloud vendors devote entire teams to security monitoring, maintenance, and risk mitigation in their compliant and secure data facilities. Even the largest enterprise organizations lack this type of extensive policing. Furthermore, security updates happen frequently and in real-time in the cloud.
While these are specific cloud benefits, there are also benefits associated with cloud computing that can apply to Dynamics CRM.
When considering cloud versus on premise applications of your Dynamics CRM product, first, consider how your sales teams will use the tool:
On-the-road system access
If your sales team is completely internal and spends most time on the phone, then an on-premise installation of Dynamics CRM will serve them well.

Today, many sales executives spend their day running appointments. As they travel and work remotely, these professionals will need information on the clients and your products. This makes an on-premise use of Dynamics CRM a bit unwieldy.

Microsoft Dynamics CRM in the cloud is the perfect application for traveling sales teams. The tool is extremely mobile-friendly, which allows sales teams to easily access information even up to meeting face-to-face with a client. The data is in real-time, so your remote sales team will never walk in cold to a customer office without understanding their purchasing history and disposition.

For example, say your sales rep is traveling to meet with a client. The customer is unhappy because a product that was supposed to arrive was delayed. The customer complains to customer service about the issue. The sales rep arrives, checks the Dynamics on their smartphone and gets up-to-date on the customer issue before walking in the door. This ensures the sales rep will have enough data in hand to potentially handle client complaints or objections.

The alternative, of course, is that the sales rep arrives to an angry client, and wasted a trip because they were ill-prepared to talk the client down and potentially make an upsell.
Easy deployment and customizability
Dynamics CRM in the cloud is easy to deploy. Pre-configured architectures allow end-users to launch and use these tools. However, while there are customizable features in Dynamics CRM, companies may want the full control of on-premise architecture.
For companies that lack a large experienced IT team, Dynamics CRM in the cloud is likely a better fit. But if you have a qualified IT team or an external vendor like IES to manage your servers, staying on-premise may be a better fit. On the flip side, having the cloud vendor manage the data infrastructure can free up your internal IT teams to focus on strategy and other business and mission-critical processes.
So which is it: Dynamics CRM on-premise or Microsoft in the cloud?
IES is standing by for a confidential consultation of your IT needs. We can help you determine the best fit for your business goals.