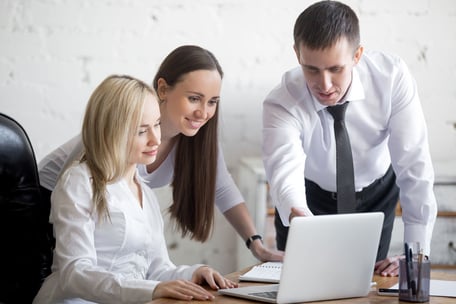 "ERP systems are essential to enterprise operations. Yet this core organizational workhorse may not get as much attention as your other systems. That's a mistake, as significant opportunities to improve cash flow and reduce risk await those who attend to the health of their enterprise resource planning systems."
If you're thinking about ERP system implementation, this is an important article to read. That's because a high volume of ERP go-lives won't go well. That has nothing to do with the software and everything to do with an organization's ability to prepare to implement it.
The problem is that ERP technology rollouts take a long time to get right because they are connected to every operational, financial, human resource, and sales activity in a business. Adding ERP technology means that all of these departments must adopt new and more efficient workflows as part of learning this sophisticated software. As a result, CIO says that "ERP implementation remains a slog."
But it doesn't have to be this way. This article will help you understand some of the keys to make your ERP system implementation more effective and cut the time it takes to integrate these innovative platforms.
ERP System Implementation Must-Do's
The number one thing you must do before adopting ERP technology is to find the right partner to help you. Having an implementation partner in your corner is imperative to make the experience smoother, faster, and pain-free. As part of the process, your implementation partner should help engage inter-departmental teams in the success of the roll-out. This includes:
Creating an implementation committee made up of key departmental representatives that can become the "ERP ambassadors" for the rollout.
Set expectations that include realistic goals. This is where the experience of your ERP implementation partner will be invaluable. Understanding a realistic key performance indicator versus an unachievable goal will make a huge difference in your ERP system implementation.
Include change management and process re-engineering in your ERP technology planning. Installing an ERP is like no other software that you've ever experienced; to make the best use of the software, it should be customized in ways to streamline internal workflows. As part of this process, understanding where the workflow bottlenecks are will help your implementation partner optimize the software – and the departments that are using it.
Finally, opt for a staggered rollout for a more successful ERP system implementation. In our experience, a "big bang" approach only stymies the process and frustrates the end users. Dividing the project into manageable sections with clear-cut timelines and metrics to achieve will improve the experience, keep your employees engaged, and give you faster ROI.
An ERP platform requires a considerable effort in time and money. Ensuring successful ERP implementation guarantees a positive impact on business operations – which is the whole goal of the software.
For more info on deploying and ERP, check out our ERP implementation tips.
If you're considering implementing Microsoft Dynamics 365, IES can help. Our experience encompasses small, medium, and enterprise level organizations across multiple industry sectors. We have hands-on experience in maximizing your ERP investment from pre-planning to post-go-live.