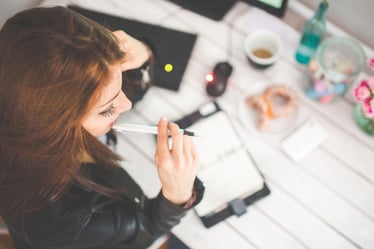 Companies that haven't invested in business profitability and productivity tools like an ERP platform or a CRM will likely have no idea of the differences between these two powerhouse types of software. To start understanding ERP vs. CRM, we must first define the acronyms:
ERP stands for Enterprise Resource Planning software, a type of platform designed to handle most operational and finance functions in a business with a single shared interoperable database.
CRM is Customer Relationship Management software, which is a type of database designed to bring organization to all client contact, no matter if the contact is with sales, marketing, or operations.
Interestingly, there can be considerable overlap in these types of systems. An ERP like Microsoft Dynamics 365 has the CRM baked right into the ERP. However, Salesforce has a standalone CRM that competes with the CRM functions found in Dynamics. While those are two examples, they illustrate how easy it is for business teams to become confused when considering these types of tools. Let's break things down a bit more.
ERP vs. CRM – Features, and Benefits
An ERP platform is designed to handle backend business functions like manufacturing and fulfillment, as well as other functions for running a business, such as billing, payroll, and finance. In fact, finance goes to the very heart of what ERP was designed to handle. From accounts payable and transaction journaling to the treasury, tax, and cash flow, ERP unifies all of these processes in ways that make businesses more efficient.
An ERP can handle the following requirements:
Product management and planning
Manufacturing and delivery
Inventory
Shipping and billing
Accounting
Marketing and sales
Think of an ERP as a way to standardize the information that is currently shared between departments. Today, you may have QuickBooks for accounting, a proprietary platform for inventory management, and a few other legacy software platforms for human resources, supply chain, and more. Now, think about how many times the data entered into one application does not transfer well into another platform, necessitating additional order entry system-by-system. If billing doesn't play well with sales or if order entry fails to ping inventory to confirm that what's being sold isn't back ordered, things can get messy. Client relationships can suffer. Sales reps can grow frustrated. The whole snarl means that your business isn't working as efficiently as it should.
Enter the ERP as one unified, centralized repository of all business information. When organizations switch to an ERP, they find that workflows become more streamlined and busywork is reduced. If the ERP is in the cloud, this means that the data is updated in real-time and shared across all departments. An ERP platform eliminates silos, creating interoperability and efficiency. An ERP platform helps with multi-cash positions and decision-support when a business has more than one location.
An ERP is perfect when there are multiple factories, warehouses, or business locations, each having their separate output, processes, and profitability margins. Each of these separate businesses needs cash flow reporting, analytics, and decision support tools. An ERP is sophisticated enough to handle all of this data and then roll it into a big-picture snapshot of dispersed operations.
As if these benefits weren't enough, an ERP also takes all the data from these multiple departments and creates a new level of reporting and analytics functionality that creates a 360-business view.
Conversely, where an ERP handles internal functions like finance and logistics, a CRM handles one thing – current, former, and potential clients. A CRM tracks your marketing efforts to reach these customers, where they stand in the sales lifecycle, what their ordering history has been like, and more. CRMs are used primarily by sales and marketing teams. Some of the typical functions found in a CRM include:
Tracking and qualifying lists, accounts, and leads
Benchmarking sales activity and sales cycle
Pipeline management and sales forecasting
Order configuration, proposal management, and quote generation
Order processing and fulfillment
As a holding tank for client historical activity
Account management and customer service
Tracking marketing responses from prospects
Following repeat orders from existing clients
Businesses use a CRM for e-commerce orders, or for tracking call center contacts, or any other areas that include a relationship with a customer or prospect. CIO makes an important distinction between ERP vs. CRM, "Even for the most expansive CRM system, 99%+ of the data it stores is irrelevant to the ERP system (which has little use for speculation, and no use for orders that didn't or won't occur)."
ERP vs. CRM – Which Do You Need?
"Where CRM manages the customer, ERP is used to manage the business. ERP is a system for improving the efficiency of business processes."
Sysco
The first thing to recognize is that most ERP platforms have a CRM. While they may not be as robust as stand-alone CRMs, most of the time, it won't matter, unless you need a sophisticated social media management tool or call center support. Generally, an ERP shares sales and marketing automation with the CRM function. For businesses that are concerned just with improving marketing and sales, a CRM may be enough.
Any business concerned with growth needs an ERP platform, in our opinion. This software is so all-inclusive that it helps businesses scale. If the ERP is in the cloud, even better; the natural scalability of cloud software only helps companies expecting to add more employees to the mix.
One of the dangers, for a small to mid-size business, is that they purchase legacy platforms that cannot increase with the volume of sales, customers, and staff. So, the SMB is left looking for new software at a time when unprecedented growth is causing growing pains. It's for this reason that we recommend the small company preparing for expansion purchase software for where they'll be in the next couple of years – not for where they are now.
So, when looking at ERP vs. CRM, which is better for your business. We highly recommend a test drive of these platforms to see for yourself which makes the most sense. To learn more about Microsoft Dynamics 365, contact IES today.